October 17: Camping with Fellow Pilgrims
A young woman just passed us. She was limping, using a walking stick for support. As she passed by, I saw that one leg was shorter than the other. Kayson later told me that she only had one foot. Here, on what some consider the most rugged of Tibetan pilgrimages, this young woman — smile on her face — limped along seemingly undaunted by the challenges of the path.
We climbed more than 1,000 meters in the first hours of our trek. There were hundreds of pilgrims along the path. They seemed to cover all age groups, and come in all shapes, sizes and gender. We saw a grandmother who had to be well past her 60th birthday, walking with her 9-year-old granddaughter. We saw a young couple carrying a tiny infant son. There were young boys no more than 12 or 14 years old, carrying sacks as large as the boys were tall.
Many of the pilgrims are dressed in traditional clothing, colorful layers of thick wool and cotton. It's hot and I'm perspiring in my short-sleeve shirt and lightweight pants. How do Tibetans stand it?
Seven-and-a-half hours later, as dusk approaches, we settle into our campsite, an evergreen grove with a roaring glacial stream nearby. Our seven pack animals are quickly unloaded and fed. Norbu, our cook, unpacks his supplies and using a portable butane stove sets a pot of water to boil. We will soon we be treated to a cup of butter tea.
Our horse wrangler quickly set up the tents — one small green pup tent for me, and one large blue tent for the rest of our party. This large tent will also double as a storage hut for our food, utensils, fuel canisters and a folding table and chair. These last two items are an unexpected accommodation. It was not requested, but proved to be comfortable nonetheless.
That evening, inside the large blue tent, we have a candlelit dinner. The table is not large enough for all of us to sit around, a privilege reserved for me and my guide Kayson. I thank everyone for their hard work and consideration, and tell them what a delightful surprise the table is, but ask that we dispense with it for future meals — I tell them I would prefer all of us to sit together.
A short distance from our campsite stretches an ample green meadow where hundreds of Tibetan pilgrims are settling in for the night. Smoke from their wood fires, hemmed in by the encircling mountains, forms a light blue haze that shrouds everyone and everything.
Our campsite and those of the other pilgrims could not be more dissimilar. While we have tents, a fuel-burning stove, canisters of fuel and seven horses, our neighbors have the clothes on their back, a large bag of barley flower (called tsampa) and utensils to prepare butter tea and possibly barley bread. Only a few have pack animals, usually a lone yak or mule — this is rare.
They have no tents or sleeping bags. Some of the Tibetans have brought large plastic sheets that they unfold and use to cover the ground. These can be quickly converted to a roof should rain or snow begin to fall. But for most of the Tibetan pilgrims, their only shelter is the clothes on their backs and possibly a tree or a cave.
Pilgrimage Map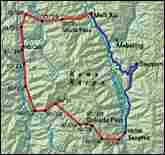 National Geographic Society
After our meal, I retire to my pup tent. No sooner than I slip out of my clothes and into my sleeping bag, I am startled by the sound of my tent flap being unzipped. This is followed by the appearance of three smiling Tibetan faces poking their way into my tent.
They begin speaking to me. Not understanding a word they say, I try and gesture that I would like them to leave so that I can go to sleep. Within a few moments, I hear Kayson calling my uninvited guests and soon I am alone again. But as I lay back into my sleeping bag, I hear the zip-zip-zip of my tent flap — and this time I'm treated to two smiling Tibetans. Again, they speak, I gesture and Kayson escorts them away from my tent.
Previous: October 16 — Crossing the Langtsa Bridge
Next: October 18 — An Injured Yak's Cosmic Fate