Guest DJ Tom Verlaine
Stefano Giovannini/Courtesy of the artist
We learned of the passing of Tom Verlaine today, January 28, 2023. Here's a conversation we had in 2006 with insight into the music that inspired him and the music he was working on back then.
Guitarist Tom Verlaine, best known for his work with the New York punk band Television, talks about his own work and shares some of his favorite recordings. Verlaine's just released two albums, his first new work in 14 years. Hear selections from Around and Songs And Other Things, plus works that have inspired Verlaine over the years, like the classic soundtrack to The Day the Earth Stood Still and Henry Mancini's "Experiment in Terror."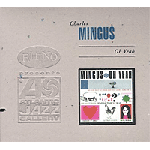 Second Piece
Henryk Górecki is a contemporary classic composer from Poland. He drew wide-spread attention in the early '90s when his "Symphony No. 3" made a surprising appearance at the top of British pop charts. Górecki's "Three Pieces in Old Style" is one of his most performed works.