Summer's Most Magical Form of Transport: Books
Summer's Most Magical Form of Transport: Books
I've always regarded reading as a form of mental travel. The first time I picked up The Odyssey, it was in a Classics Illustrated comic book. Its quasi-realistic drawings of monsters, heroes and gods were straightforward, literal and spare.
Then at university I read an actual translation of Homer's poem, and nothing remained the same for me after that. Even without the illustrations, these lives were gloriously illuminated -- heroes and heroines wringing from their day every molecule of meaning before that bright light faded away.
Oh, but what great light while it lasts. I've spent years in antique pre-classical adventures, sailing past monsters in whirlpools, fending off the destructive magic of witches, striving to reach home and the tree-bound bed of my inventive wife, the queen of Ithaca.
I've also been to China. Have you? I went to Mongolia in 1939 by turning the pages of Shan Sa's lyrical prize-winning first novel, The Girl Who Played Go. I've fought in our Civil War. I've trudged the muddy roads of medieval Europe with a troupe of raggedy actors. I've watched the Battle of Borodino from a safe vantage point and dodged musket rounds at the Battle of Waterloo. I've been to the Dublin bedside -- I can confess this, many thousands have gone, too -- of Molly Bloom. I've lived lives as a gunman, a boxer, a dancer, a painter, a mother, a daughter, someone else's father, someone else's son.
Books took me there. Books take us anywhere and everywhere. We look at letters on the page and translate them into scenes in our mind. When we read a wonderful novel, it's as though, as my dear old late friend John Gardner used to say, we're falling into a vivid, continuous waking dream. Short stories, novels, poems are someone else's composition that we play and interpret, and so turn them into dreams of our own.
And in summer, when, if people are lucky, they can take a trip or two, stories help us all travel on foot or horseback, ship or plane, car, or broomstick -- even if we're only just sitting in a chair or lying in a hammock with a book propped up on our chests.
So let me play literary travel agent for your imaginative summer traveling, book by book, and make some recommendations for your summer reading voyages.
WWII-Era Intrigue
First things first. Here's the best airline reading you could hope to hold in your hand: a new novel by Alan Furst, one of our country's most prized thriller writers. The Foreign Correspondent is set in Furst's signature period, Europe on the verge of World War II. It takes us into the struggle between Italian anti-Fascists and Mussolini's secret agents during the time of the Spanish Civil War on the streets of Paris and Berlin and Genoa, and Spanish battlefields.
A Love Story in Early China
The gifted, prize-winning young Chinese expatriate Shan Sa emigrated as a teenager in 1990 to Paris, where she began to paint and write. Her new novel, Empress (translated from the French) takes us back in time to seventh-century China and the rule of the Tang dynasty. We get a luxurious and intelligent portrayal of the life of the first Chinese empress, who opens up the Forbidden City to all eyes and opens up her life as well. The book is part pageant, part politics as ballet; all in all, a lavish portrayal of life in early civilized China.
A 'Plum' Choice
Leaping from seventh-century China to Japan in the 1960s, I want to recommend a novel called Plum Wine by Angela Davis-Gardner. It's the story of a powerful and moody love affair between a visiting American schoolteacher and a Japanese potter, a survivor of the Hiroshima bombing. In stark and lovely prose, Davis-Gardner creates a believable excursion into the deep heart of a good young woman and her decent but damaged foreign friends. It also delves into the minefield of questions that linger in American military strategy and foreign policy about the use of nuclear weapons.
A 'Toon Trip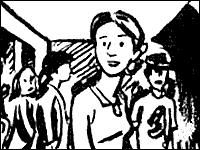 In Jessica Abel's graphic novel La Perdida, a likeable but naïve American woman takes a trip to Mexico and gets caught up in a kidnapping scheme. Abel's book captures both your imagination and your eye. It's half comic book, half movie — an indescribable reading experience that you'll have to try for yourself. I definitely think it's worth a look, especially if you've never read a graphic novel before.
Edgy, Funny Britain
Popular new novelist David Mitchell goes back into his own past and returns with (for him) a conventional story about growing up in England. But through this experimental writer's eyes, the story is not so conventional after all. Black Swan Green is enlivened by Mitchell's vigorous language and his insights into the miseries of adolescence.
A Tense Moment in History
Mark Bowden's nonfiction narrative takes us in masterly fashion on a trip back to that time when radical students took over the U.S. embassy in Tehran and turned time into a difficult piece of history for all Americans. Bowden, who wrote Black Hawk Down, is a meticulous craftsman with the keen eye of a first-rate investigative reporter. This is Pulitzer-Prize material. Turn your keen eye to it.
A Master's Verse
The newly released trade paperback of American poet Richard Wilbur's Collected Poems is a real treat for poetry lovers in summer — or any season. Wilbur, now the reigning senior poet in our country, reaches into his own writing life as far back as the early 1940s and as recently as two years ago. He finds the right metrics for subjects ranging from love and family life to the raw stuff of nature.
Heading Toward Space...
And now let's head for the outermost limits of space, if there are limits. Prominent American astrophysicist Joel Primack and his writer wife, Nancy Abrams, offer a fascinating new book-length rumination about the meaning of the universe and our role in it. The View from the Center of the Universe takes on big questions: the nature of time and our place in the cosmos (bigger than we might imagine, they suggest). They remind us, in case we've forgotten, that we're made of stardust.
Memories from a Jazz Great
It's a lucky summer for jazz buffs who want to meditate on the funky stuff of life on earth. Pianist Horace Silver, an outstanding performer and founding member with Art Blakey of the Jazz Messengers, has written his autobiography. Let's Get to the Nitty Gritty has some great anecdotes from the jazz life and the philosophy that kept this gifted musician grooving from his heyday in the '50s and '60s through to now.
For Young Readers
The popular Lois Lowry's new novel Gossamer is about the imaginary, but quite believable, little creatures (with names such as Fastidious and Most Ancient) that bestow dreams on us while we sleep. The dreams in question here belong to a pair of troubled human beings.
Pop-Up Fun
Paper-engineer extraordinaires Robert Sabuda and Matthew Reinhart have produced a book for kids that may encourage less swimming and more reading. The vivid, colorful figures in Sharks... and Other Sea Monsters brings sealife right onto the sand. Stay on the beach, and hold on to your books.
Books Featured In This Story