Joining with Gates, Buffett Targets World's Ills
Joining with Gates, Buffett Targets World's Ills
Warren Buffett's pledge of $31 billion to the Bill and Melinda Gates Foundation has been long in the making, according to friends of the astute investor from Nebraska. Fortune magazine's Carol J. Loomis says Buffett told her months ago about his plan.
Before his wife died two years ago, Buffett had intended to leave the dispersal of his fortune up to her, Loomis says. And the founder of Berkshire Hathaway reportedly said he wouldn't make a good philanthropist, because he would have to hear too many opinions from too many people.
Now, the Bill and Melinda Gates Foundation will receive 10 million Berkshire Class B shares. Buffett will become a trustee of the foundation.
Melissa Block talks with Loomis, editor-at-large at Fortune, who interviewed Buffett for the magazine's July issue.
Where the Gates Money Goes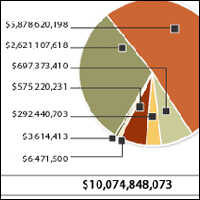 Bill and Melinda Gates Foundation
It's a new take on Robin Hood: the rich giving to the rich to give to the poor. The Bill and Melinda Gates Foundation, a merger of several Gates charities, was created in 2000 with the goal of reducing inequities throughout the world. If any foundation could make a dent in the world's problems, it would be the Gates Foundation. It's the largest U.S. philanthropy, with an endowment of $29.2 billion.
Spending by the foundation will now double, because of a donation from Warren Buffett that amounts to $1.5 billion a year. Here, a list of the four main areas of Gates grants:
Global Health
By far the largest focus of the organization, the foundation has committed more than $5 billion to various public health initiatives, mostly in the developing world. The foundation supports scientific research aimed at developing vaccines that do not require refrigeration, preventing insects from transmitting disease, and growing healthy crops in harsh climates.
In addition to grants to fight the "Big Three" in infectious global disease: malaria, HIV/AIDS and tuberculosis, the foundation funds research on other pernicious diseases in the developing world. This year alone, some of the largest awards included $75 million to develop a vaccine for pneumococcus, a bacterium that often causes pneumonia in children, and $22 million to develop a drug for African sleeping sickness caused by the tsetse fly. The foundation allocated $27 million to reduce cervical cancer and $31 million was spent to control schistosomiasis, a disease caused by parasitic worms and transmitted to humans through a particular type of snail.
Education
The Gates Foundation has committed more than $2 billion to education. The goal is to raise the U.S. high school graduation rate and make it possible for all students to graduate equipped for work and college. To date, the foundation has invested about $1.2 billion to improve high school education. The foundation also awards scholarships for promising students to attend college, who otherwise wouldn't have the financial means to do so, and for students of exceptional academic achievement for graduate study. This year, some of the foundation's largest education grants include $29 million to charter school management, and more than $21 million to provide teacher and curriculum support in Chicago public schools.
Global Library Program
The Global Libraries program was launched in 1997 to increase access to technology for low-income communities through public libraries. It has two parts: the U.S. Library Program and the International Library Initiatives.
The U.S. Library Program installs computers, sets up networks and provides training and technical support to library staff. In January 2005, it gave $10.9 million to 37 states and the District of Columbia. On June 22, the Gates foundation announced a $12 million grant to the Southeastern Library Network to help rebuild libraries most affected by the Gulf Coast hurricanes in 2005.
The International Library Initiatives Program targets developing countries with strong library systems and focuses on improving their computer technology. It has partnered with Canada, Chile and Mexico.
Pacific Northwest
Since 1999, the foundation has committed $5.75 million in grants to the Pacific Northwest. Two initiatives focus on improving early learning and creating affordable housing in Washington state and Greater Portland, Ore.
Early Learning: Over the next 10 years, the foundation will invest up to $90 million to improve pre-kindergarten education.
Supportive Housing: In 2000, the foundation committed $40 million to the Sound Families Initiative. Its goal is to create 1,500 housing units for families transitioning from homelessness. By fall 2005, 1,100 new housing units were funded. The University of Washington's School of Social Work is evaluating the program.
The Gates Foundation provides support for coverage of global public health on NPR.