Religion, Politics a Potent Mix for Jerry Falwell
The Rev. Jerry Falwell marks a milestone this weekend. He opens a new church building -- 50 years after he attracted his first few dozen followers.
WEB EXTRA: The Preacher and the Activist
How did Jerry Falwell come to publish his autobiography with the help of a gay ghostwriter? Steve Inskeep interviewed Falwell and writer Mel White, and each has a different story to tell.
The new church, with 1 million square feet of floor space, has seats for 6,000.
The Television Minister
Watch video clips of Falwell preaching on his TV program.
The man who will appear on the Lynchburg, Va., church's giant TV screens has televised his services for decades. Within weeks of opening the original Thomas Road Baptist Church in 1956, Falwell notes that he was broadcasting on the radio, and shortly after that on television.
More from the Interview
How Falwell's Association with Other Religions Cost Him Friendships
Today, Falwell introduces programs from a TV studio at Liberty University. He founded the conservative Christian school, which houses the Jerry Falwell Museum. It also has an ice rink paid for by Tim LaHaye, best-selling author of the apocalyptic Left Behind novels.
Presidential contenders make pilgrimages here. Sen. John McCain (R-AZ) recently gave a commencement address at the university.
"I was taught in Bible college, religion and politics don't mix," Falwell says.
He influenced many ministers to ignore that teaching in the 1970s. He led the Moral Majority, which made abortion a major issue, and claimed credit for electing President Ronald Reagan.
Falwell backs President Bush, even though Republicans haven't delivered on issues like a ban on gay marriage.
"I'm well aware of the pragmatism of politics. There are times when [the president] has to step back, purely for survival reasons," Falwell says.
Falwell adds that White House officials often call him to explain what they're doing. And he calls them to speak his mind.
"Whenever it's a major problem, and I think we are being misled, I pick up the phone and I call whoever I need to call and take care of it," he says.
Falwell is asked why many Americans, and evangelicals, have become frustrated with President Bush.
"Well, whoever is sitting in the White House, especially in their second term, when gas goes up to $3 a gallon, and Katrina, and whenever we're at war, that person sitting in the White House gets the brunt of the accusations," Falwell says.
Shortly after the Sept. 11, 2001, attacks, Falwell said gays, abortionists, the American Civil Liberties Union and other groups shared the blame for the attacks.
Falwell was criticized for those remarks, and for calling the United States a Christian nation, and for saying the devil is Jewish.
His newspaper suggested that a character in the children's program Teletubbies, was gay, a statement Falwell disowns.
"But I've had hundreds of little Tinky Winky dolls mailed to me from all over the world and given to all my grandchildren and their friends, and I've populated Lynchburg with Tinky Winkies," Falwell says. "But that's the only benefit I've gotten from that."
Mel White spent many hours with the minister while ghostwriting his autobiography.
"Jerry Falwell is a person you like immediately, up close and personal," White says. "He doesn't take himself seriously. He enjoys life. And even while he says some of the meanest things, it's hard to not like him."
White recalls when Falwell was accosted by gay protesters.
"Jerry grinned and said to me, 'Thank God for these gay demonstrators. If I didn't have them, I'd have to invent them. They give me all the publicity I need.'"
Years later, White became one of those gay protesters. Falwell's ghostwriter came out of the closet, and moved to Lynchburg. He attends Falwell's church, and stands in silent protest if Falwell attacks gays.
"I believe Jerry Falwell will change and I believe it'll be in my lifetime," White says. "And if he doesn't change, I'm gonna die trying."
White says he'll be at the front of the line to attend the new church's opening. "I want to get a front seat, so that if he talks about gay people, I can stand up and protest there just like I did in the old church."
Falwell acknowledges that his controversial remarks about homosexuality and other issues are designed to get attention.
"A pastor has to be media-savvy if he's going to reach everybody," he says. "I don't mean to be ugly and harsh, but to be forthright and candid. And the result is that people that don't like you start listening."
Related NPR Stories
Web Resources
Timeline: A Half-Century of Falwell's Ministry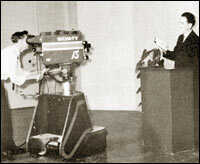 Courtesy Liberty University
Courtesy Liberty University
Falwell's Opinions
The Case Against Penthouse (Feb. 3, 1981)
Leaving the Leadership of the Moral Majority (Nov. 3, 1987)
The Jim Bakker Scandal (Nov. 23, 1987)
Personal Repercussions of the Bakker Scandal and PTL Bankruptcy (Oct. 8, 1987)
Falwell and Pat Robertson on The 700 Club Cast Blame for Sept. 11 (Sept. 13, 2001)
Falwell Compares Roy Moore to Martin Luther King Jr. (Aug. 21, 2003)
Believing church and state to be inseparable, the Rev. Jerry Falwell has had an undeniable influence in modern politics, and much of his life has seen him embroiled in controversy.
Aug. 11, 1933: Jerry Lamon Falwell is born in Lynchburg, Va.
June 1956: Shortly after graduating from Baptist Bible College in Springfield, Mo., Falwell becomes pastor of the new Thomas Road Baptist Church of Lynchburg, Va.
April 12, 1958: Falwell marries Macel Pate.
1967: Falwell creates the Lynchburg Christian Academy, a fully accredited Christian day school offering K-12 education.
1971: Falwell founds Liberty University.
1972: The SEC files charges of "fraud and deceit" against Falwell's church for the issuance of $6.5 million in uninsured bonds. The organization wins its case in 1973, but Liberty University files for bankruptcy and reorganizes, losing millions in church investors' money.
June 1979: Falwell organizes the Moral Majority, a political lobbyist group tasked with bringing Christianity to the forefront of the Republican Party platform. The group considers itself the force that elected Ronald Reagan to the presidency.
1981: Penthouse publishes a Falwell interview given to freelance reporters and Falwell files a $10 million lawsuit against the magazine, stating that the interview was sold without his consent. The case is dismissed.
1983: Falwell sues Hustler for featuring a parody of him in an advertisement. Although the jury denied compensation for his claims of libel and invasion of privacy, they awarded him damages for "emotional distress." Hustler founder Larry Flynt appealed the decision, and in 1988 the Supreme Court ruled unanimously in favor of the magazine.
1987: Televangelist Jim Bakker passes control of his PTL Ministry to Falwell after a series of financial and adultery scandals, most notably Bakker's conviction for fraud that sends him to prison for five years. Within months, PTL files for bankruptcy. Falwell and the PTL board of directors resign.
1989: Having helped the Republican Party win three presidential elections, Falwell officially disbands the Moral Majority, saying, "Our mission is accomplished."
1995: Falwell begins publishing the National Liberty Journal.
Sept. 2001: Falwell comes under fire after he blames gays, abortionists, the ACLU, and other groups for the Sept. 11 terrorist attacks. He publicly apologizes for his remarks.
2003: Alabama Supreme Court Chief Justice Roy Moore loses his seat on the bench for refusing to remove a monument to the Ten Commandments from the courthouse grounds. Falwell defends Moore's actions, comparing him to Martin Luther King Jr.
2004: Falwell founds the Moral Majority Coalition, a "21st century resurrection of the Moral Majority" and pledges to lead the organization for a minimum of four years.
2006: Relations between Falwell and Sen. John McCain (R-AZ) warm after McCain speaks at Liberty University. During a campaign speech for the 2000 presidential election urging the country to return to social moderation, McCain referred to Falwell (and others) as "agents of intolerance."
May 15, 2007: Falwell dies in Lynchburg, Va.