Scenes of Devastation in South Beirut
Scenes of Devastation in South Beirut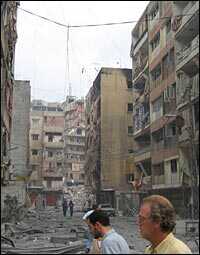 Heavy fighting continues in Lebanon, where Israeli ground troops crossed the border for a second day in a row to battle their Hezbollah foes. Israeli warplanes also launched more strikes on Beirut's southern suburbs where the radical Muslim group has its headquarters; it has been the area hardest hit in the nine-day-old Israeli air campaign.
On Thursday, Hezbollah officials took dozens of Western journalists on a tour of one of those targeted Beirut neighborhoods. Block after block, whole roads were choked with chunks of cement, twisted metal and wiring from buildings that crumbled under the barrage of Israeli ordnance.
The stench of cordite and smoke hovered over simple but poignant reminders of a once vibrant community -- baby strollers, water pipes, clothing, photo albums, even a reclining chair lay scattered among the ruins. Some of the targets appear random, others seem calculated.
The Hezbollah spokesman leading the tour slams Israelis for leveling the neighborhood, killing innocent civilians and driving thousands from their homes. But he becomes defensive when asked about Hezbollah missiles killing civilians in Israel, and about the capture by Hezbollah of two Israeli soldiers -- an incident that Israel says sparked their military response.
There's no sign of life in this Beirut neighborhood, and a sense of vulnerability seems to slowly envelope the journalists as they walk through the devastation. After a 20-minute tour, journalists race for their cars to get away from the area as quickly as possible. It's clear no one wants to be anywhere in the vicinity of where another bomb could fall.
Related NPR Stories