FBI Re-Examines 1946 Lynching Case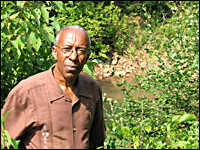 Scroll down to read excerpts from an interview with Laura Wexler, author of Fire in a Canebrake. Wexler spent several years investigating the Moore's Ford lynching.
Just off a quiet highway about 50 miles east of Atlanta lies the Moore's Ford Bridge in rural Georgia. Sixty years ago, an angry white mob attacked two black couples near this bridge -- pulling them from a car, beating them and shooting them to death. The victims were George Dorsey, 28, his wife Mae Murray Dorsey, 23, his sister, Dorothy Dorsey Malcom, 20, and Roger Malcom, 24.
President Harry Truman called for a federal investigation into the crime, known as the Moore's Ford lynching, but no one was ever prosecuted. Now, the FBI is re-examining the case.
Bobby Howard, a civil-rights activist, has been working on the case since 1968. He felt compelled to investigate after meeting a local mortician who had handled the victims' bodies and after attending a civil-rights rally where he shook Martin Luther King Jr.'s hand.
Howard says one part of the mob had blocked the road, while others dragged Roger and George out of the car to beat them. Women usually were not lynched. But when the women recognized one of the cotton farmers, they too were taken down to the river.
"The leader of the Klan had them line up, counted 'one, two, three,' and everybody fired," Howard says.
"He went through that scenario three times. During that process, some of those people shot up in the trees," Howard says. "That's where the FBI dug out a lot of bullets."
Many have speculated about the incidents leading up to the crime. They think white townsfolk may have considered George Dorsey "uppity" since returning from service in WWII. George was also accused by townspeople of carousing with white women.
White landowner Loy Harrison, who employed George Dorsey and Roger Malcom, was driving the car when the four people were dragged out and killed. Harrison had paid $600 to bail Roger Malcom out of jail when, days earlier, he had stabbed a white farmer during a fight.
It is still unknown why Harrison bailed Roger Malcom out. Was he was responding to the pleas of Roger's loved ones, or, as a Klansman himself, was he part of a lynching plot?
Near the bridge, the FBI recovered bullets from shotguns and pistols of various calibers. The lynching took place in broad daylight, and the gunmen were not masked. Many knew who committed the crime, says Howard, but the tight-knit people of Walton County created a perfect cover-up.
According to Howard, after the lynching, white people formed a code of silence, and black people, expecting violent repercussions if they spoke up, were scared into silence. Even local law enforcement officers were tight-lipped.
Many in the area thought that President Truman sent the FBI to investigate the lynching because George Dorsey had served in WWII, and had only been home ten months before he was murdered in the Georgia woods.
"It's a little hard", says Penny Young, whose half-brother is the son of Roger Malcom, "because I have a brother living and breathing that was a man's son, so it's very real."
Young says the fact that no one was ever tried for the crime is still difficult for the family.
"I want to see the remaining ones [lynchers] that are living brought to justice … somebody needs to be held accountable for that," Young says.
Many of the suspects are dead, but civil-rights activists say that two or three are still alive. They say they're more optimistic now than ever about seeing a case go to trial, partly because of the prosecutions of other old civil-rights cases in the South.
The FBI is investigating the Moore's Ford lynching again, and the Georgia Bureau of Investigation is still working on the crime. GBI agents began combing through thousands of pages of files in Washington six years ago, but they say they can't do much more unless they get new leads.
Meanwhile, the suspects and witnesses continue to grow older. Activists in the community hope this 60th anniversary will encourage people to come forward, perhaps children or even grandchildren, who know more about the Moore's Ford lynching.
Related NPR Stories
Web Resources
Q&A with Laura Wexler
Laura Wexler is the author of Fire in a Canebrake, a book that examines the 1946 lynching at Moore's Ford. In 2003, Wexler spoke with NPR about what she learned during her multi-year investigation into the decades' old killings. Below, excerpts from that interview:
Q: The title is Fire in a Canebrake. What does that mean?
Well, it's a phrase people use to describe the sound of the fatal gunshots, because this was a lynching by gunshot, it wasn't a hanging. A canebrake is a thicket of river cane, which almost looks like bamboo, and if you were to light a fire in the area where this canebrake was, the hollow canestalks explode and make a sound like gunshots. It was a local way of saying, this is what it sounded like that night by the Moore's Ford bridge.
Q: Put this in perspective. There had been hundreds of lynchings in the South. Why did this stand out?
It was an aberration: Since the peak of lynchings in 1890, lynchings had been on the decline. There was this sense that lynching was being phased out. It was a feature of the Old South that would not be a feature of the New South.
The number of victims, the fact that two of them were women, the fact that one of the men was a WWII veteran who, months before, had returned from the South Pacific -- all of these things caused nationwide outrage that allowed people to really rally around this crime and eventually motivated President Truman to send in the FBI.
Q: Another motivating factor must surely have been the negative response on the part of the national press. It was a top story, NBC led with an astonishingly bold denunciation of this crime…
I remember listening to the announcer in a Library of Congress recording. His voice was wavering, there was this sense of shame and frustration, and this sense that the reality of life in America for black Americans was so different than the ideals of democracy, for which we had just waged this war and lost so many of our own.
Let me read that. The news of the day tells a story about what this moment was like…
This is what the anchor said: "140 million Americans were disgraced late yesterday, humiliated in their own eyes and in the eyes of the world by one of the most vicious lynchings to stain our national record. A gang of armed and degenerate, poor whites, waylaid a Negro man and another man and their wives on a country road 40 miles from Atlanta. The brief and sadistic orgy ended in the bodies being riddled by 60 bullets."
Q: So this is what the President was hearing, President Truman, along with letters and all kinds of other outrage -- and he sent in the FBI…
Right. He waits several days, days in which telegrams arrived at the White House one every two minutes. There were rallies, protests, and there was extreme pressure from the NAACP and liberal groups, which were at the height of their power. After several days of silence, agents in field offices all over the South get a call saying, get to Monroe, Georgia.
Q: The FBI did not solve this, did not find murders, didn't bring anyone to justice in four months of investigation...
They had some key challenges from the start. One, very little physical evidence. The bodies were left strewn in the clearing by the Moore's Ford Bridge. By the time the FBI got there a few days later, the scene had been picked over by souvenir collectors. All they were able to recover was a few bullets and shotgun shells.
Also, they had a huge jurisdictional challenge, which is the fact that the federal government cannot prosecute for murder. That's a state crime, and so when the FBI was sent in, they had to work on a civil- rights violation, which is a very difficult crime to prove and requires proving that a public official was involved in some way in the lynching, and they were never able to find the complicity of a public individual….
They were going into an area where they were outsiders, where their best witnesses, where their best information was going to come from black people who were living on the farms of white people -- who were working for white people. The idea that these black people were going to tell what they knew to white FBI agents who were from the South, had Southern accents, who for all they knew, were as racist as the men in the lynch mob. It was so improbable. The FBI had not trained its agents to elicit the very kind of trust they needed to get this type of information.
Q: How disappointed were you, at the end of these years of investigating this, that you weren't able to solve it?
Well, I knew that it wasn't probable, but I knew it was possible. Several years into my research when I had the small miracle of getting a portion of the FBI's original investigative report, uncensored, I thought, This is it; these are the names of the suspects that have never been made public. I literally took that report and put it next to the local phone directory and looked for the names. At first I was so delighted because I found a lot of the names of the suspects. I went to the houses only to realize that the widows were continuing to list their phone number as their husband's name. Their wives were still living in the very same places where they were in 1946.
I did find two men who were suspects in 1946 that were still living and I was able to interview them, to confront them, to basically ask them the same questions that the FBI had asked fifty years before.
Q: And?
And they said almost word for word the very same things they said in 1946. It was remarkable to me and then I thought, in a way, it's a script. This was their story and they were sticking to it. That's one of the remarkable things about this lynching. Fifty-seven years later, the silence still holds. Nobody's cracked. To me, that demonstrates the power of racism. The power of racism to distort and to destroy a community's and individual's ability to tell the truth.