Harold Ford Jr. Walks the Line for Senate Seat
Harold Ford Jr. Walks the Line for Senate Seat
On the Campaign Trail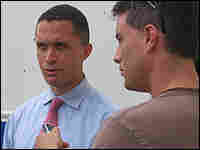 Congressman Harold Ford Jr. (D-TN) first turned heads in 2000 when he delivered the keynote at the Democratic National Convention. Now the 36-year-old second-generation congressman is running for the Senate seat that Republican Bill Frist is vacating. But first he has to win the Aug. 3 primary.
Tennessee Republicans choose their candidate Thursday. Ford is the presumptive Democratic nominee. If he wins, he'll be the first black Senator from the Old South since Reconstruction.
Related NPR Stories
Tennessee Republicans Vie to Fill Frist's Shoes
Tennessee Republicans Vie to Fill Frist's Shoes
U.S. Senate Majority Leader Bill Frist of Tennessee is retiring this year, creating one of the liveliest Senate races in the country. On Sunday, the program will profile Harold Ford, Jr., who will be nominated by Tennessee Democrats later this week. But it's not so clear who will emerge on the Republican side, since three rivals are closely competing for the nomination.
Ed Bryant, Van Hilleary and Bob Corker have been campaigning on the ground for months, but during the final weeks leading up to next week's primary, they've turned to the airwaves. Their debate during that time has focused on each contender's claim to be the true conservative in the race.
The candidates differ on very little -- they all oppose abortion, and they all support gun-owners' rights and the war in Iraq -- but the three insist that the differences among them are vast, and that their rivals are not genuine conservatives.
Corker has been waiting for another opportunity to run for Senate since he lost the nomination to Bill Frist 12 years ago. He had already outraised his primary opponents by millions of dollars before he dropped more than $2 million of his own money into his campaign fund -- swelling his grand total to nearly $9 million.
Bryant and Hilleary are no strangers to statewide races either; Bryant has also run for the Senate, and Hilleary came within 3 percentage points of being governor.
For most of the campaign, Corker has been the most visible candidate on television -- releasing 10 television ads to Hilleary's six, and Bryant's three. But one of Corker's ads may have backfired. It accused Bryant and Hilleary of giving themselves a pay raise while in Congress. Corker was forced to reissue the ad this week with different wording after Hilleary and Bryant pointed out that they never voted for a pay raise.
The Republican who emerges from the three-way battle for the conservative vote next week will then have a very different challenge. He'll have to find his way back to the center to counter the crossover appeal of Democratic nominee Ford, Jr., who's also running as a fiscally-conservative, pro-family-values candidate.