The Gaddi People of Dharamsala
The Gaddi People of Dharamsala
Gaddi Folk Tunes
Hear two songs sung in the Gaddi language -- the first a contemporary composition, the second a traditional folk song: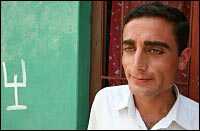 The India-Tibet Border
When China took over Tibet in 1950, thousands of refugees fled to Dharamsala, an Indian city across the border to the south. In 1959, the Dalai Lama fled to Dharamsala and set up a government-in-exile.
Two generations later, Tibetans still look north hoping to return to their native land. In the meantime, the northern part of the city has come to be called "Little Lhasa," after the capital of Tibet.
But for generations before, it was the land of the Gaddi people. As the surrounding community changes, this semi-nomadic tribe finds itself struggling to hold on to its culture and language.
My journey to Dharamsala began with a car ride through the bumpy, hazardous roads out of India's capital city, Delhi. My guide is Ajay Thakur, is a 20-year old Gaddi man, who sings tribal folksongs to pass the miles. Ajay's singing is enough of a distraction that I forget how terrified I should be of the traffic chaos outside my window.
The lyrics of Ajay's song describe a land of jade-green valleys, magic lakes formed from gods' tears, icy peaks where demons and deities duke it out. They sound like mythical realms — but in reality, these songs are odes to the Gaddi homeland.
During my stay in Dharamsala, I visit the home of a well-known Gaddi folk singer named Sunil Rana. In the small, rural hilltop village of Satobri, roosters and goats are settling down for the night. From inside the kitchen, I can see the sun setting over snow-capped mountains outside.
After an amazing meal, Sunil has another treat — original song compositions, instead of the old familiar folk songs. There's one catch, though: Sunil doesn't write his songs using the written Gaddi language. The people of the region may still speak Gaddi, but their written language, called Takri, is effectively lost.
The Gaddi's wandering way of life has made it challenging to preserve their written language. In Sunil's composition book, he's written out his lyrics phonetically in Devanagri, the script of the region's predominant Hindi language.
Still, the spoken tongue is very much alive. Sunil says he does his part to keep the language alive through his music. Lately, he's been performing regularly on a regional station of the state-run All India Radio network. In Dharamsala's Gaddi community, he's a star.
Related NPR Stories