In Agriculture, Bigger Isn't Always Better
In Agriculture, Bigger Isn't Always Better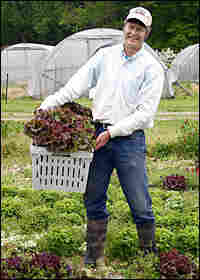 Debbie Roos/North Carolina Cooperative Extension
The slogan on the weekly newsletter of Peregrine Farm in Graham, N.C., is "Food with a face, a place and a taste." But Alex Hitt, who owns the farm with his wife Betsy, says its unofficial motto is "We're too dumb to quit."
The farm -- which has had up to five acres in production during its 25-year history -- now grows 160 varieties of flowers and 80 kinds of vegetables on just three-and-a-half acres. It's a prime example of how a small, environmentally sound farm can work -- and be profitable.
"When we refine what we do, and as we get smaller, we actually make more money," says Alex Hitt.
"So smaller didn't necessarily mean we were forgoing income, it just meant we got better."
The Hitts are being honored Wednesday night as the southern winners of this year's Patrick Madden Award for Sustainable Agriculture.
Peregrine Farm sells its produce and flowers mostly at farmers markets and to a few restaurants. And Hitt says the tremendous boom in farmers markets in the past decade has helped his e and other small farms.
"I think the country and the customers are really interested in good food," says Hitt.
"And part of what we saw after Sept. 11 was that people wanted the community of farmers markets, or they wanted to be a little more secure in knowing where their food was coming from."
Related NPR Stories
Web Resources