A Conversation with Oliver Stone
A Conversation with Oliver Stone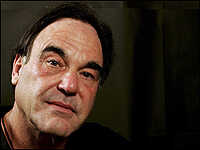 Oliver Stone, known for sweeping films about contemporary America, from Wall Street to JFK to Nixon, tells a much tighter tale in World Trade Center.
He talks with Debbie Elliott about working with a script based on conversations with the real men involved in a gripping story of survival.
Related NPR Stories
An Oliver Stone Film Quiz
An Oliver Stone Film List
Comprehensive? No. But these 13 films represent much of Stone's best-known work behind the camera, prior to World Trade Center. And they also form the basis for the quiz questions on this page.
Alexander (2004)
Any Given Sunday (1999)
U Turn (1997)
Nixon (1995)
Natural Born Killers (1994)
Heaven & Earth (1993)
JFK (1991)
The Doors (1991)
Born on the Fourth of July (1989)
Talk Radio (1988)
Wall Street (1987)
Platoon (1986)
Salvador (1985)
Oliver Stone's sweeping storylines tend to create meaty film roles, big and small. The following quiz covers quite an enormous cast of characters. How well do you recall Stone's players?
Would You Have Cast Them?
1. Alexander asks us to believe that a 31-year-old screen beauty is Colin Farrell's malevolent mother and a 27-year-old screen beauty is his ferocious wife. Who are the improbable mother-in-law and daughter-in-law? Hint: Only one has starred with Brad Pitt.
2. Any Given Sunday focuses on the NFL. Who plays the somewhat unlikely owner of the Miami Sharks football team? Hint: We all rooted for her in an earlier Miami-based film which helped push her to stardom.
3. U-Turn features an actor noted for macho roles as a husband betrayed by a younger wife. Who plays him? Hint: It's not Sean Penn.
4. In Nixon, who is cast as Richard M. Nixon's mother, Hannah? Hint: The choice might not be viewed as politically correct.
5. Stone's Natural Born Killers are pursued by the sleazy Det. Jack Scagnetti, who is just a bit too fixated on Mallory, played by Juliette Lewis. Who plays Scagnetti? Hint: He's had some sleaze problems in real life, too.
6. Heaven & Earth features a dazzling Asian star in the relatively small role of Mama. Who is it? Hint: She was first seen on American TV screens before starring in The Last Emperor.
7. JFK features a constellation of stars, including one of film's great comedy teams. But they don't appear on screen together this time... and they're not playing for laughs. Which actors play Sen. Russell Long and the ill-fated Jack Martin? Hint: Think Neil Simon, not Oliver Stone.
8. Which '80s rock icon makes a cameo appearance as Cat (to Dennis Burkley's Dog) in The Doors? Hint: What's a synonym for icon?
9. In Born on the Fourth of July, Tom Cruise plays Ron Kovic. Who plays Donna, Kovic's girlfriend? Hint: Think "Six Degrees of Kevin Bacon" and you'll move all The Closer to the answer.
10. Talk Radio ends with a bang. What role does the late Rockets Redglare, longtime bodyguard to Sex Pistol Sid Vicious, play in this film? Hint: He's not a good guy, unless you really hate talk radio in general.
11. Ah, Wall Street. Michael Douglas was great as "greed is good" guru Gordon Gekko. Can you name either lead actress in the film? Hint: Both were pretty big in the '80s. Lately? Not so much.
12. Platoon was all about the young Charlie Sheen, standing in for the young Oliver Stone. But what future multiple Oscar nominee played the much smaller role of Private Gator Lerner? Hint: The DVD version incorporates more of his footage, capitalizing on his subsequent success.
13. An edgy James Woods lit up the screen in Salvador. But who played his buddy, Doctor Rock? Hint: Like the man cast as Lee Harvey Oswald killer Jack Ruby in JFK, this hard-working actor has also been overshadowed by a more famous Saturday Night Live brother.
Stone Casting Favorites
14. John C. McGinley, now familiar on TV's Scrubs, appears in no fewer than SIX Oliver Stone films. Can you name ONE in which he does NOT play a part?
15. Match Tommy Lee Jones with his THREE Stone films.
16. Match James Woods with his THREE.
17. Name the TWO starring Charlie Sheen.
18. Name the TWO in which BOTH Willem Dafoe and Tom Berenger appear.
19. Name the TWO in which Val Kilmer has major roles.
Still Casting About:
20. Who plays Mallory's atrociously abusive father in Natural Born Killers?
21. Who plays Rudy Gekko, son of Gordon Gekko in Wall Street? HINT: He's also cast as a baby in Salvador.
22. By the way, who DOES play Jack Ruby in JFK?
23. Who plays TV announcer Tug Kowalski in Any Given Sunday?
24. Who plays Darrell, the exceedingly greasy mechanic, in U Turn?
One Timers
Name the single Stone film in which these actors show up:
25. Martin Sheen
26. Ed Harris
27. Jennifer Lopez
28. Meg Ryan
29. Robert Downey Jr.
30. John Candy