Welfare Reform Changes Women's Lives
Welfare Reform Changes Women's Lives
At the end of his second term, former President Clinton signed the Personal Responsibility and Work Opportunity Reconciliation Act, making good on his promise of "ending welfare as we know it." Ten years later, millions of American women have moved off of welfare and into the workforce.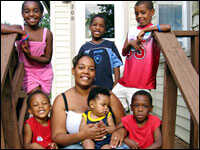 Related NPR Stories
RENEE MONTAGNE, host:
Ten years ago today, Bill Clinton made good on a campaign promise he'd made to the nation as a candidate for president four years earlier.
President BILL CLINTON: An America where we end welfare as we know it. We will say to those on welfare, you will have and you deserve the opportunity through training and education, through childcare and medical coverage, to liberate yourself.
(Soundbite of applause and cheering)
President CLINTON: But then when you can, you must work because welfare should be a second chance, not a way of life.
(Soundbite of applause and cheering)
STEVE INSKEEP, host:
President Clinton signed the 1996 Welfare Reform Law, which had been passed by the Republican-controlled Congress. It's basic principle: most people on public assistance would have to work for their checks or take steps toward getting a job. As a result, millions of women have entered the workforce. Ten years later, many of those women are asking if they're really better off.
NPR's Rachel Jones has some answers.
RACHEL JONES reporting:
Welcome to Angelia Jordan's(ph) world.
Ms. ANGELIA JORDAN (TANF Recipient): Mehki, Kaleb, and Deontai, let's go.
JONES: It's 7:38 a.m. and the 29-year-old from Lansing, Michigan has rounded up her six young children. They've climbed into a used blue van Jordan got a few months ago, then they're off on their daily routine.
Ms. JORDAN: I'm taking them to two different daycares, going to work, riding around job searching Monday through Thursday, before I go to work and after I go to work.
JONES: Three years ago, Jordan was married and making pretty good money braiding hair in Lansing. But she says her husband wasn't working, bills and tensions mounted. They divorced a year and a half ago. After months of scrambling between classes at Davenport College, work-study job, and daycare, Jordan applied for cash from Michigan's Temporary Assistance for Needy Families Program back in July. But she says don't count her down or out.
Ms. JORDAN: I'm a very determined female. And with me being young and black, I don't want to fall into the statistics that they have for me. If they expect me to get a Taco Bell job, I'm going to try and get something better.
JONES: The 1996 law that scrapped the decades-old Aid to Families with Dependent Children Program created a revolution of sorts as millions of women entered the workforce. One man who helped shape the law sums it up simply: goodbye, welfare queen; hello, working mother.
Mr. RON HASKINS (Senior Fellow, The Brookings Institution): The intended beneficiaries have respond like they took it right out of the playbook.
JONES: Ron Haskins is a senior fellow at The Brookings Institution in Washington. Ten years ago, he advised House Republicans about welfare issues. He also helped write the TANF Law.
Mr. HASKINS: Now the typical welfare story is a mom gets up at five, takes her kids to two different places, goes to work for eight hours and retraces her steps, or has trouble getting out of an $8 an hour job.
JONES: Or even finding a job. Period. Still, Haskins calls TANF a huge success. The national welfare caseload plunged from more than 12.5 million people in 1996 to just about 4.5 million last year. And Haskins says, TANF gave poor women the kind of positive incentive they never had under the old welfare program.
Mr. HASKINS: They got Earned Income Tax Credit. They greatly improved their financial status. Probably a million and a half took their kids out of poverty. And it's because of their efforts - we have very clear Census Bureau data showing their income from welfare from the mid '90s to 2000 declined every single year as a group.
JONES: And the benefits didn't stop with moms, poverty for all children fell. For black children, it dropped 25 percent. That's the lowest level in four decades. And research suggests that for the youngest poor children, seeing their mothers go to work each day helps them set higher goals for their own futures.
But many TANF recipients say they're working, they're just aren't getting anywhere. Like Angelia Jordan, they say the only real path out of poverty is higher education, but the way things are it's all they can do to keep their families afloat.
Ms. AVIS JONES-DEWEAVER (Institute for Women Policy Research): It's a sink or swim sort of culture.
JONES: Avis Jones-DeWeaver studies poverty issues at the Institute for Women Policy Research in Washington. She agrees that, yes, more women are working, but for many their pay doesn't even come close to covering all their expenses.
Ms. JONES-DEWEAVER: The cost of transportation, the cost of childcare, the cost of having to get lunch, the cost of having to dress for work, all of those things end up in a situation where even though people feel more empowered their actual quality of life has not improved.
Ms. JORDAN: I'm driving almost 300 miles a week…
JONES: Again, Angelia Jordan.
Ms. JORDAN: …just to do everything that Work First requires: go to work 25/30 hours a week, go to school full-time, and pickup and drop off my kids, plus go job searching the amount of time they expect me to.
JONES: Today is Friday, and that means Jordan is sitting in a classroom with about 30 other women at a Lansing community center. They're all enrolled in Michigan's Work First Program, which helps TANF recipients get ready for jobs. During the four-hour session, the women talk about their job searches and get tips on job openings from coordinator Letty Snead(ph).
Ms. LETTY SNEAD (Coordinator, Work First Program): Johnny Rockets, if anybody is interested, is always hiring but you have to be willing to sing and dance. With certain songs you have to…
(Soundbite of crowd noise)
JONES: If you miss one of these weekly sessions without a good excuse, you lose your TANF benefits. The women here say they're playing by the rules, but that doesn't seem to matter. Another Work First coordinator, Stacy Dent(ph), prods for more information.
Ms. STACY DENT (Coordinator, Work First Program): What are the frustrations that you guys are facing when you're out there?
Unidentified Woman #1: I feel like this. I feel like they're judging me.
Unidentified Woman #2: They are.
Unidentified Woman #1: They are.
Unidentified Woman #2: You come in there pregnant and you want a job?
JONES: Some of the women here say they don't mind working while they're pregnant; they just want to have a job after the baby comes. Thirty-seven-year-old Annette Spam(ph) is married and five months pregnant with her first child. But she says even with a history of good jobs she can't find work.
Ms. ANNETTE SPAM (TANF Recipient): I was the district manager of Goodwill Industries, bookkeeper at Farmer Jacks. I moved my way up quick so they call the references and stuff, everything is going to check out but I'm not sure what the problem is. So that's why I'm thinking it's the pregnancy.
JONES: Other women say that when they find a job, getting to it is another obstacle. Shamique Jones(ph) is 25 with three children and a criminal record. She says she's worked since she was 16 but never in the type of job she'd like to have.
Ms. SHAMIQUE JONES (TANF Recipient): I've been an assistant manager at a fast food restaurant for a number of years. And other than that, it's just been like fast food, other shift supervisors and all that.
JONES: Across America, women with these kinds of barriers to employment pose the biggest challenge for TANF Program. Advocates for the poor say that until issues like daycare, transportation and education are fully addressed it may be impossible to move TANF to the next level.
Rachel Jones, NPR News.
(Soundbite of music)
MONTAGNE: That 1996 welfare law did little to help poor young fathers. You can read experts weighing in on how government policy could reverse that trend at npr.org.
NPR transcripts are created on a rush deadline by an NPR contractor. This text may not be in its final form and may be updated or revised in the future. Accuracy and availability may vary. The authoritative record of NPR's programming is the audio record.