In Los Angeles, Even Ice Cream Is Trendy
In Los Angeles, Even Ice Cream Is Trendy
Where to Find the Flavors
Mashti Malone's
1525 N. La Brea Ave., Los Angeles, CA 90028
Helados POPS
1010 N. Vermont Ave., Los Angeles, CA 90029
Pazzo Gelato
3827 Sunset Blvd. Los Angeles, CA 90026
Scoops
712 N Heliotrope Drive, Los Angeles, CA 90029
HeartsChallenger
E-mail: info@heartschallenger.com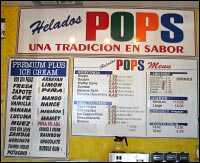 Just about every culture on the globe has its own enclave in the urban sprawl of Los Angeles -- and it seems many of those enclaves have their own ideas of what good ice cream is all about.
Los Angeles gave the world the gourmet pizza, so gourmet ice cream doesn't seem out of place. The flavors available are both exotic and experimental: chocolate wasabi, rosewater saffron, marney fruit, brown bread, pinapple cardomon, chocolate martini...
One of the city's most popular ice cream destinations is a shop with an unlikely name: Mashti Malone's. When the Iranian Revolution left student Mashti Sharoni stranded in Los Angeles, he bought an old ice cream shop in Hollywood named Malone's and added his family's name. The shop's name may be part Irish but the ice cream is definitely something different.
The flavors are exotic to folks accustomed to Rocky Road or French vanilla: creamy rosewater, saffron rosewater, orange blossom, ginger and lavender.
"Every year I invent one new flavor," Sharoni says, adding that, in Iran, rosewater ice cream is as common a flavor as vanilla.
A few of Sharoni's flavors might take some getting used to. Falloudah sorbet is rose-flavored ice combined with rice starch noodles. Saffron sorbet looks like small hairs have been sprinkled on the treat.
A few miles east of Mashti Malone's, and seemingly a world away, is Helados POPS. Astrid Chavez and her husband Oscar operate what's basically a Central American Baskin-Robbins -- but you won't find some of their flavors at your local strip mall: Fresa sapote, nancey, mamey banana, luquma, marignon... all fruits common south of the border, but entirely exotic to most Americans.
Now some of those wonderfully wacky flavors are breaking out of the city's immigrant communities to find a niche among the hip and trendy. A new shop called Pazzo Gelato -- Italian for "crazy ice cream" -- just opened its doors on a trendy part of Sunset Boulevard.
The head ice-cream "chef," Mark Geldman, likes to push the envelope with flavors such as mango chili, almond with fig and pineapple cardamom. And then there's the chocolate martini.
"It's a really high-grade Venezuelan chocolate -- very, very rich -- and we infuse it with Grey Goose vodka," Geldman says. "When it reaches a certain freezing point, the flavor just explodes."
Koreatown sits in the mid-city area of Los Angeles and features a dizzying selection of Korean barbecue joints and soju parlors. That's where Tai Kim set up his own shop, called Scoops, and he's earned a reputation for creating out-of-this-world flavors.
Two of Kim's most popular flavors are pistachio and brown bread. The brown bread is actually made with Grape Nuts breakfast cereal and caramel, but devotees say it tastes like bread -- only better, because it's ice cream. Other flavors include avocado with banana, cheesecake with dill and a mixture of walnut, raisin and gorgonzola cheese. No, really.
And then there's possibly the most challenging flavor of all: chocolate wasabi. Kim mixes the flavor of the hot Japanese radish, usually seen only at sushi restaurants, with chocolate for a taste that's best described as painfully sweet.
Not all of these odd ice creams are found in shops -- some come on wheels. Leyla Safai is the owner of HeartsChallenger, a one-of-a-kind ice cream truck that takes its fancy flavors to the streets.
Safai converted an old mail truck into a pale-pink fantasy of an ice cream truck, complete with white unicorns and twinkly electronica music. Her menu features fluffy white Russian ice cream bars, whipped vanilla bars from Armenia, Italian spumoni wedges, Japanese ice cream mochi balls, and white chocolate hearts filled with raspberry sorbet.
Late at night, when the city's bars and clubs are all but closed, Safai pulls up in her glowing pink truck, a beacon to worn-out clubgoers. Saifi says her business goes way beyond ice cream -- it's an extension of a way of life. "Anything that challenges your heart, those are the greatest challenges -- the ones that come from the heart, you know?"
Related NPR Stories