'Futile Gesture,' a Serious Bio of Funnyman Kenney
'Futile Gesture,' a Serious Bio of Funnyman Kenney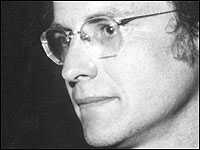 The comic talent behind National Lampoon magazine and the long-lived comic romps Caddyshack and Animal House lived a wild life... and a short one. Doug Kenney died in August 1980 after a fall from a cliff in Hawaii. He was just 33.
Kenney wrote much of the material that helped the likes of John Belushi, Bill Murray and Chevy Chase achieve early comic fame.
Josh Karp chronicles Kenney's role in co-founding National Lampoon, a publication that served as a catalyst for a new wave of American comedy -- one Karp credits for influencing offerings from The Daily Show and The Onion to The Simpsons and Saturday Night Live.
The book A Futile and Stupid Gesture follows Kenney from a childhood lived in the shadow of an older brother to success at Harvard and beyond. (The title comes from the pivotal moment in Animal House when the Delta frat boys decide to sabotage Faber College's homecoming parade.)
A Futile and Stupid Gesture
How Doug Kenney and National Lampoon Changed Comedy Forever
Hardcover, 402 pages |
purchase
Buy Featured Book
Title

A Futile and Stupid Gesture

Subtitle

How Doug Kenney and National Lampoon Changed Comedy Forever

Author

Josh Karp
Your purchase helps support NPR programming. How?
Excerpts: 'A Futile and Stupid Gesture'
Hitler Being Difficult
A friend in Montreal had shown Michel Choquette some photographs of an elderly Swiss ex-acrobat named Billy Frick. Otherwise unexciting, the pictures were notable because Frick bore an uncanny resemblance to Adolf Hitler. His bone structure was almost an exact match for the Fuhrer, and with a small black mustache he was a dead ringer who had done some work as a look-alike in Europe.
"I figured, I've gotta find something to do with this guy," Choquette thought. The next logical step, of course, was National Lampoon.
Choquette approached Doug and Henry with the idea of taking his discovery to a tropical island and shooting him as a fish out of water retiree clad in his military unifrom, living out his days in peace.
Doug laughed. Henry immediately jumped on the idea. Matty, however, was reluctant to send Choquette and "Hitler" to Martinique on the magazine's dime, but was persuaded that the project would remain on a $5,000 budget.
Arriving on the Carribean island, Choquette set about hiring locals to portray island natives. In the photo spread, more than one island taxi driver wore a loincloth. Frick, with his wife in tow, became sick with a painful prostate condition. His frumpy spouse was unsympathetic and rode him mercilessly. Roll ater roll of film was burned each day, trying to capture Hitler in paradise. Money became a problem.
A week after they arrived in Martinique, Matty was at the Lampoon offices when a telegram arrived. "Hitler being difficult," it read. "Shoot not completed. Need additional $2,000." Matty wired the money.
Several days later, a second telegram arrived on Matty's desk. "Hitler an impossible human being. Need more time. Need additional $2,000." With art and commerce comically butting heads, Matty replied, "No more money. No more time. No more Hitler. Return at once."
The March 1972 Escape issue features Billy Frick's Fuhrer, umbrella drink in hand, tropical shells around his neck and parrot on his shoulder, seated in a wicker chair with palm fronds peeking over his shoulder, and dressed in full Nazi regalia with the iron cross beneath his heart. If Hitler could be funny, Choquette had discovered the joke.
"All of us dream of a return to paradise, an escape from the hustle and bustle of everyday life. But, few of us are fortunate enough to find paradise on earth. Here is one man who has."
Thus reads the introduction to "Stranger in Paradise," a photo spread of Hitler frolicking naked in the surf, tidying up the grounds around his thatch roof hut, peacefully sniffing tropical flowers, standing contemplatively on the beach at dusk, telling stories by the campfire, darning his own uniforms, and leading the natives through morning inspection. Neither his identity nor the name of the Nazi party are ever mentioned. Rather the article closes,
"The fervent idealism of youth has mellowed with the passing years. He has stopped trying to save the world, and now he cares only for his own peace of mind. Hidden away in his little Eden, he has his thoughts and his memories to fall back on.
Occasionally he looks up at the migratory birds flying overhead. But he finds himself not longing to leave with them.
It would seem that this stranger in paradise is, by now, very much at home."
Pheasant Shake for Mr. Kenney
Everyone on the Caddyshack set was terrified of a possible explosion between Chevy Chase and Bill Murray. There seeemed to be bad blood because Murray replaced Chase on Saturday Night Live and then confronted the newly coined movie star during his return to guest host the show. Yet when Murray arrived on the set, the two stars hugged like old friends, with all problems melting into the past. Though Murray had the smaller role, his performance as demented assistant groundskeeper Carl Spackler became the most memorable thing in the movie.
"My name was above the title," Chase says. "But it was Billy's film."
On set, Murray was demanding and intent on making sure people didn't look down on his character. He was temperamental and difficult to figure out. Always present was a sense that he was not tied to the same things that controlled everyone else. At one moment he was the Bill Murray that audiences know and love -- charming, hilarious, and turning everything into comedy; other times, he would berate someone for interrupting the pickup basketball game he played on set with crew and extras.
"He was a force of nature," O'Keefe says. "He was a movie star when he came onto this planet."
Of all the parts in the film, Murray's, based in part on his Honker routine (a character Murray developed at Second City), was the least well defined. Doug and Doyle-Murray left holes in the script that said things like "Carl cuts flowers," which they knew Murray would turn into classic moments, as he did by improvising dialogue about a caddie who is about to win the Masters ("A Cinderella story. Out of nowhere. About to become Master's champion.")
"All of the insanity of the gopher being Viet Cong is Billy," O'Keefe says.
Once Murray was on set, it became clear that Doug and Doyle -- Murray needed to write a scene for him and Chase. During lunch one day, the four men sat at a picnic table, playing with dialogue and concepts to be shot later that afternoon.
When the cameras were set up, Murray took the ideas from the meeting and winged it. Muray decorated the set for Carl's dingy apartment himself, pasting Hustler centerfolds on the wall and moving in a disgusting, torn couch. Chase, who is practicing golf at night, hits a ball into the greenskeeper's lair, and from there the two men improvised one of the film's most memorable scenes.
"I just reacted to whatever he did," Chase says. "I had no idea that Billy was going to go through the rap about being able to smoke the grass. Chinch bugs? I'd never heard of a Chinch bug. The pond line. It all made sense. It took a lot to keep a straight face in that scene."
In a role written by Doug, Chase took tremendous inspiration and frequent direction from his friend. Doug would coach Chase on how he might interpret various scenes, such as when he is asked to move an English convertible off of the course by Judge Smales and gets in on the wrong side -- amazed to find no wheel.
Animal House
Mount, Landis, and Reitman sent the Animal House script to university presidents and college administrators across the United States, meeting with rejection everywhere but the University of Oregon, whose dean of students, while working at another university, had refused to let Mike Nichols shoot The Graduate on the campus because he didn't like the script. Realizing that his strength was in academia and not film criticism, he let Landis have the campus for thirty-two days in summer 1977.
Landis brought the Deltas -- Matheson, Riegert, Hulce, Furst, Bruce "D-Day" McGill (in a role written for Aykroyd), and Jamie "Hoover" Widdoes -- up to Eugene, Oregon, a week and a half early to rehearse the script and bond like real fraternity brothers.
One evening shortly after their arrival, Matheson, McGill, Widdoes, Riegert, and Karen Allen found their way to a real-life Omega-style party, where the brothers of an uptight young Republican fraternity did not welcome them. Trying to get out before anything started, Widdoes accidentally dumped a beer on one of the brothers and a melee erupted, with McGill, Matheson, and the others receiving bruises, black eyes, and chipped teeth in a brawl on the lawn.
Mercifully, Universal had provided Cliff Coleman as Landis's first assistant director. A crusty, cowboy boot-wearing SOB and veteran of several Sam Peckinpah films, Coleman was accustomed to this type of situation. Acting as the grizzled old sergeant to Landis's buck private, Coleman found medical care for the actors and made sure that nobody told the director that a fight had even taken place. For a young director, having somebody like Coleman around to shield him from terrifying and chaotic situations was essential.
***
Landis also showed extraordinary skill at handling his actors -- particularly Belushi. In order to pull off his larger-than-life, cartoonish Bluto character, Landis boiled down the role to a cross between Harpo Marx and the Cookie Monster. The key element, he believed, was appetite. Both Harpo and the Cookie Monster were characters of voracious appetites (for sex and cookies, respectively) who somehow came off as lovable. On the page, Bluto was a disgusting pig, yet the audience needed to love him. There needed to be an essential sweetness to the character for the film to succeed. Without that component, the audience would see a vulgar, primitive animal with no redeeming qualities.
Belushi, whose copious gifts included the uncanny ability to convey warmth while doing unspeakable things, intuitively understood the concept and delivered a performance that cemented his stardom. Landis cut the part down to its bare essentials, using Belushi as punctuation, doing nothing but making entrances and exits, like "a meteor flashing across the sky," Landis says.
The young director also made room for a great deal of improvisation. Though only playing a bit part (for which he cut his hair in proto-dork style), Doug joined in and even wrote Sutherland's classroom speech about the need to read Milton (no matter how boring) on the set as the actors waited to do the scene.
Doug's gift for this type of quick, brilliant, improvisational humor had been apparent in both his professional and personal life from the start. He had done off-the-cuff Thackeray for Hendra and, upon first meeting Harold Ramis (who took a vacation to Greece rather than taking a smaller role in Animal House), took a book off the shelf in the actor's apartment, read a page, and then improvised dialogue that maintained the tone, voice, language, and plot of the text, challenging Ramis to determine where the author left off and the performance began. When Ramis expressed amazement, Doug shrugged and said, "I can do that with any book on the shelf."
Landis himself improvised during the scene where the Deltas go to the grocery store and Matheson's Otter tosses food items over his shoulder to a bedeviled Stephen "Flounder" Furst. Not knowing exactly what was about to happen, the chubby, sweating Furst followed Matheson, as Landis, off camera, threw more and more food into his arms. Refusing to cut, Landis kept it up while Furst, in real desperation, tried to catch each and every item without dropping anything. It would become one of the film's classic scenes.
Perhaps no one enjoyed the Animal House shoot more than Doug, who'd driven across the country to Eugene and was reliving his college days at the motel with the cast and crew, even smoking pot and watching boxing matches on television in the unlikely company of John Vernon, who played Dean Wormer to perfection.
***
Though he'd only appeared briefly in Between the Lines, Doug created an indelible character in Stork. Whether it was his "What are we supposed to do, ya moron?" line during Bluto's ranting speech about their impending expulsion or leading the homecoming marching band down an alley, the tiny role is remembered by everyone who has seen the film.
During the toga party scene, as rain poured in through a leaky floor and everyone sweated profusely, Doug looked at Belushi, screamed, "Hey John, we ought to do the gator," fell to the floor, and appeared to have an epileptic seizure. Landis had no idea what was going on and asked Doug about it, who explained that it was, in fact, a real dance. Confirmed by Belushi and Miller, the moment stayed in the film.
At the end of a rain-soaked shoot, Landis was suffering from walking pneumonia and went to Mexico, where he literally dried out. Getting in his car to leave Eugene, Landis said good-bye to Doug, who told him, "John, my heart is breaking." He had found a new muse and medium. Doug Kenney was going to Hollywood. And so was Matty Simmons.
Reprinted with permission from A Futile and Stupid Gesture by Josh Karp. Published by Chicago Review Press.