Channeling Patsy Cline, by Way of Neko Case
'Couch Song' by Sera Cahoone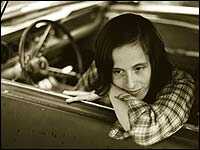 Tuesday's Pick
Song: "Couch Song"
Artist: Sera Cahoone
CD: Sera Cahoone
Genre: Roots-Pop
Sera Cahoone has played drums for Band of Horses and Carissa's Wierd (sic), two groups whose music can be majestically beautiful, wrenchingly powerful or both. None of their output, however, provides any reason to expect Cahoone's solo work to drift into territory as strangely soothing as her sublimely gorgeous, breezily hypnotic "Couch Song."
An ode to a relationship's moments of much-needed peace — "If we don't talk, I won't mind," she sings over a bed of acoustic guitars and strings, before adding, "'cause it's the only way to get along sometimes" — "Couch Song" finds Cahoone channeling Patsy Cline by way of Neko Case or Cat Power. No song fitting that description would be complete without a planet-sized dollop of melancholy, but Cahoone finds room for hope, ultimately declaring, "I know it's hard, but you know we'll make it, my darling."
A drummer by trade, Cahoone knows her way around pacing, and "Couch Song" wouldn't be the insta-classic it is without the track's subtly powerful instrumentation. But her sweetly assured vocal, oozing equal parts comfort and resignation in every breath, is what makes Cahoone's stardom worth rooting for, if not already assured outright.
Listen to yesterday's 'Song of the Day.'
Web Resources