Project Runway Makes Halloween Costumes Work
Related NPR Stories
They've had a postal uniform challenge. A pageant dress challenge. So why not a Halloween challenge?
The task? Design a fashionable Halloween costume that anyone could whip up this weekend.
The designers? Contestants from the first three seasons of Project Runway.
Below, their sketches and suggestions for get-ups that even Michael Kors would like.
So if you really want to look "in" while you're out celebrating Halloween, pick one of the Runway patterns. And then make it work!
If you decide to make any of these costumes, upload your photos to Flickr and tag them: NPRHalloween. We will pick the best ones next week to feature on npr.org!
Web Resources
Diana Eng: A Glow-Glow Girl
Season Two's Diana Eng always tries to combine her love of technology with her love of fashion design. Last Halloween, she dressed up as a lightning bug -- complete with light-up tail. She has modified her lightning bug costume for parents and children.
Eventually, she'd like to design a parent-child lightning bug ensemble that would help mom or dad keep track of their kids. Her concept: When the parent and child stand close to each other, the costumes glow. But if the child strays to far from the parent, then the costumes go dim. So of course the child will want to stay near by to keep glowing.
Perhaps Eng will be able to create this costume by Halloween '07. In the meantime, she's designed a lower-tech lightning bug, using a white spandex top and some strategically-placed battery-powered lights.
Daniel Vosovic: Hats Off to Alice (and to Eskimos)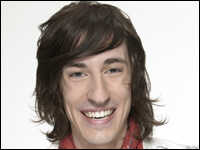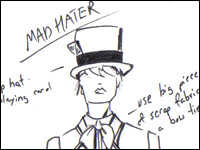 Season Two's Daniel Vosovic will be as mad as a hatter this Halloween with his Alice-in-Wonderland themed costume. But when he was a kid, he took any chance he could to be a superhero.
"I remember wearing this ridiculous Superman costume," he says. "I think I probably first got it when I was four and continued to wear it until I was eight or nine. So the sleeves came up to my elbows and the pants came up to my calves, but I didn't care."
For trick-or-treaters who aren't into Lewis Carroll, Daniel suggests a northern exposure.
"An Eskimo outfit is really cute and really easy to make," he says. "If you go to a fabric store, there's always cost-efficient fake fur. Cut out two rectangles and sew up on each side to make a vest. Add booties, cuffs and a hat."
Mad Hatter
1. Wear a top hat. Place a playing card in the brim.
2. Find a cheap old blazer and take it to a tailor to add piping -- it's very cheap and very noticeable.
3. Use a big piece of scrap fabric for a bow tie.
Alice in Wonderland
1. Put an oversized floppy bow in your hair.
2. Take a white apron and place over a full dress.
3. To make it extra youthful, add ankle socks!
Nick Verreos: Rapper and Pirate Flavor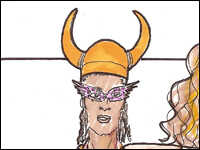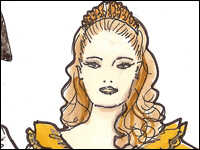 Season Two's Nick Verreos, winner of the prestigious Barbie challenge, turned to another pop icon as his Halloween muse.
"I was at a reality awards show event and rapper Flava Flav and his crew were there," he says. "I thought about it and I thought, 'there are going to be so many people dressing up as him.' "
To make your own Flava Flav costume, Nick suggests purchasing a "pimp daddy" suit.
"It would have to be in a purple or red color," he says. You would also need to add a large necklace.
And don't forget the Viking hat!
"That was made famous when Flava Flav was dating a Danish supermodel in his original show," says Nick. "And of course, you need the big, big clock he's famous for –- you can pick that up at a toy shop. Hang it around your neck. And then add a fun pair of glasses. Kind of ZZ Toppish."
If you're dressing as Flava-Flav's lady friend, think big.
"Get your hairspray and start spraying," says Nick. "This is not a librarian. Think opposite of librarian. Very short mini-dress made out of spandex. At least four to five inch heels. And make [the dress] tight. If you normally wear a medium, buy a small. We need to see curves."
If the Flava Flav costume can't do nothing for you, man, Nick suggests a Pirates of the Caribbean theme. That's what he has in mind for his 5-year-old niece Casia and 11-year-old nephew Alain. These sketches are dedicated to them.
"Buy a pirate hat and get a red scarf –- or cut a piece of red cotton as a scarf," he says. "Buy a fake sword and add some boots (from a thrift store). The boy can wear his jeans and tuck them into his boots. This is a really economical costume –- the boots, the hat, and the sword shouldn't cost more than 25 bucks."
For Pirates heroine Elizabeth, Nick says repurpose an old wedding dress.
"Customize it," he suggests. "The mother can take that old 1980s wedding dress and [pin it up into] a little mini-me version. You thought you'd never use that tacky 1980s wedding dress again –- well, think again!"
Wendy Pepper: A Recipe for the Perfect Little Witch
Season One's Wendy Pepper believes that costumes should consist of found and/or recycled materials as much as possible. She also tries to incorporate steps that let her seven-year-old daughter, Finley, put her own creative stamp on the project. Note: Children should not dare to make this costume on their own.
Witch Hat:
Ingredients: Newspaper, glue, balloon, petroleum jelly.
1. Tear newspaper into strips.
2. Mix glue and water to the consistency of thin cream.
3. Blow the balloon up to the size of your head.
4. Put a thin smear of petroleum jelly over the balloon so the mache doesn't stick to it.
5. Place the strips of newspaper onto the balloon in a cross pattern.
6. Apply the paste.
7. Repeat this process in layers until you get the desired shape.
Note: The hat may take a few days to dry before you can paint it. To help your creation last longer, seal it with varnish or acrylic sealing spray after painting it.
Witchy Jewelry:
1. Ingredients: Any combination of cardboard toilet paper rolls, paper towel rolls or the cardboard center from wrapping paper.
1. Spray paint the tubes any color -- though witches prefer using glow-in-the-dark paint.
2. After the tubes dry, use kitchen scissors to cut a continuous strip of cardboard 1/4 to 1/2 inch wide.
3. Wrap the cardboard around wrists and ankles for fun accents.
Witch Costume
Ingredients: old sheets, charcoal, rubber gloves, adhesive and sprinkle glitter, Sharpie pens, black pipe cleaners
1. Take the old sheets out on the lawn and burn holes in them.
2. Put on rubber gloves; rub the sheets with charcoal to make them look old and dirty. (You can also spritz the sheets with spray adhesive and sprinkle on glitter.)
3. Draw spider webs on the sheets using a black Sharpie pen. Stick bent, black pipe cleaners through the sheets to simulate spiders.
Broom
Ingredients: sticks, string, lights, mop or broom handle
1. Hunt for sticks. Country dwellers can ask for straw from a neighbor's barn.
2. Tie sticks or straw together with string.
3. String battery-operated lights through the sticks or straw.
4. Attach to a mop or broom handle.
Amulet
Every witch needs an amulet to cast her special spell. Hunt for unusual rocks and place them in a velvet pouch. Gather the pouch together with a string.
Nora Caliguri: From Ocean Waves to Radio Waves
Season One's Nora Caliguri will masquerade as a "shipwrecked woman" for Halloween. Her boyfriend will dress as a pirate. For our challenge, she adapted the outfits for a mother and child. For landlubbers, she has included a costume well-suited for NPR listeners: a radio.
"Shipwrecked" Mom
1. Pin a toy sailboat in your teased hair.
2. Stick plastic fake seaweed (sold in pet stores that carry fish) in your hair.
3. Buy thick rope at a hardware store. Use it to make a long necklace.
4. For that shipwrecked look, buy a cheap vintage men's vest; rip and shred it. Do the same to an old skirt.
5. Use fabric glue or doublestick tape to attach pennies or fake gold coins to sheer tights.
6. Wrap regular boots with twill tape (flat, woven ribbon, sold at fabric stores).
7. Attach as many pieces of seaweed, rope, coins and fake plastic fish to your outfit as possible.
"The (Child) Pirate Who Found Treasure"
1. Wear a bandana around your head.
2. Wear a white oversized collared shirt.
3. Don't forget an eye patch.
4. Place a plastic gold fake crown on your head. (The gaudier the better!)
5. Wear lots of fake plastic costume gold and gem jewelry.
6. If you have a cummerbund, put it around your waist.
7. Spray paint black fabric-paint stripes on white sweatpants.
8. Make sure to pick up boots and a sword.
9. Attach as many (fake!) gold coins to the pirate as you can to make it look as if he or she just stumbled upon a treasure.
Radio Costume
Nora was a hot-pink radio in 1994. Unfortunately, she says, pictures are not available of her in this costume.
1. Choose a color for your radio.
2. Wear a matching long-sleeve top and pink tights.
3. Take a rectangular box (roughly two feet by two feet by five feet).
4. Paint the box the color of your choice. Use a black market to add speakers and buttons.
5. Cut holes out of the top, side and bottom for your head, arms and legs. Climb in.
6. Put a battery-powered radio inside the box and blast your favorite station. (Please pick an NPR member station!)
Katherine Gerdes: Lego my iPod
For adults, Season Three's Katherine Gerdes likes subtle costumes.
"One of the best costumes I saw was this guy at a party," she says, "who was wearing a suit with just a hint of a blue t-shirt poking out. He was Clark Kent."
For kids, however, Katherine suggests going all out. "My mom always made my Halloween costumes," she says. "When I was five, I went as a mouse. I had big ears and a floppy tail." That was her all-time favorite.
Here are Katherine's ideas for a Lego costume and an iPod costume for parent and child:
Lego Kid:
1. Cut out the bottom of a cardboard box.
2. Cut out arm and neck holes.
3. Hot glue six small plastic containers or cups to the front of the box.
4. Spray paint the box your favorite Lego color.
5. Wear matching T-shirt and leggings.
Team iPod:
Parent:
Wear all one color (preferably as bright as possible).
Attach a sheet that's the same color to your wrists and ankles.
Spread arms and legs to create a "backdrop."
Child:
Wear all black.
Listen to your iPod.
Dance in front of parent.
Get lots of candy!
Starr Ilzhoefer: Trick or Treat in Candyland
Season One's Starr Ilzhoefer has a sweet tooth when it comes to her Halloween costumes. Her favorite ensemble was a homemade Strawberry Shortcake outfit. Her husband dressed as Plum Puddin' and a friend served as Blueberry Muffin.
Her second-favorite Halloween costume was Pierrot, the French clown. She wore a huge black and white wig and wove pink and turquoise flowers and feathers into it.
For our costume challenge, Starr again turned to something sweet: Candyland costumes. She suggests that parents use her sketch for guidance as they pick up materials with a quick trip to the thrift store -- and the candy store!
Melody Kramer: Not a Designer, But I Made It Work
I am no fashion designer. My favorite outfits involve sweatpants and oversized hoodies. But when it comes to Halloween, I have an excellent idea that would be a runway standout. Plus, it couldn't be easier to make. It was the year that I was 4 and my brother Steven was 3. We dressed as bags of jellybeans.
Bag of Jellybeans
1. Blow up multicolored balloons.
2. Make holes for your arms and legs in a clear plastic trash bag.
3. Put it on and stuff it with balloons. Voila! You're a bag of jellybeans!