Freida Lee Mock, Wrestling with Kushner
Freida Lee Mock, Wrestling with Kushner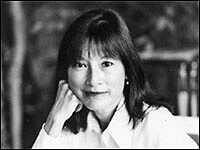 From Sept. 11, 2001 until the 2004 presidential election, filmmaker Freida Lee Mock followed playwright Tony Kushner.
The resulting documentary, Wrestling With Angels, tells the story of Kushner's life and reveals the inspiration behind his work, from the play Homebody/Kabul to the award-winning television adaptation of Angels in America.
Kushner, 50, is a private man. Yet Mock was able to film his wedding as well as his rituals on the opening night of a production.
Mock, who won an Oscar for a previous documentary on Vietnam Veterans Memorial architect Maya Lin (Maya Lin: A Strong Clear Vision) tells Liane Hansen how she came to pick Kushner as a documentary subject, and what it was like to spend so much time in his world.
Related NPR Stories
Web Resources