Calif. Follows Trend with Sex-Offender Crackdown
Calif. Follows Trend with Sex-Offender Crackdown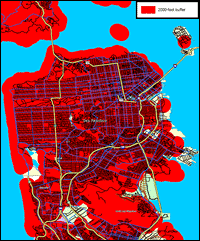 Map Courtesy of the Office of President Pro Tem of the California Senate Don Perata
State Laws on Sex Offenders
Read a sampling of provisions around the country.
Source: National Conference of State Legislatures
The Case Behind Prop. 83
California's Proposition 83 is also called "Jessica's Law." It's named after Jessica Lunsford, 9, whose body was found buried at a neighbor's home in Homosassa, Fla., on March 19, 2005, a month after she disappeared. The third-grader's grandparents had tucked her into bed and she was found missing the next morning.
Lunsford's accused killer, John Evander Couey, a registered sex offender, was staying at a mobile home near Jessica's home. Couey was arrested after being found outside a homeless shelter in Augusta, Ga. Police say that he confessed to abducting and killing the girl. Medical examiners found evidence that she had been sexually assaulted. Couey is awaiting trial, which a judge has ordered moved to Miami-Dade County, the second change of venue in the heavily publicized case.
The Florida state legislature approved the Jessica Lunsford Act weeks after her body was found. The law requires those who prey on children younger than 12 to be sentenced to at least 25 years in prison and, if they are released, to be tracked electronically for life.
California voters seem likely to approve an initiative Tuesday that would clamp down on convicted sex offenders. Proponents say it would be the toughest such law in the nation. Under Proposition 83, all convicted sex offenders would be banned from living within 2,000 feet of a school or park, and be required to undergo electronic monitoring for life.
It's the latest effort in a nationwide push to increase restrictions on the perpetrators of sex crimes.
California likes to think of itself as the nation's trendsetter. But if Proposition 83 passes, California will be following in the footsteps of Iowa. Sex offenders there are prohibited from living within 2,000 feet of a school or day-care center. Iowa prosecutors are united in trying to get the law overturned.
"We've seen no evidence that where a person sleeps has any connection to re-offending," says Corwin Ritchie, the executive director of the Iowa County Attorney's Association. He says that sex offenders who can't find a place to live sometimes decide to stop registering altogether.
"You no longer know where a sex offender lives, Ritchie says. "That certainly doesn't contribute to safety."
That wouldn't happen in California, says Republican state Sen. George Runner, the proposition's major proponent, because Proposition 83 requires lifetime GPS monitoring for sex offenders.
"You can't go underground," he says. "We know where you are."
And your location is not likely to be in a major city. Maps drawn by state senate researchers show that nearly all of San Francisco and most of Los Angeles would be off limits to sex offenders. Runner says the maps aren't accurate. But even if they are, so be it.
"My goal in this is to not make it easy for sex offenders to find a place to live," Runner says. "We just think they shouldn't be living across the street from a school."
After high-profile tragedies like the rape and murder of 9-year-old Jessica Lunsford in Florida last year, polls show that Proposition 83 is likely to pass by a wide margin. In fact, there's been no organized opposition. State assembly member Mark Leno, a San Francisco Democrat, is one of the few politicians to speak against the measure.
"One way to help prevent further crimes of this sort is to do what we can to stabilize the lives of these former offenders," Leno says. "So you don't make it more difficult for them to find housing, you don't make it more difficult for them to find work, you don't break up their family unit if you expect them to become a productive member of society."
Laws like these have been passed in states all over the country in the past three years, according to Blake Harrison, criminal law specialist at the National Conference of State Legislatures.
He says the impetus isn't coming from legislatures but the public itself.
"This is something that has had overwhelming public support," Harrison says. "The general public is really demanding to know where these sex offenders are, where they're able to live and other restrictions."
So 21 states have GPS tracking of at least some offenders, says Harrison, and 17 states say they can't live or can't work around schools.
Related NPR Stories
Proposition 83 Resources