A Moving Book, a Marvelous Video Game and More
The weekend is ready for you, but are you ready for the weekend? We have five great suggestions for whiling away your leisure hours. Readers, do you know why Madeline is forever young? Jane Hamilton's wry and moving novel will tell the absorbing story. Couch potatoes, take note: the SCTV DVD (no, that's not a secret code) has more laughs than a barrel full of studio audiences. And if you've been dreaming of a Guy Fawkes day party, we've got a do-it-yourself guide, complete with instructions for the ritual preparation of bangers and mash.
When Madeline was Young
Hardcover, 273 pages |
purchase
Buy Featured Book
Title

When Madeline was Young

Author

Jane Hamilton
Your purchase helps support NPR programming. How?
The Truth About Eternal Youth
When Madeline Was Young: A Novel, by Jane Hamilton, $25
The famous Bob Dylan refrain "May you stay forever young," will sound forever different after you're read Jane Hamilton's absorbing new novel, When Madeline Was Young. Just before America's entry into World War II, a freak bicycle accident leaves Madeline Maciver, a lively newlywed in her early 20s, with permanent brain damage and a perpetual mental age of six. If you were Madeline's husband, Aaron, what would you do? His sister urges him to hospitalize her permanently; Madeline's parents quietly abandon her. Enter Julia Beeson, a family friend and nurse. She marries Aaron after he divorces his wife, has two children with him and takes upon herself the daily care and nurturing of her "grown-up" child, Madeline.
The exquisite evocation of the daily details of family life, as told from the wry perspective of Julia and Aaron's oldest son in middle age, makes this admittedly bizarre situation absolutely believable. With sly irony, Hamilton -- whose previous novels include the PEN/Hemingway award winner The Book of Ruth and, most recently, Disobedience -- places the seemingly unchanging Madeline within the context of the fast-changing American political and social scene, from the war in Vietnam to the war in Iraq. This comparison between Vietnam and Iraq is only one way in which Hamilton's haunting exploration of the ambiguities of time and change challenges us to rethink the meaning of grace in a cynical world.
Hamilton has said the seed for her plot came from the 2005 Tony Award-winning Broadway musical Light in the Piazza, and the original novel by Elizabeth Spencer on which that was based. To judge how elegantly each work complements another, listen to the engaging score by Adam Guettel on CD or see the show, now on national tour (piazzaontour.com).
Diane Cole, author of After Great Pain: A New Life Emerges, is working on a book about resilience.
Oh Canada, You Gave Us Your Laughter!
SCTV: The Best of the Early Years Shout Factory, $40
How sad for today's youth. They do not know what SCTV is! Young people, now you can learn. Before Eugene Levy was American Pie dad, before Catherine O'Hara was Home Alone mom, before John Candy sold out and made dull movies, they were part an exceedingly strange TV comedy skit show. SCTV (it stands for Second City TV) was a fictional television network somewhere in the wilds of Canada, managed by Edith Prickley (who never met a leopard skin she didn't want to wear) and starring such talentless hacks as Sammy Maudlin, Earl Camembert and Lola "I want to bear your children" Heatherton. The beer-buzzed McKenzie Brothers paid tribute to "the Great White North." Count Floyd could never find truly frightening movies for Monster Chiller Horror Theater. Sorry, Ingmar Bergman just isn't that scary.
They were all so bad. But also hilarious. The three-disc set will encourage viewers to waste many hours laughing like a loon at the Emmy-winning show from the late '70s and early '80s. In case you are wondering, how a loon laughs, here is the way that Bob and Doug McKenzie put it: "Coo roo coo coo coo coo coo coo."
Marc Silver, an editor at NPR.org, likes movies in which things get blowed up real good.
You Can Dress 'Em Up and Take Out the Bad Guys
Marvel: Ultimate Alliance (all video game systems, ages 13 and up, $40).
In this case, you could say the clothes make the game. In Ultimate Alliance, not only do you take control of 20 of Marvel's superheroes -- from A-listers like Spider-Man to fan faves like Blade -- but you also pick which costume the hero will wear. Do you go with black-trenchcoated, tribal-tattooed Blade a la the Wesley Snipes films or the original 1970s version with the funky 'fro?
That kind of obsessive detail -- along with endless opportunities to fling Captain America's shield or Thor's hammer to clock to the bad guys-- gives this game a punch that comic book fans and ordinary gamers alike will enjoy. The combat action is at times a little too easy. Big bad guys like Scorpion and Radioactive Man? They're not so big or bad. But game maker Activision uses the same role-playing features (upgrading powers and weapons) they created for the hit X-Men Legends to keep gamers interested in playing to the end, when they square off against planet-eating villain Galactus. The bonus in that battle is that players get to take control of the cosmically cool Silver Surfer to help the good guys. In the realm of superhero games, Ultimate Alliance will be a classic collector's item.
Kenneth Terrell covers personal technology for U.S. News & World Report.
Four Jazz Names Are More Fun Than One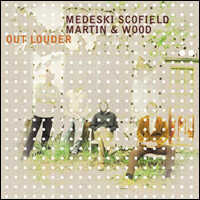 Out Louder by Medeski Scofield Martin & Wood
While your friends are listening to pop's one-name wonders — new CDs by the likes of Diddy and JoJo — try one-upping them. Or make that four-upping them. Medeski, Scofield, Martin and Wood have crafted one of the year's finer (and most fun) jazz records.
The names belong to jazz guitarist John Scofield and the organ-bass-drums trio of Medeski Martin & Wood (John, Billy & Chris, respectively). Regrouping for the first time since 1997's groove-heavy A Go Go, they recapture their classic chemistry with plenty of new twists. Out Louder recalls the gritty swamp soul-jazz of late '60s Blue Note records. But Scofield's nasty angular guitar work, the band's slinky rhythms and Medeski's haunting Hammond B3 and Wurlitzer keyboards push the group into more experimental territory. Jazz novices, do not be afraid. The record never becomes unlistenable. Call it avant garage-jazz, and enjoy it. One standout: a great New Orleans shuffle reinterpretation of Peter Tosh's "Legalize It."
The collective is touring this fall: check out their Web sites mmw.net and johnscofield.com.
Michael Katzif is the keeper of all things podcast at NPR. A guitarist, he frequently plays his own version of garage jazz, or would if he still had a garage.
Remember, Remember, the Fifth of November
This weekend, celebrate treason, British-style. Nov. 5 is Bonfire Night, a tradition that dates back more than 400 years on the British Isles. The holiday commemorates Guy Fawkes, Britain's most infamous traitor, who tried to blow up the Houses of Parliament with 36 barrels of gunpowder. Fawkes was caught, tortured and killed before he could kill England's king. The people of Britain celebrated by burning an effigy in the streets.
Every year on November 5, towns across Britain celebrate Fawkes' failure with fireworks and Bonfire Nights. American Anglophiles can attend regional bashes in Baltimore, Los Angeles, New York, and Minneapolis. Or you can throw your own jolly good Fawkesian party. Rent the 2005 movie V for Vendetta, the Wachowski brothers' updated version of Fawkes' follies starring Hugo Weaving and Natalie Portman. Throw a couple of bangers and mash (translation: sausage and potatoes) in the oven. If you have a grill, put foil-wrapped potatoes on the coals for about an hour, after which they'll be ready to eat. Finish up the evening with your favorite ale and a few toffees. That's bloody brilliant.
Melody Joy Kramer, is spending a year at NPR as part of the Joan B. Kroc Fellowship program. Her favorite British things include Mary Poppins, Eric Idle and Virginia Woolf.