Beautiful Baking for the Holidays, Simplified
Beautiful Baking for the Holidays, Simplified
Holiday Gift Guide
Read about Dorie Greenspan's book and others in a roundup of top cookbook picks for the gift-giving season.
Author Dorie Greenspan calls herself the "baking evangelist."
"I want everybody to bake," she says.
Greenspan's new cookbook is called Baking: From My Home to Yours. The book's gorgeous photographs alone would be delightful served on a doily. But the really good news is that Greenspan's luscious recipes aren't overly intimidating.
From toasted-almond scones to Devil's Food White-Out Cake, everything is explained with detail and humor.
That's because Greenspan, who has baked with Julia Child and writes for Bon Appetit magazine, still has sympathy for the novice.
She shares surprising, yet easy Thanksgiving recipes: sweet-potato biscuits, all-in-one holiday bundt cake and pumpkin marshmallows.
Related NPR Stories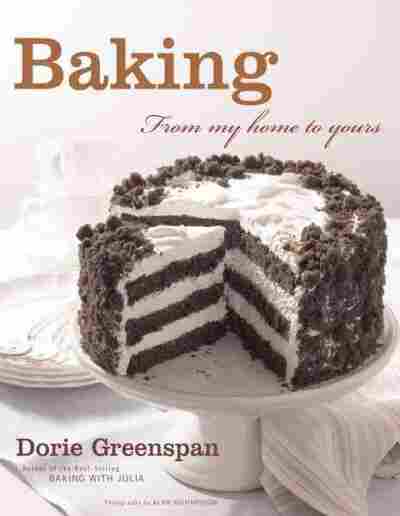 Baking
From My Home to Yours
Hardcover, 514 pages |
purchase
Buy Featured Book
Title

Baking

Subtitle

From My Home to Yours

Author

Dorie Greenspan and Alan Richardson
Your purchase helps support NPR programming. How?
All-in-One Holiday Bundt Cake
Name your favorite it-tastes-like-Thanksgiving flavor, and you'll find it here: pumpkin, cranberry, apples, pecans and the fall-winter spices cinnamon, nutmeg and ginger. The only thing that might be missing is maple syrup, and there's no reason you can't add it by mixing a little into some whipped cream and topping each serving with a fat spoonful. Or, make a maple icing to drizzle down the cake's sides (see Playing Around, below). Like all Bundts, this one has convenience and generosity on its side. It's essentially a one-bowl cake that bakes up ready to serve and ready for a crowd.
Makes 12 servings
2 cups all-purpose flour
2 large eggs, at room temperature
2 teaspoons baking powder
1 teaspoon pure vanilla extract
1/2 teaspoon baking soda
1 1/4 cups canned unsweetened pumpkin puree
2 teaspoons ground cinnamon
1/4 teaspoon freshly grated nutmeg
1 large apple, peeled, cored and finely chopped
Pinch of salt
1 1/2 teaspoons grated fresh ginger (or 1 teaspoon ground ginger)
1 cup cranberries, halved or coarsely chopped
1 1/4 sticks (10 tablespoons) unsalted butter, at room temperature
1 cup pecans, coarsely chopped
1 cup sugar
Confectioners' sugar, for dusting
1/2 cup (packed) light brown sugar
GETTING READY: Center a rack in the oven and preheat the oven to 350 degrees F.
Butter a 9- to 10-inch (12-cup) Bundt pan. (If you've got a silicone Bundt pan, there's no need to butter it.) Don't place the pan on a baking sheet -- you want the oven's heat to circulate freely through the Bundt's inner tube.
Whisk together the flour, baking powder, baking soda, cinnamon, nutmeg, salt and ground ginger, if you're using it (not the grated ginger).
Working with a stand mixer, preferably fitted with a paddle attachment, or with a hand mixer in a large bowl, beat the butter and both sugars together at medium speed until light and fluffy. Add the eggs one at a time, and beat for 1 minute after each addition. Beat in the vanilla. Reduce the mixer speed to low and add the pumpkin, chopped apple and grated ginger, if you're using it -- don't be concerned if the mixture looks curdled. Still on low speed, add the dry ingredients, mixing only until they are incorporated. With a rubber spatula, stir in the cranberries and pecans. Scrape the batter into the pan and smooth the top with the rubber spatula.
Bake for 60 to 70 minutes, or until a thin knife inserted into the center of the cake comes out clean. Transfer the cake to a rack and cool for 10 minutes before unmolding, then cool to room temperature on the rack.
Just before bringing the cake to the table, dust it with confectioners' sugar.
SERVING: Because of the apples, cranberries and nuts, this cake doesn't lend itself to being cut into dainty slices -- and that's just as well: you really want to get a mouthful, the better to appreciate the cake's many flavors. It needs no embellishments if you're serving it as an afternoon treat, but it is nice with softly whipped cream or a scoop of ice cream. For brunch, toast the cake lightly and spread it with a little salted butter and/or a slick of pure maple syrup.
STORING: Wrapped well, the cake will keep at room temperature for up to 5 days, at which point it will be perfect for toasting; or freeze for up to 2 months.
Playing Around
MAPLE SYRUP ICING: To make a maple-flavored icing for the cake, sift 6 tablespoons confectioners' sugar into a bowl. Stir in 2 tablespoons maple syrup. Add more maple syrup little by little, until you have an icing that runs nicely off the tip of the spoon -- you might need another 1/2 tablespoon syrup to get the right consistency. Put the cooled cake on a sheet of wax paper and drizzle the icing from the tip of the spoon over it. Let the icing set for a few minutes before serving.
Marshmallows
Including marshmallows as a spoon dessert may seem like cheating -- after all, they're eaten with fingers (or, by campers, from sticks picked up in the forest) -- but making them at home is too much fun to miss. And in fact this dessert is related to others in this chapter: the base is meringue -- sweetened and strengthened by a cooked sugar syrup and fortified by gelatin.
There's nothing difficult about making the marshmallows, but the meringue does need a long beating. While you can use a hand mixer, a stand mixer makes the job easier.
I'm giving you the recipe for a basic vanilla marshmallow. See Playing Around (below) for raspberry, chocolate, cappuccino and pumpkin marshmallows.
Makes about 1 pound marshmallows
About 1 cup potato starch (found in the kosher foods section of supermarkets) or cornstarch
2 tablespoons light corn syrup
2 1/4-ounce packets unflavored gelatin
3 large egg whites, at room temperature
3/4 cup cold water
1 tablespoon pure vanilla extract
1 1/4 cups plus 1 tablespoon sugar
GETTING READY: Line a rimmed baking sheet -- choose one with a rim that is 1 inch high -- with parchment paper and dust the paper generously with potato starch or cornstarch. Have a candy thermometer at hand.
Put 1/3 cup of the water, 1 1/4 cups of the sugar and the corn syrup in a medium saucepan over medium heat. Bring the mixture to a boil, stirring until the sugar dissolves. Once the sugar is dissolved, continue to cook the syrup -- without stirring -- until it reaches 265 degrees F on the candy thermometer, about 10 minutes.
While the syrup is cooking, work on the gelatin and egg whites. In a microwave-safe bowl, sprinkle the gelatin over the remaining cold water (a scant 7 tablespoons) and let it sit for about 5 minutes, until it is spongy, then heat the gelatin in a microwave oven for 20 to 30 seconds to liquefy it. (Alternatively, you can dissolve the gelatin in a saucepan over low heat.)
Working in the clean, dry bowl of a stand mixer fitted with the whisk attachment or in another large bowl with a hand mixer, beat the egg whites on medium-high speed until firm but still glossy -- don't overbeat them and have them go dull.
As soon as the syrup reaches 265 degrees F, remove the pan from the heat and, with the mixer on medium speed, add the syrup, pouring it between the spinning beater(s) and the sides of the bowl. Add the gelatin and continue to beat for another 3 minutes, so that the syrup and the gelatin are fully incorporated. Beat in the vanilla.
Using a large rubber spatula, scrape the meringue mixture onto the baking sheet, laying it down close to a short end of the sheet. Then spread it into the corners and continue to spread it out, taking care to keep the height of the batter at 1 inch; you won't fill the pan. Lift the excess parchment paper up to meet the edge of the batter, then rest something against the paper so that it stays in place (I use custard cups).
Dust the top of the marshmallows with potato starch or cornstarch and let the marshmallows set in a cool, dry place. They'll need about 3 hours, but they can rest for 12 hours or more.
Once they are cool and set, cut the marshmallows with a pair of scissors or a long thin knife. Whatever you use, you'll have to rinse and dry it frequently. Have a big bowl with the remaining potato starch or cornstarch at hand and cut the marshmallows as you'd like -- into squares, rectangles or even strips (as they're cut in France). As each piece is cut, drop it into the bowl. When you've got 4 or 5 marshmallows in the bowl, reach in with your fingers and turn the marshmallows to coat them with starch, then, one by one, toss the marshmallows from one hand to the other to shake off the excess starch; transfer them to a serving bowl. Cut and coat the rest of the batch.
SERVING: Put the marshmallows out and let everyone nibble as they wish. Sometimes I fill a tall glass vase with the marshmallows and put it in the center of the table -- it never fails to make friends smile. You can also top hot chocolate or cold sundaes with the marshmallows.
STORING: Keep the marshmallows in a cool, dry place; don't cover them closely. Stored in this way, they will keep for about 1 week -- they might develop a little crust on the outside or they might get a little firmer on the inside, but they'll still be very good.
Playing Around
RASPBERRY MARSHMALLOWS: Fruit purees are excellent for flavoring these candies.
For raspberry marshmallows, you'll need a generous 1/3 cup of puree; reduce the vanilla extract to 1/4 teaspoon. After the batter is mixed, gently fold in the puree with a rubber spatula. You can use the same measurements and technique for other purees, such as strawberry, mango and passion fruit.
CAPPUCCINO MARSHMALLOWS: Sift 1/4 cup unsweetened cocoa powder, 2 tablespoons instant espresso powder and 1/2 teaspoon ground cinnamon together into a small bowl. Stir in 1/3 cup boiling water and mix until smooth. Reduce the vanilla extract to 1/2 teaspoon, and add it to the espresso mix. After you add the sugar syrup and gelatin to the meringue, beat in the espresso mixture and continue.
LIGHT CHOCOLATE MARSHMALLOWS: Melt 3 ounces bittersweet or semisweet chocolate and stir in 2 1/2 tablespoons unsweetened cocoa powder. Reduce the vanilla extract to 1/4 teaspoon, and after the marshmallow batter is mixed, fold in the chocolate mixture with a large rubber spatula.
PUMPKIN SPICE MARSHMALLOWS: Whisk together 1/2 cup canned unsweetened pumpkin puree, 1 teaspoon ground cinnamon, 1/2 teaspoon ground ginger, a pinch of freshly grated nutmeg and a pinch of ground allspice. After the marshmallow batter is mixed, fold in the spiced pumpkin with a large rubber spatula.
Cranberry Lime Galette
By its very nature, a galette is rustic and not meant to be perfect. It's a round of pie dough folded over the edges of a filling, and what makes it so charming are its pleats, bends and wrinkles. The glistening cranberry filling in this galette is gorgeous and luscious. It's a mix of tart, spicy cranberries, ginger and lime and soft, mellow brown sugar, apples and raspberry jam, and it teeter-totters delightfully between sweet and puckery. On the practical side, the galette is both festive enough to serve at a dinner party and easy enough to make for a weekday meal (and, as beautiful as it is, it can be made ahead, frozen and baked on demand). I created it for a Thanksgiving dinner, fell in love with it and serve it all through the fall and winter.
I find it unwieldy to make the galette any larger than about 9 inches in diameter. If you've got more than six people around the table, double the recipe and make two galettes.
Good for Almost Everything Pie Dough for a single crust (recipe below), chilled
1/3 cup moist, plump dried cranberries (optional)
3/4 cup (packed) light brown sugar
3 tablespoons ground nuts (walnuts, almonds, pecans or skinned hazelnuts)
A 1 1/2-inch piece of fresh ginger, peeled and finely chopped
Grated zest of 1 lime
3 tablespoons dry bread crumbs (store-bought unseasoned crumbs are fine)
Juice of 1/2 lime
3 tablespoons raspberry jam or jelly
2 cups cranberries, fresh or frozen (if frozen, thaw and pat dry)
Decorating (coarse) or granulated sugar, for dusting
1 medium apple, peeled, cored and cut into 1/2-inch chunks
Confectioners' sugar, for dusting
GETTING READY: Center a rack in the oven and preheat the oven to 400 degrees F.
Line a baking sheet with parchment (see below) or a silicone mat.
To make it easier to move the pie dough onto the baking sheet, roll it between sheets of parchment (in which case, you can use one of the rolling sheets to line the baking sheet) or wax paper or plastic wrap. Alternatively, work on a well-floured surface, taking care to keep the dough moving by turning it and flouring the surface often.
Roll the dough into a large 1/8-inch-thick circle. Using a pastry wheel or a paring knife, trim the dough to a 13-inch diameter. Transfer the dough to the baking sheet and keep it covered in the refrigerator while you make the filling.
Mix together the nuts and bread crumbs.
Toss together all the remaining ingredients (except the decorating and confectioners' sugars for dusting) in a bowl, stirring just to mix.
Remove the crust from the refrigerator. Using a cake pan or pot lid as a template and the tip of a blunt kitchen knife as a marker, gently trace a 9-inch circle in the center of the dough -- this is the area for the filling. Sprinkle the center circle with the nut and crumb mixture and top with the filling. Now gently lift the unfilled border of dough up and onto the filling: as you lift the dough and place it on the filling, it will pleat. Brush the dough very lightly with a little water, then sprinkle it with a teaspoon or two of decorating or granulated sugar.
Bake the galette for 35 to 40 minutes, or until the crust is brown, the cranberries have popped and the filling is bubbling. Place the baking sheet on a rack to cool for 10 minutes.
Very carefully slide a small baking sheet or a cake lifter under the galette and slip the galette onto a rack to cool. Serve the galette when it is just warm or when it has reached room temperature, lightly dusted with confectioners' sugar.
SERVING: The galette is so beautiful that it should be brought to the table uncut, but before you present it, give it its dusting of confectioners' sugar. The cake is good with ice cream or sweetened whipped cream.
STORING: The galette is best served the day it is made, preferably shortly after it has come from the oven. If it has had to wait, you can reheat it for 10 minutes in a 350degree-F oven.
Playing Around
CRANBERRY ORANGE GALETTE: If you'd like a filling that's a little less edgy but no less enticing, replace the lime zest and juice with orange zest and juice (use the zest from 1/2 orange and 1 to 2n tablespoons juice) and replace the raspberry jam with good-quality orange marmalade.
Good for Almost Everything Pie Dough
The name says it all. You can use this flaky, flavorful easy-to-roll dough for pies, galettes, turnovers or even tarts. If -- heaven forbid -- you could have only one dough for crust in your repertory, this would be the one to choose.
You'll need a large-capacity food processor to make a double crust. If your machine isn't large enough, make the dough in two batches.
For a 9-inch Double Crust:
3 cups all-purpose flour
1/4 cup sugar
1 1/2 teaspoons salt
2 1/2 sticks (10 ounces) very cold (frozen is fine) unsalted butter, cut intro tablespoon-size pieces
1/2 cup very cold (frozen is even better) vegetable shortening, cut into 4 pieces
About 1/2 cup ice water
For a 9-inch Single Crust:
1 1/2 cups all-purpose flour
2 tablespoons sugar
3/4 teaspoon salt
1 1/4 sticks (10 tablespoons) very cold (frozen is fine) unsalted butter, cut into tablespoon-size pieces
2 1/2 tablespoons very cold (frozen is even better) vegetable shortening, cut into 2 pieces
About 1/4 cup ice water
Put the flour, sugar and salt into a food processor fitted with a metal blade; pulse just to combine the ingredients. Drop in the butter and shortening and pulse only until the butter and shortening are cut into the flour. Don't overdo the mixing -- what you're aiming for is to have some pieces the size of fat green peas and others the size of barley. Pulsing the machine on and off, gradually add about 6 tablespoons of the water if making a double crust, 3 tablespoons if making a singe crust -- add a little water and pulse once, add some more water, pulse again and keep going that way. Then use a few long pulses to get the water into the flour. If, after a dozen or so pulses, the dough doesn't look evenly moistened of form soft curds, pulse in as much of the remaining water as necessary, or even a few drops more, to get a dough that will stick together when pinched. Big pieces of butter are fine. Scrape the dough out of the work bowl and onto a work surface.
If making a double crust, divide the dough in half. Gather each half into a ball, flatten each ball into a disk and wrap each half in plastic. Or shape the dough for a single crust into a disk and wrap it. Refrigerate the dough for at least 1 hour before rolling. (If your ingredients were very cold and you worked quickly, though, you might be able to roll the dough immediately: the dough should be as cold as if it had just come out of the fridge.)
TO ROLL OUT THE DOUGH: Have a buttered 9-inch pie plate at hand.
You can roll the dough out on a floured surface or between sheets of wax paper or plastic wrap or in a rolling slipcover. (I usually roll this dough out on the floured counter.) If you're working on a counter, turn the dough over frequently and keep the counter floured. If you are rolling between paper, plastic or in a slipcover, make sure to turn the dough over often and to lift the paper, plastic or cover frequently so that it doesn't roll into the dough and form creases.
If you've got time, slide the rolled-out dough into the fridge for about 20 minutes to rest and firm up.
FOR A DOUBLE-CRUSTED PIE: Fit one circle of dough into the pie plate, allowing the excess to hang over. Trim to a 1/8- to 1/4-inch overhang. Fill the pie and moisten the edges of the bottom crust with water. Center the second piece of dough over the filling and press it against the bottom crust. Using a pair of scissors, cut the top crust's overhang so that it extends about 1/4 inch over the bottom crust. Tuck the excess top crust under the bottom crust and flute or pinch the crust to make a decorative edge. Alternatively, you can seal the doubled-up crust by pressing it with the tines of a fork. Follow the pie recipe's instructions for baking.
FOR A SINGLE CRUST: Fit the dough into the pie plate and, using a pair of scissors, cut the excess dough to a 1/4- to 1/2-inch overhang. Fold the dough under itself, so that it hangs over the edge just a tad, and flute or pinch the crust to make a decorative edge. Alternatively, you can finish the crust by pressing it with the tines of a fork.
TO PARTIALLY OR FULLY BAKE A SINGLE CRUST: Refrigerate the crust while you preheat the oven to 400 degrees F.
Butter the shiny side of a piece of aluminum foil, fit the foil, buttered side down, tightly against the crust and fill with dried beans or rice or pie weights. Put the pie plate on a baking sheet and bake the crust for 25 minutes. Carefully remove the foil and weights and, if the crust has puffed, press it down gently with the back of a spoon. For a partially baked crust, return the pie plate to the oven and bake for about 8 minutes more, or until the crust is very lightly colored. To fully bake the crust, bake until golden brown, about another 10 minutes. Transfer the pie plate to a rack and cool to room temperature before filling.
Sweet Potato Biscuits
Soft and creamy-textured, with flaky layers, these biscuits satisfy like cake.
Using canned sweet potatoes makes them easy to prepare at a moment's notice. I use canned sweet potatoes packed in light syrup -- I just drain the potatoes and mash them with a fork. If you've got leftover cooked sweet potatoes or yams, give them a good mashing, measure out 3/4 to 1 cup and you're good to go.
Makes about 18 biscuits
2 cups all-purpose flour
2 tablespoons (packed) light brown sugar
1 tablespoon baking powder
1 teaspoon salt
3/4 stick (6 tablespoons) cold unsalted butter, cut into 12 pieces
2 15-ounce cans sweet potatoes in light syrup, drained and mashed
Pinch of ground cinnamon or freshly grated nutmeg (optional)
GETTING READY: Center a rack in the oven and preheat the oven to 425 degrees F.
Get out a sharp 2- to 2 1/4-inch-diameter biscuit cutter, and line a baking sheet with parchment or a silicone mat.
Whisk the flour, baking powder, salt and spice, if you're using it, together in a bowl. Add the brown sugar and stir to incorporate it, making sure there are no lumps. Drop in the butter and, using your fingers, toss to coat it with flour. Quickly, working with your fingertips (my favorite method) or a pastry blender, cut and rub the butter into the dry ingredients until the mixture is pebbly. You'll have pea-size pieces, pieces the size of oatmeal flakes and pieces the size of everything in between -- and that's just right.
Add the sweet potatoes to the bowl, grab a fork, and toss and gently turn the ingredients until you've got a nice soft dough. Now reach into the bowl with your hands and give the dough a quick, gentle kneading -- 3 or 4 turns should be just enough to bring everything together.
Lightly dust a work surface with flour and turn out the dough. Dust the top of the dough very lightly with flour and pat the dough out with your hands or roll it with a pin until it is about 1/2 inch high. Don't worry if the dough isn't completely even -- a quick, light touch is more important than accuracy.
Use the biscuit cutter to cut out as many biscuits as you can. Try to cut the biscuits close to one another so you get the most you can out of this first round. By hand or with a small spatula, transfer the biscuits to the baking sheet. Gather together the scraps, working them as little as possible, pat out to a 1/2-inch thickness and cut as many additional biscuits as you can; transfer these to the sheet. (The biscuits can be made to this point and frozen on the baking sheet, then wrapped airtight and kept for up to 2 months. Bake without defrosting -- just add a couple more minutes to the oven time.)
Bake the biscuits for 14 to 18 minutes, or until they are puffed and golden brown. Transfer them to a cooling rack -- cooled a bit, they're more sweet potatoey. Give them 10 to 15 minutes on the rack before popping them into a basket and serving.
SERVING: Unlike most biscuits, these are best served after they've had a little time to cool. They are as good at brunch (they're great with salty ham and bacon) as they are at tea (try them with a light cheese spread and/or marmalade). Or have them with butter or jam, fruit butter or fruit compote.
STORING: You can keep the biscuits in a plastic bag overnight and give them a quick warm-up in the oven the next day, but you won't recapture their freshly made flakiness.