Will Hermes: Top Ten CDs of 2006
Writer and reviewer Will Hermes shares his favorite albums of the past year. Hermes is a frequent contributor to NPR's All Things Considered and writes for Spin Magazine, The New York Times and Entertainment Weekly. He's also the co-editor of Spin: 20 Years of Alternative Music.
Hermes recently appeared on NPR's live, online call-in edition of All Songs Considered to help count down listener picks for the year's top ten CDs.
10. Lupe Fiasco
Discounting the vets in Gnarls Barkley, this is my vote for the year's best debut, with what's arguably 2006's best single, "Kick, Push." Every song is shot through with an unjaded love of hip-hop (especially the one about how the rapper used to hate hip-hop), while the beats are uplifting enough to raise the dead (especially the one about the murdered kid who digs himself out of his grave). A remarkable storyteller whose knack for pinpointing adolescent pain suggests he's been there and back a few times, the rapper nevertheless remains an optimist. And in rap, as in politics, we can always use more of those.
09. The Coup
Boots Riley is currently rap's sharpest political provocateur---but unlike Public Enemy's Chuck D in his prime, he's mainly preaching to club audiences, not arenas. Too bad. Riley isn't just smart; he's wickedly funny, too. Not to mention a convincing romatic — see "BabyLet'sHaveABabyBeforeBushDoSomethingCrazy." And his idea of a good backing track is firmly rooted in the sound of '70s Funkadelic, which is always fine by me.
08. Neko Case
Case usually gets admired for her handsome voice — with its full-figured Patsy Cline curves, it's a contender for the best in country music, never mind alt-country. But here her songwriting matches her instrument. Case's stories are generally about survivors: of broken hearts, druggy escapades, vehicular crashes, and the merciless march of time (and on "Star Witness," all of the above). And the singer unspools her tales amidst guitar twang and gothic ambiance that gives 'em a spooky timelessness, like a David Lynch film recast as an Americana song cycle.
07. Juana Molina
By its nature, experimental pop tends to wow you with its strangeness. Rarely does it seduce you. But here, even more so than on her wonderful previous records, Molina's free-form songs are so playful that you forget how odd they are, as her Spanish language verses morph into sing-song phonemes and animal noises and back again. Whether the title suggests a male offspring or a Cuban song-form, her sense of both the maternal and of Latin musical tradition will surprise you.
06. Comets on Fire
Finally: Modern psychedelic rock that's fierce as opposed to wonky, wacky, or pastoral. The twin guitars of frontman Ethan Miller and Ben Chasny (whose own outfit Six Organs of Admittance also made a great psych disc this year) flail like severed high-voltage lines. They even get pleasantly pastoral at points. But not for long — these guys are just too wired.
05. Toumani Diabate
Two harpists in the top ten? Sure, why not? Diabate's collaboration with the late Ali Farka Toure last year, In The Heart Of The Moon, was gorgeous chamber music. But this is club music — at least if you're lucky enough to frequent Bamako, Mali, where a version of this outfit has been rocking crowds at the outdoor Hogon club almost every Friday night for the past decade. That doesn't mean the music doesn't get quiet and pretty, like the parts when Diabate's kora flutters like birds at sunrise. Then the horns and drums and guitars lock into some modern Mande funk or an old school African rumba, and it's up and at 'em.
04. Joanna Newsom
If this harp playing singer-songwriter represents the amorphous genre known as "freak folk," then Ys is that movement's aesthetic sensibility coming of age, yoking its devoted spaciness to a singularly stubborn artistry. Ambitious, virtuosic, and not quite easy listening (the five songs each clock in around ten minutes long), the disc shines with vivid production and spectral string arrangements by the venerable Van Dyke Parks. Don't be fooled by the bears, monkeys, birds, and bats in her lyrics: listen close to her giddy vocals and you'll hear a wholly human ache.
03. Cat Power
Completing the year's troika of strange soul CDs is this hushed set by Chan Marshall, a sad-sack indie rock heroine with Southern roots who gets her groove on here with veterans of Al Green's great '70s backing band. That the struggles depicted in the lyrics ("there's nothing like living in a bottle/There's nothing like ending it all for the world") turned out to be somewhat autobiographical just adds to the poignancy.
02. TV On the Radio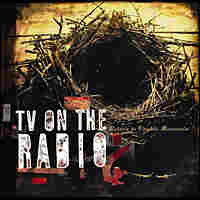 A record about making love, and art, in the ruins of history. Or something. It's hard to get a bead on this masterpiece of maelstrom pop, made by five Brooklyn dudes who clearly dig British art rock (a la Peter Gabriel, Cocteau Twins, David Bowie) and the vocal foreplay of American soul and doo-wop. But that's fine: this is a record to get lost in, less about explicit meaning than about elusive moods and remarkable sonic textures.
01. Gnarls Barkley
It was a great year for soul music that sounded nothing like traditional soul music. Exhibit A is this set by rapper-cum-singer Cee-Lo, formerly of knotty Atlanta hip-hoppers Goodie Mob, and Danger Mouse, a computer-saavy producer best known for morphing rhymes off Jay-Z's Black Album with musical bits from The Beatles' White Album to create The Grey Album, 2004's technically illegal internet mega-hit. Here, the duo make pop music that looks forward and backward, conjuring vintage Motown, new wave, and digitized hip-hop thorough a kaleidoscopic lens of old soundtrack samples and new recordings.