Reaction to the Iraq Study Group Report
Reaction to the Iraq Study Group Report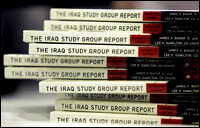 Worldwide Reaction to ISG
Iraqi officials give their reaction to the Iraq Study group report that was released Wednesday. Other advisors to the Iraq Study Group also join us for more discussion of U.S. policies in Iraq.
Guests:
Shibley Telhami, Advisor to Iraq Study Group, Anwar Sadat Professor for Peace and Development, University of Maryland, and Senior Fellow at the Brookings Institution
Michael Rubin, Resident Scholar the American Enterprise Institute, Former Pentagon policy official and former political adviser to the U.S. occupation authority in Baghdad
Qubad Talabani, The U.S. Representative of the Patriotic Union of Kurdistan, and the Iraqi Kurdistan Regional Government and the son of Iraq president Jalal Talabani
Faisal Istrabadi, Iraq's Deputy Permanent Representative to the United Nations, Former deputy to Adnan Pachachi - former Speaker of the Iraq Parliament
Related NPR Stories
Iraq Study Group: U.S. Policy 'Not Working'
Iraq Study Group: U.S. Policy 'Not Working'
Hear Special Coverage on 'Talk of the Nation'
Read the Report
Hear from Study Group Members
Co-Chairman James Baker on the Limits of the Recommendations and the Need to Act Quickly
Leon Panetta, former White House chief of staff to President Clinton, on 'One Last Chance' to Make Iraq Work
Former Supreme Court Justice Sandra Day O'Connor on Streamlined Goals for Iraq
Former Sen. Charles Robb: 'Our Expectations Are Modest But Very Important'
Find out what President Bush and leaders on Capitol Hill had to say about the commission's recommendations.
A long-awaited report by the Iraq Study Group paints a bleak picture of the situation in Iraq. The 10-member, bipartisan panel says the situation in Iraq is "grave and deteriorating" and could provoke a slide into chaos. The report, handed to President Bush and Congress Wednesday morning, lays out 79 recommendations to try to pull Iraq back from the brink.
The opening line sets a sober, grim tone: "There is no magic formula to solve the problems of Iraq."
It describes those problems as enormous: Violence in Iraq, fed by an insurgency, militias and crime, is increasing in scope and lethality. The Iraqi military and security forces are ineffective and corrupt. About 2,900 U.S. soldiers are dead so far, with another 21,000 wounded. There's no sign the situation will change anytime soon.
The panel's co-chairman, James Baker, the Republican who once served as a U.S. secretary of state, makes it clear the Bush administration's handling of the war is not working.
"We do not recommend a 'stay the course' solution," Baker said Wednesday. "In our opinion, that approach is no longer viable. "
In its report, the study group lays out three key recommendations.
First, the United States must help Iraqis take responsibility for their own destiny.
Former Rep. Lee Hamilton, the Democrat from Indiana who serves as the other co-chairman of the group, says that the Bush administration must send a strong message to Iraqi leaders to make substantial progress on national reconciliation, security and improving daily lives of Iraqis.
"If the Iraqi government does not make substantial progress toward the achievement of milestones, the United States then should reduce its political, military or economic support for the Iraqi government," Hamilton said.
A second recommendation calls for a renewed, immediate push by the United States on the diplomatic front, including reviving Arab-Israeli peace talks and opening a dialogue with Iran and Syria.
The Bush administration has steadfastly refused to enter into talks with either country. Hamilton says both countries have enormous influence in the region and a lot of impact in Iraq.
"We will be criticized, I'm sure, for talking with our adversaries," Hamilton said. "But I do not see how you solve these problems without talking to them."
Hamilton and Baker are skeptical that Iran will come to the negotiating table. Baker holds out more hope for dealing with Syria's leaders.
"They could... be in a position to help us and might want to help us," he said. "But we're specific in the report. There must be 10 or 11 or 12 things... that we will be asking of Syria... We're talking about tough diplomacy."
And the study group also recommends that the United States make a fundamental change in its military operations by gradually shifting its troops from combat missions to training and advising the Iraqi army.
The commission suggests a five-fold increase in the number of U.S. troops embedded to train Iraqis. That would mean 20,000 U.S. trainers instead of the current 4,000. If all goes well, the report suggests, combat troops could begin leaving Iraq in early 2008.
Study group member Charles Robb -- the Democrat who served Virginia as a U.S. senator and governor -- says "embedding our forces at greater levels in the Iraqi military" will create "more capacity, more trust, more capability in the Iraqi forces."
Robb says a number of U.S. military officials agree that more trainers are needed.
The Pentagon, State Department and the National Security Council are due to release Iraq strategy reviews sometime in the next few weeks. President Bush has said he will look at all options before making any decision on Iraq.
Panel members on the Iraq Study Group said their plan didn't offer any guarantees, but that it would certainly improve the chances for success in Iraq.