Best Jazz CD Box Sets
Music critic Kevin Whitehead has selected some special jazz box sets for the music lover on your gift list this holiday season.
If You Got to Ask, You Ain't Got It! -- Fats Waller (Bluebird/Legacy)
This 3-CD Fats Waller anthology is one you can really spend time with. It showcases all of the roles Fats Wallers played: the solo pianist, band pianist, pipe organist, cheeky singer of his own and other people's tunes, and all-around winning personality. The handsome program book includes a very long appreciation by jazz critic Dan Morgenstern.
How Low Can You Go? -- Anthology of the String Bass (1925-1941) (Dust-to-Digital)
Devoted to the string bass, the music in this set was chosen with obvious care. It includes music from 1925, when the bass fiddle was more rare on record than in performance, because it was hard to record. This anthology casts a wide net, taking in both famous and obscure jazz groups, but also Latin, calypso, country, gospel, blues, Hawaiian and jug bands. Variety and a sense of fun make How Low Can You Go? a painless history lesson.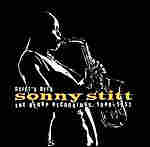 Stitt's Bits: The Bebop Recordings, 1949-195 -- Sonny Stitt (Prestige)
This 3-CD Sonny Stitt anthology, works well because of the range of his recordings around 1950. He played pretty ballads and jumping blues, beefed up his small groups with extra horns or mambo percussion, backed up singers, and engaged in many friendly battles with fellow tenor and baritone man Gene Ammons, this set's featured co-star.
Andrew Hill -- Solo -- Andrew Hill (Mosaic Select)
Another 3-disc box; this one is three hours of singular piano music from 1978, most of it unreleased till now. As a composer, Hill has a knack for embedding catchy phrases into haunting tunes. In this box set, he obsesses on his melodies, poring over them, and proceeding in fits and starts. Andrew Hill's solo method is so mysterious and the music's texture so spare, that it keeps pulling you back in.
2006 Best Music Selections
More on Fats Waller
NPR transcripts are created on a rush deadline by an NPR contractor. This text may not be in its final form and may be updated or revised in the future. Accuracy and availability may vary. The authoritative record of NPR's programming is the audio record.