Covert, Michigan: A History in Black and White
Covert, Michigan: A History in Black and White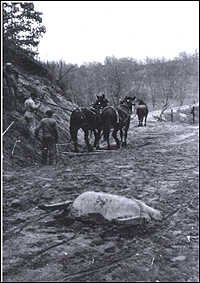 Collection of Ernestine Carter Taitt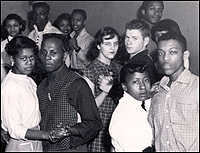 All news is bad news. Or so the saying goes. Many Brits firmly believe this — and use it as a branch to beat their journalists, one of the more despised species in these isles.
It is, of course, untrue. There's no better example of the media's appetite for good news than the tsunami of euphoria with which they've greeted Andy Murray's Wimbledon triumph on Sunday.
The English are feting Murray as a British hero. They're calling for him to be made a knight of the realm to honor his prowess with racquet and ball, and his status as the first British champion in men's singles at Wimbledon in 77 years.
Murray's actually from Scotland. Many Scots view him not only as their hero — not England's — but as the greatest Scottish sports star since they all wore kilts, and horned ginger-haired highland cattle were freely roaming their hills.
Why does this matter?
Because next year, Scots will vote on whether to stay in the United Kingdom. The possibility of Scottish secession is the subject of a fierce political contest between British Prime Minister David Cameron — who has vowed to fight tooth and nail to save the union — and Scotland's first minister, the nationalist Alex Salmond.
Salmond was at Sunday's championship match, sitting in the Royal Box, behind his adversary, Cameron.
When Murray won, Salmond craftily whipped out a big Scottish flag and joyously brandished it behind Cameron's head in full view of the cameras — and violating Wimbledon's house rules. We can expect to see that image many times in coming months, as the fight for Scottish independence gathers momentum.
Britain's current appetite for Good News is not confined to sport. The cynicism and skulduggery of the British newspaper industry now comes hand-in-hand with a determination to peddle happiness.
The opening lines of a front page story in Rupert Murdoch's usually hard-nosed Sunday Times, (published before Murray's victory) captured this trend: "Britain is basking in unaccustomed sunshine, sporting triumph and the best spirits for three years this weekend," it gushed.
Those who find this happy-clappy stuff a little stomach-turning better toughen up. More, much more, is to come: A royal baby is due in a few days.
The tabloids are already churning out stories about "Baby Cambridge," along with maps of the royal maternity clinic. There are accounts of Kate's Yummy Mummy Baby Group, and her penchant, during pregnancy, for vegetable curries and Haribu candies.
The birth will be marked by a 41-gun salute in Hyde Park, popping champagne corks from the kingdom's royalists, a hurricane of unctuous guff from the nation's anchormen and women, and world-weary sighs from a dwindling band of Brits ... who're discovering they actually prefer bad news.
On the Midwestern frontier in the 1860s, the settlers of Covert, Mich., lived as peers, friends and sometimes even kin. What makes the story unusual is that they were both black and white.
The graveyard is eloquent testimony to their remarkable lives. There are hardscrabble pioneers and a lumberman whose tombstone has been cast from a tree trunk. The cemetery is one of very few in the country where black and white Civil War veterans lie together.
It's the sense of shared fate that attracted historian Anna-Lisa Cox to Covert. For more than a decade, she traced the tales of the town's pioneers. Earlier this year, she published a book on the subject.
The Roods -- Mayflower descendants -- came to Covert in the 1860s. So did the Pompeys, who were farmers and black soldiers.
"And they're actually about as close in the graveyard as they were in life," Cox says.
Covert was not one of the abolitionist colonies established in the Midwest at the time, following an anti-slavery philosophy. Nor was it a free African-American settlement protected by the Quakers. It wasn't a utopian social experiment. It was, quite simply, tough frontier, and somehow it was a place where individuals laid the foundation for a culture of trust in one another.
And it endured.
Five generations on, descendants of Covert's pioneer African-American families still recall what it took for their forebears to get there. From 1830 to 1850, more than 30,000 blacks walked out of the South in search of a new life on the Midwestern frontier.
Oral tales, passed down from one generation to the next, tell the story of what it was like to be a black person making a dangerous journey to the North.
"That story has been in the family all of my life, how the family left Snow Township," remembers Ernestine Carter Taitt, who is 80 now. "And it was called Snow Township because the sand was so white. Snow Township, Green County, North Carolina. They were leaving the South."
Taitt is the direct descendant of Covert's pioneering black families, the Conners and Tylers. They were freemen in the South, but they weren't truly free. They traveled in stealth. Fear was a constant.
Taitt says her ancestors reached the Kentucky side of the Ohio River only to be approached by three white men who offered to guide the families across under cover of darkness.
One man came back ahead of the others and warned them that the others intended to take them "back to slavery."
The families had already lost one of their party -- an aunt seized by a group of white men after she lost her free papers.
But they prayed, Taitt says, and "were led to follow that one man."
According to the family's oral history, the families crossed the river. As they drew closer to the opposite shore, they saw black people waiting on the Ohio side. The Conners and the Tylers knelt and kissed the ground, on free land at last.
Freedom from slavery did not mean the end of discrimination.
Throughout the Midwest -- in Michigan, as well as other states -- there were Black Codes: laws on the books designed to keep African Americans out.
Before entering these states, black settlers could be forced to pay exorbitant fees or prove their freedom to a judge. In Indiana, even black Civil War vets were prohibited from returning home if they did not follow the letter of the law.
Yet not long after the Conners arrived in Covert Township, one man made a difference.
Integrating the One-Room School
A white official named Adolphus Sherburn called at the Conners' farm to take a school census record for the state capital in Lansing. His job was to write down the names of all children eligible to attend school. By law, black children were not eligible to be taught with whites. But as the historian Cox notes, Aldophus Sherburn quietly made a radical choice: He entered the black children's names without mentioning their race.
"Without saying in parenthesis after their name, 'black,'" Cox explains. "Making it very clear to that family that those children were seen as equals."
Fear remained -- the fear that when the children did attend school with whites, someone might object. Neighbors. The law.
"One-room schoolhouses were so much about physical intimacy," Cox says. "You had a bunch of schoolchildren of all different ages, who would have to share a slate, sit next to each other on a wooden bench, be leaning up against each other, touching each other, sharing a book, reading aloud to each other.
"And the white families who lived in that area and whose uncles and brothers and fathers sat on the school board knew this," Cox says. "They knew this when this decision was being made, that a decision to integrate Covert school was a decision to live in intimacy with African Americans."
So through omission and subterfuge, the Covert schools were integrated. In other ways, Covert was like any frontier town: young. The majority of the population was younger than 21. It was a place attractive to itinerants, like those who worked in the logging camps.
But life was incredibly hard. In other words, it was exactly the kind of frontier town that easily turned ugly toward blacks. Only in Covert, that didn't happen.
Elected to Serve
One spring, as the ice thawed and the roads muddied, another remarkable thing occurred. In April 1868, farmer Dawson Pompey, nearly 70 -- reputed to be the son of a slave and her master -- set off to make history.
For reasons only he may have known, Pompey decided to run for public office. He wanted to be a highway overseer in the Covert Township, where roads were raw and hacked through the forest.
It was illegal for a black man to vote in Michigan, much less stand for office. But in Covert, dozens of white men elected Dawson Pompey an overseer.
"If you'd been a traveler through the Covert area in 1869, on horseback through this frontier community, you could have come across this astounding sight of a black man overseeing the hard labor of white men in his district to build roads," Cox says.
Dawson Pompey wasn't the only one elected in Covert Township. Through the years there were black highway overseers, black election inspectors, black township board members, a constable, a drain commissioner and in 1875, the first black justice of the peace elected in the state of Michigan.
These were still white men making the voting choices. Blacks never dominated Covert. They were, at most, 8 percent to 10 percent of the population.
A Slur and a Lesson
Friendships grew on the frontier, though it wasn't always easy.
Sandra Lundie, who is white and the great-granddaughter of a man named Chapin Reynolds, tells a story about Reynolds' friendship with Douglas Pompey:
"And he visited my great grandfather when he was painting his house," Lundie says. "And he said, 'Oh, Mr. Reynolds, your house looks so nice painting it.' And my great grandfather said, 'It shines like a nigger's heel.'"
The terrible racial slur was in those days a common phrase, uttered with little thought by a gentleman, a teacher -- and a man who realized he had gravely insulted his black friend.
Sandra Lundie says her great grandfather never forgot it: "After that he was so embarrassed, he said he apologized many times. And I think that was a lesson and he told my mother about it, and the rest of his family."
Braving Turbulent Times
Across the Midwest in the early 1890s, a wave of lynchings was taking place. From 1889 to 1894, as many as 700 black men and women were lynched in America. In 1896, the U.S. Supreme Court ruled in Plessy v. Ferguson that separate-but-equal treatment was constitutional, effectively clearing the way for segregation to become the law of the land and formalizing a racist, bitter status quo which haunts the United States to this day.
Yet in Covert, friendships survived. The wives of Mr. Reynolds and Mr. Pompey were still writing to each other a quarter-century later.
Sandra Lundie has kept a postcard written to her great-grandmother:
"Dear friend, sorry to hear you are so poorly," it reads. "Hope as warm weather comes it will find you well and happy. Douglas has been very poorly all February and March so far. "I would like to see you. Your old friend, Catherine Pompey."
By now, the pioneers of interracial friendship in Covert were passing on, but the culture of those friendships survived. Ernestine Taitt, who is Douglas Pompey's great-granddaughter, would see it when she visited Covert during the summers as a child in the 1920s and 1930s.
Related NPR Stories
Web Resources
A Stronger Kinship
One Town's Extraordinary Story of Hope And Faith
Hardcover, 272 pages |
purchase
Buy Featured Book
Title

A Stronger Kinship

Subtitle

One Town's Extraordinary Story of Hope And Faith

Author

Anna-lisa Cox
Your purchase helps support NPR programming. How?