'1000 Mirrors': Affirmation and Accusation
'1000 Mirrors' by Badi Assad
Tuesday's Pick
Song: "1000 Mirrors"
Artist: Badi Assad
CD: Wonderland
Genre: Brazilian Pop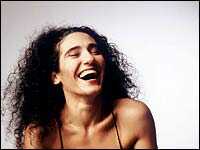 It seems like all artists are on a quest to find their voice, and Badi Assad is no different. Hers has extended across a virtual radio-play of characters and genres – from classical guitar musings to ethereal world-pop — and sets down firmly Brazilian roots with Wonderland. There's an element of ventriloquism in this recent pursuit, whose covers include "1000 Mirrors," originally performed by Sinead O'Connor and Asian Dub Foundation.
The song tells the story of a woman whose voice has been silenced in an abusive relationship. Where "1000 Mirrors" was once built around trippy beats and O'Connor's husky tones, Assad's voice takes on the semblance of a cry, signifying both pain and a call for attention. The agitated strings and percussive guitars signify a sense of disquiet, pulling in and out of the dominant Brazilian groove.
The song functions as both an accusation and an affirmation of sorts: "Who are the ones that are the guilty? / Who are the ones that bear the scar? / We must not leave our sisters bleeding / We sing this song for Tsoora Shah." Invoking the name of a woman accused of murdering her abusive husband, the song ends with repetitions of the phrase, "Now it's time." As it fades out, the energy and melancholy remain palpable.
Listen to yesterday's 'Song of the Day.'
Web Resources