Sen. Jon Tester Starts His Newest Job
Sen. Jon Tester Starts His Newest Job
Hometown: Big Sandy, Mont.
Education: B.S. Music, College of Great Falls, 1978.
Occupation: Organic farmer / Part-time butcher / U.S. senator.
Political Experience: Montana State Senate, 1998-2006; president of the Montana State Senate, 2005-2006.
Committee Assignments: Banking, Housing and Urban Affairs; Energy and Natural Resources; Homeland Security and Government Affairs; Veterans Affairs; Small Business and Entrepreneurship; and Indian Affairs
Other: Tester once taught music in the Big Sandy Public School System. He and his wife, Sharla, plan to continue farming the land his grandparents homesteaded almost 100 years ago.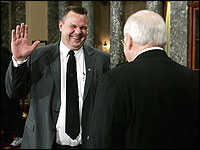 Jon Tester is one of the most distinctive new members of Congress — a big man with a flat-top haircut. He was president of the Montana Senate. And he's a third-generation farmer. His family's 1,800 acres are full of organic wheat, barley, lentils and peas. When he was 9 years old, he lost three of his fingers in an accident with a meat-grinder.
On a recent morning, the freshman senator from Montana starts the day with a bowl of fruit. He shares the meal with his wife, Sharla, in the townhouse they're renting on Capitol Hill.
After kissing his wife goodbye, he walks to the Dirksen Senate Office Building, where he and his fellow freshmen senators are entombed, on a dingy brown hallway across from the Senate stationery store.
These are only temporary quarters for Tester and his staff. They're waiting for Tester's office assignment, and he's dead last in seniority — number 100 out of 100.
It's a far cry from taking care of livestock or hauling wheat, a typical morning on a farm to which Tester is more accustomed.
Tester was elected as a straight-talking, tractor-riding prairie populist, who pledged to make the U.S. Senate look a little more like Montana.
"I hope people see me as a working person — somebody who's well connected with the land, here fighting for the middle class," he says.
After checking in at his office, Tester pays a visit to Sen. Jeff Bingaman (D-NM), who chairs the Senate Committee for Energy and Natural Resources. It's one of Tester's six committee assignments, and he wants to stake a claim on the subcommittees he'd like to get. Bingaman doesn't make any promises, but Tester gets a glimpse of what his Senate office might look like once it's ready.
Later, Tester meets with his staff to go over his schedule. He is surprised to learn that he will be presiding on the floor four hours a week, every week. That's when he gets an idea: to take the early, early morning shift. After all, those are farmer's hours.
His chief of staff, Stephanie Schriock, hands Tester the death notice for a soldier from Montana.
"Is this an Iraq one?" he asked. "Oh, God."
Tester has heard the rumors that President Bush is likely to increase troops in Iraq. Some members of Congress have warned that they will restrict funding for any troop increase. But Tester isn't sure about either option.
At noon, he boards the underground Senate tram and travels to the Capitol for his first vote as a U.S. senator. The vote, as it turns out, is one of the easiest votes he'll have to cast: a resolution to celebrate the life of President Gerald Ford. Tester joins in a unanimous aye.
From there, Tester goes to a news conference — where the freshmen Democrats have been invited to talk about the ethics bill. Each is given about two minutes to talk. Tester uses only one.
In part, Tester owes his seat in the Senate to his voters' concern over ethics. He defeated incumbent Conrad Burns, who was criticized for taking money from tainted lobbyist, Jack Abramoff, and his associates.
The rest of the afternoon is a blur: a quick lunch in the Senate cafeteria, a meeting with Sen. Byron Dorgan (D-ND) on Indian affairs, a briefing on homeland security, a negotiation for a new tractor via his cell phone, and a five-minute television appearance with Wolf Blitzer.
But even then, the day isn't quite over. After a few more meetings with his staff, Tester joins his 21-year-old son, Shon, at the gym before heading home for a dinner of pork chops.
Related NPR Stories