Exposing Scandal in the Church: Key Players
Scroll down to learn more about key personalities in the trial:
The Church Under Fire:
The Victims & Their Advocates:
The Reporters:
The Judge:
The pivotal trial that shook the world's faith in the Roman Catholic Church changed the lives of many of those involved in the case.
Almost five years have passed since Boston-area priest John Geoghan was convicted of sexually abusing a 10-year-old boy at a swimming pool. Evidence presented at trial demonstrated that cases of clergy sexual abuse were not isolated incidents, as Roman Catholic Church officials had argued before, during a similar scandal (see James Potter, below). In fact, as more reports surfaced in the wake of the Geoghan trial, clergy abuse was revealed to be a systemic problem in the Church — especially in the Boston Archdiocese.
Repercussions from the trial continue to be felt. Some Catholic dioceses have filed for bankruptcy after doling out millions of dollars in civil-lawsuit settlements. Due to budget crunches, the Boston Archdiocese consolidated some parishes and closed others. Alleged victims, most from the 1970s and '80s, are still coming forward with their stories.
Here's an update on the key personalities from the trial that started it all.
Priest at center of trial

Over the course of a 30-year career in a half-dozen parishes, Geoghan allegedly sexually abused some 130 people. For years, the Catholic Church had either ignored such complaints or settled with victims out of court. Because many victims were unwilling to file criminal charges until years after the abuse, and because of a statute of limitations regarding cases of alleged rape, Geoghan escaped prosecution until his trial in 2002. He was sentenced to nine to 10 years in prison for fondling a young boy at a swimming pool. Before he could stand trial for his other alleged crimes — most notably, the rape of a 7-year-old boy from Jamaica Plain — Geoghan was strangled and stomped to death by a fellow prisoner while in protective custody in August 2003.
---
Former archbishop of Boston

Geoghan's trial was as much about the Church's failure to fix a problem as it was about a priest guilty of sexual abuse. As the archbishop of Boston for almost 20 years, Cardinal Law insisted that he'd always consulted doctors before reinstating an accused priest. Further investigations, compelled by the reporting of The Boston Globe, revealed that Law had a policy of shuffling accused priests from parish to parish. This practice enabled them to continue their pattern of abuse. After some 50 priests signed a letter of no-confidence in Law, he resigned as archbishop in 2002. In 2004, Pope John Paul II appointed Law to a ceremonial position overseeing one of the basilicas in Rome, where he still lives today.
---
Catholic priest convicted of sex abuse

A Boston-area priest, Porter allegedly molested at least 125 children, beginning in the 1960s. For three decades, the Church failed to adequately respond to complaints regarding his behavior. Instead, Church officials transferred Porter from parish to parish, sometimes sending him to brief but ineffective counseling sessions. Porter's career even survived an unpublicized arrest. Ultimately, one of his victims successfully exposed Porter by placing advertisements in New England newspapers seeking other alleged victims. In 1992, Porter admitted his crimes to a local Boston news station, and as a result, more and more victims stepped forward and offered their stories. His conviction in December 1993 for sexually abusing 28 children in the Fall River Diocese shocked both his community and the nearby Boston Archdiocese. Cardinal Law criticized the media for what he claimed was undue scrutiny, saying that Porter was an exception within the church. However, the scandal surrounding Porter's trial compelled the Boston Archdiocese to create a new sexual-abuse policy aimed at curbing future incidents. In 2005, Porter died of cancer while serving a 20-year prison sentence.
---
The Victims & Their Advocates
Support group founder

Saviano founded the New England chapter of the Survivors Network of Those Abused by Priests (SNAP), a support and legal-rights group. (He wasn't abused by Geoghan.) The trial in Boston brought national attention to his chapter and catapulted him and the organization to the frontlines of the controversy rocking the Church. Since the trial, he has stepped down from his leadership role and now runs the national organization's Web site.
---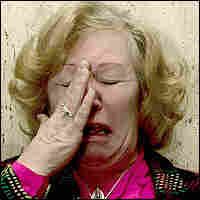 Mother of several victims

Three of Dussourd's children and four of her great-nephews say they were molested or raped by Geoghan in the late 1970s. Margaret Gallant, Dussourd's niece and a former nun, repeatedly filed complaints with the Church, but no action was taken. Decades passed before Dussourd took her story to Mitchell Garabedian, a lawyer who had begun documenting cases of alleged clergy abuse.
---
Principal lawyer for victims

Garabedian began documenting cases of sexual abuse in 1994 and negotiated a $10 million settlement for 86 plaintiffs in 2002. Representing some of the 550 people involved in civil lawsuits against the Catholic Church, he helped negotiate an $85 million settlement in 2003. In 2004, he took on nine deaf and mute clients who claimed they'd been raped and beaten by nuns at a school in Boston, but the cases were dropped a year later. He continues to work as an outspoken advocate for child protection.
---
Priest critical of Church response

While serving as a canon lawyer in 1985, Father Doyle was sent by the Vatican to investigate a priest in Louisiana who had admitted to molesting more than 30 children. Doyle produced an extensive report that outlined the severity of the pedophile priest problem, and how the Church had orchestrated a cover-up. His report was largely ignored until the Geoghan scandal erupted. During the trial, he became an advocate for victims' rights and assisted them with their legal cases, much to the consternation of the Church. Doyle is the co-author of Sex, Priests, and Secret Codes: The Catholic Church's 2,000-Year Paper Trail of Sexual Abuse, published in 2006. He now serves as a drug and alcohol counselor on a military base in North Carolina.
---
Reporter

As the religion reporter for The Boston Globe, Paulson covered the clergy sexual-abuse scandal. He was a part of a team of Globe reporters who wrote a book, Betrayal: The Crisis in the Catholic Church, in 2002 and were awarded the Pulitzer Prize for public service journalism in 2003. He still writes for the Globe.
---
Freelance journalist

In the late 1980s, Berry's investigative reporting exposed evidence that the Catholic Church in his home state of Louisiana had covered up multiple allegations of sexual abuse made against Father Gilbert Gauthe, a rural priest. (Gauthe was arrested in 1983; he admitted to molesting dozens of youngsters across the state.) Berry later documented similar cases of clergy abuse across the nation in his 1992 book, Lead Us Not into Temptation. In it, he claims the Church systematically covered up for its accused priests. His work spotlighted the issue of clergy abuse, but public interest in the controversy died down. He revisited the subject in 2004, with the publication of Vows of Silence: The Abuse of the Power in the Papacy of John Paul II. That work explores the culture of secrecy in the Catholic Church that allowed the abuse to continue.
---
Judge in civil lawsuits

Sweeney ratified the agreement in which 86 plaintiffs alleging abuse accepted a $10 million settlement from the Boston Archdiocese. In 2003, she rejected a motion filed by the Catholic Church that moved to dismiss more than 500 civil lawsuits of alleged sexual abuse by clergy.
---