Pimento Cheese: It's A Southern Thing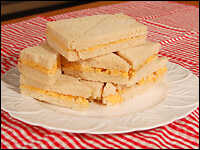 About the Author
Wright Bryan is a producer for NPR.org in Washington, D.C. But a day doesn't go by that he doesn't fondly recall at least one memorable meal from his upbringing in the Deep South.
A Note on Ingredients
My recipe for pimento cheese is one of the best I've ever tasted, but there are endless variations on the theme. Many include spices; mine does not. Cream cheese is also a common ingredient that you won't find in this recipe. One common combination I do use is blending Monterey Jack with sharp cheddar. Some pimento cheese recipes are quite spicy, employing cayenne, jalapenos and hot sauce. Once you are confident working with the base recipe of cheese, mayonnaise and pimentos, you can successfully experiment with a wide range of ingredients for pimento cheese.
Two of my favorite words are "comfort" and "food." Put them together and it's magic, just like the simple blend of cheese, mayonnaise and sweet peppers known across the South as pimento cheese.
Like most Southerners, I grew up with pimento cheese spread — from the soulless, processed stuff sold in supermarkets to the wonderful, chunky and flavorful varieties made at home.
There is no need to go down the highly processed path to store-bought pimento cheese, which features an unnaturally fluorescent-orange coloring and slimy consistency.
The recipe for most pimento consists of mixing just six or so ingredients. Typically, it includes sharp cheddar cheese, mayonnaise, pimentos and some simple seasoning, such as salt and pepper. Common variations on the recipe include the addition of onions, cream cheese, garlic or Monterey jack cheese.
The manufactured variety can have 30 or more components, including things such as "American cheese imitation" and corn syrup. Yet for all their extra ingredients, the supermarket tubs of pimento spread are bland, with nothing of the sharp character found in homemade recipes.
Pimento cheese is so ingrained in the lives of many Southerners that we don't realize our passion for the stuff doesn't exist outside the region. Call me provincial, but I was shocked (shocked!) when I learned that everyday people from Boston to San Diego don't slap pimento cheese on bread for a quick lunch, or slather it across their burgers for a decadent treat.
While its origins are somewhat murky, it became widely accepted and available sometime in the early 1900s, after a period of development and incubation on Southern farms.
Perhaps the most "national" exposure pimento cheese receives is its yearly appearance as a popular sandwich choice at the Masters golf tournament in Augusta, Ga., where I lived as a very young boy.
The beloved pimento-cheese sandwich is typically served on cheap white bread. It's a quick fix for children busy with play on a summer's day. And it's a staple at after-church potlucks.
But there are many more ways to enjoy pimento cheese, such as spread on celery or crackers for a quick hors d'oeuvre or as a quick way to add life to grits and baked potatoes.
In Atlanta, where I grew up, it's famously used as a topping on hot dogs and hamburgers at The Varsity fast food restaurant. Eating chili cheese dogs at the local institution is a tradition passed down from one generation to the next. Atlanta's Vortex Bar and Grill offers a more modern take on the pimento cheeseburger: giant pub burgers washed down with beer.
But you don't have to travel down South to enjoy authentic pimento cheese: Its basic ingredients are readily available everywhere, and it's a cinch to make. It can take as little as 15 minutes to go from inspiration to completed dish.
In the early 1970s, a friend in Augusta gave my mother the somewhat unconventional recipe that we've been using ever since. This recipe includes the common variations of garlic and Monterey jack cheese, as well as the less common use of dill pickles.
While it's the taste that keeps me coming back to pimento cheese, it was the process of making it that first hooked me.
Today, most people just throw the ingredients in a food processor. It's brutally efficient and makes a good cheese mixture.
But when I started making pimento cheese, we used a hand-crank meat grinder that clamped onto the side of a counter. Feeding the ingredients into that little mechanical beast was the kind of destructive thrill that all little boys enjoy. The cheeses mashed together into a unified paste, while the pickles and garlic crunched and snapped like sounds from a horror movie.
Although I've consigned the thrill of grinding up the ingredients by hand to the same mental department where memories of three-week summer trips to the beach are kept, I am still, after all these years, still enjoying the garlic-spiked taste of our pimento cheese.
Read last week's Kitchen Window.
Get more recipe ideas from the Kitchen Window archive.
Related NPR Stories
Pimento Cheese
This recipe was passed along to my family in Augusta, Ga., in the early 1970s.
1 pound sharp cheddar cheese
1/2 pound Monterey Jack cheese
2 medium kosher dill pickles (the original version of the recipe called for Claussen's pickles, but I've found that most brands suffice)
2 or 3 cloves of garlic (three cloves yields a powerful garlic punch; adjust the amount to suit your taste)
1 4-ounce jar of pimentos (or pimientos, as they are also called), drained
Cut all ingredients except the pimentos into large chunks. (The pimentos are already chopped.) Place all ingredients in a food processor and pulse just long enough to roughly chop. You don't want to puree the ingredients, just make them pliable for the next step.
Put in large bowl and mix with about 3 good tablespoons of mayonnaise. (I use Duke's, a Southern brand based in Richmond, Va., that many pimento-cheese aficionados prefer.)
Refrigerate, but set out for 20 to 30 minutes before use.