Tackling Mahler's Fifth Symphony
Tackling Mahler's Fifth Symphony
Mahler's Fifth Symphony is a daunting challenge for any orchestra. Conductor Marin Alsop says taking on the ambitious work is akin to climbing Mount Everest.
Related NPR Stories
Mahler's Fifth Symphony: The Everest of Music
Hear Alsop discuss Mahler on Weekend Edition Saturday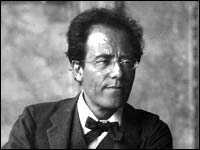 I've never aspired to climb Mount Everest, but I can imagine the nervous anticipation of the climber who stands looking upward at the task ahead. Regardless of preparation, training, desire or zeal, it's impossible to know exactly how the climb will go.
That's exactly the sensation I have when I walk onto the stage to conduct Gustav Mahler's Fifth Symphony. It's a large-scale journey, guaranteed to provide surprises and new discoveries along the way.
Even as a young man, Mahler was after the big picture. When other twentysomethings might have been writing lighthearted music, Mahler was trying to solve the riddles of the universe through his epic symphonies. They were vehicles for him to express his beliefs and pose questions.
For me, Mahler's symphonies warrant Jungian or Freudian dissection. The Fifth Symphony employs huge orchestral forces, but the fact that it begins with a single individual voice seems almost apocryphal to me.
The opening trumpet fanfare consists of a similar rhythmic theme, as in Beethoven's Fifth Symphony: It shifts from repose to overt rage in a matter of seconds. The burden of this opening message, on a technical and theoretical level, is great. I try to feel as though I am seated next to the solo trumpeter, breathing the exact same air, as we begin our epic journey.
After this opening outburst, dark clouds linger in the guise of a funeral march — depressing, inevitable. Mahler's obsession with death surfaces early in this symphony. But the journey will transcend that obsession, in large part, because Mahler has fallen in love.
The first two movements explore this struggle between darkness and light with no resolution. The third is a miniature journey unto itself, a kind of commentary by Mahler on popular culture past, present and future. For a conductor and the orchestra musicians, it's extremely challenging on many levels: It's music about excess, yet focused through the lens of a traditional, conservative German dance, the landler. Highlighting that excess without letting it slip over the edge into parody is one of many challenges along the way.
The fourth movement, the "Adagietto," is an intimate oasis, a glorious escape from the throes of excess in the previous movement. Scored for only strings and solo harp, this is Mahler's love letter to his new bride, Alma. But the music is never free from angst. There's a quote from Wagner's tragic "Tristan and Isolde" along the way, but in the end, Mahler's heartfelt desire wins out.
This movement leads seamlessly to the Finale, with its playful opening pastoral tunes. Mahler explores the natural world here, but he also summarizes our journey with references to where we've traveled so far. Since nothing is simple in Mahler, there are a few trademark detours along the way, leading to the sunny summit.
Just like the Everest climb, pacing is critical to the outcome. My goal is to give our journey a sense of structure, arrival and resolution. Mahler loves conflict, contrast, obsession and excess. But I always have to temper and monitor the indulgence so that it doesn't become self-indulgence. I have to feel as one with the musicians, and be vigilant about the path we navigate together. That will contribute to a successful outcome.
Tackling Mahler's Fifth Symphony requires an expert team, and working with the musicians of the London Symphony Orchestra on such a monumental piece is like a dream come true. They are phenomenal individual stars, yet willing to work together selflessly. The perfect climbing team for our journey!
This year, Marin Alsop became music director of the Baltimore Symphony, making her the first woman to head a major American orchestra. She was named a 2005 MacArthur Fellow, the first conductor ever to receive the award.
Related NPR Stories
Web Resources