Building Bipartisanship? Not Limbaugh's Problem
Building Bipartisanship? Not Limbaugh's Problem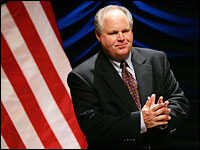 Limbaugh On...
Why He Is the Expert on His Show
His Blend of Entertainment and Political Talk
His Main Purpose and Why He Is Successful
How He Views His Role as a Talk Show Host
How Politics Are About Power, Not Compromise
Why He Doesn't Worry About Offending People
An estimated 13.5 million listeners tune in to the Rush Limbaugh Show each week — more than any other radio show in the country.
Limbaugh talks tough and takes unyielding conservative stands. Some critics blame him and a crop of imitators for splitting Americans further apart, making it more difficult for people of goodwill to forge a consensus on tricky issues.
Limbaugh says that's not his problem. He has absolutely no interest in crossing the divide and forging compromise — and good reasons not to do so.
"I always say my real purpose is to attract the largest audience I can, and hold it for as long as I can, so I can charge confiscatory advertising rates," the talk show host says.
And that formula has made him a very rich man. But Limbaugh says he is able to make such profits by pursuing his passions, such as politics.
"Getting along is not the objective. When it comes to the war on terror, when it comes to tax policy, to me, defeating, politically, people I disagree with is the order of the day, and I don't think I defeat them by compromising with them," he says.
Limbaugh says people should remember that earlier in his career, Fox News Channel didn't exist, and conservatives like him couldn't find their views reflected in the major media. Limbaugh had been a music DJ, but became a talk radio host in Sacramento, Calif., and New York City.
He went national in 1988 and became a standard-bearer for conservative listeners.
Republican leaders say Limbaugh's ability to energize listeners was a big help to them in winning control of Congress in 1994. Nowadays, the conservative media landscape is far more crowded. But there's no true left-of-center radio counterpart to Limbaugh. The liberal Air America talk radio network has struggled, and its finances are in shambles.
But Rush Limbaugh keeps on going. Even with a changing political landscape, Limbaugh sees no need to change the format of his show.
"I'm the expert. I don't need to talk to somebody else to find out what's going on," he says. "There's a whole psychology of doing the program the way that I do it."
And that often involves barbs aimed directly at liberals. Some feminist leaders become "Feminazis." Recently, Limbaugh joked that new House Speaker Nancy Pelosi — the first woman in U.S. history to hold that position — might well breastfeed a child sitting on her lap during official ceremonies.
Limbaugh says he is just using humor to make a point. But a rival conservative talk show host, Glenn Beck, says such severe rhetoric only drives people apart.
"I truly believe it's going to be the death of us. It's going to be the death of our industry, and the death of our country, if we don't stop dividing ourselves like this," Beck says. "It's not right."
Beck has TV gigs on CNN and ABC. Despite that criticism, he is unabashed about his own beliefs — and he has taken flak for them.
"There's nothing wrong with pointing out differences. There's nothing wrong with having a heated debate. There's nothing wrong with doing all of those things in an entertaining way. But they cannot define you," he says.
Tom Rosenstiel, who leads the Project for Excellence in Journalism, agrees. But the media critic says there is another problem: Limbaugh and other ideological talk show hosts aren't remotely as careful with the facts as the mainstream media outlets they so frequently mock.
"Setting aside the question of whether journalists always achieve their goal of sort of being fair and unbiased, if you get a fact wrong, you pay a cost in the news business," he says.
And Rosenstiel says talk radio hosts pay little price — because accuracy is not their goal.
"They're not there entirely to elevate or energize the public conversation. They are also often members of a team. They're in that nether world between entertainment, propaganda and journalism," Rosentstiel says.
That's fine with Limbaugh. He says he is not a journalist but a combatant in what he calls "the arena of ideas."
"There's no question I am trying to persuade people to agree with me, for the express purpose of making them informed, so that when the next opportunity to vote comes up, they do, and they vote in an informed way," Limbaugh says.
Crossing that divide? Limbaugh says that's not his problem.