Los Angeles Cracks Down on Gangs, Once Again
Los Angeles Cracks Down on Gangs, Once Again
Mandalit del Barco, NPR News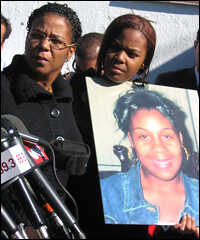 Mandalit del Barco, NPR News
Mandalit del Barco, NPR News
At daybreak in Los Angeles, a dozen police officers surround a one-story home in the working-class neighborhood of Pacoima. They aim their guns and rifles and call out to a suspected gang member: "Come out through the front door with your hands up."
Eventually, the suspect's mother comes out, holding back four pit bulls. Then his sister, pushing their grandmother in a wheelchair. Finally, police escort a 17-year-old boy, in handcuffs. The officers arrest him for threatening a classmate in their high school parking lot. Detective Dave Peteque says he's a member of a local Piru gang.
"Our suspect pulls out a gun, points it at him and basically says 'I should f-in' kill you right now, but there's too many witnesses around. But I'll catch up with you,'" Peteque says.
Police say such arrests are typical here in the San Fernando Valley, where gang-related crime shot up 44 percent last year. Lt. Thomas Zack says the biggest increase is among 12- to 15-year-olds.
"The gang members are getting younger they're more brazen," he says. "And they find it necessary to commit more violent acts to achieve notoriety and demand respect."
Chief Deputy Michael Moore says the kids are spray-painting graffiti tags — and they aren't afraid to shoot.
"I cannot tell you the number of examples I have of victims telling me they've heard the suspects, one to another, say, 'You don't get to go into the gang unless you kill someone.'"
Further south, in the Harbor Gateway neighborhood, gang violence divides along racial lines. Last month, Latino gang members were arrested for shooting and killing a 14-year-old black girl. And witnesses say black gang members gunned down a 23-year-old Latino immigrant.
Derek Thomas, 21, says he and other African-Americans don't dare cross into the Latino gang territory — not even to shop at the only market for miles.
"Certain streets you can't go on, stores you can't come to, otherwise you're gonna get harassed," Thomas says. "I came down here to this store as a young boy, and they told me not to come back. From then on, I never came back."
Last week, activists and neighbors, including Thomas, signed a pledge to cool black and Latino tensions. But none of the gang-bangers who reputedly terrorize the area showed up. At the same spot a few hours later, L.A. Mayor Antonio Villaraigosa announced: Enough's enough.
"No one should have to fear for their life because of the color of their skin," the mayor said. "So we have a message for the gang leaders. We're coming with everything we have. And we're putting you out of business."
Villaraigosa brought a platoon of enforcers, including the FBI director, who pledged federal intelligence and surveillance aid. And City Attorney Rocky Delgadillo promised to arrest known gang members seen in public together.
"We have to be tougher and smarter," said Delgadillo. "We are going to look to using all of our tools to fight the gangs in this community."
War on Gangs
L.A.'s war on gangs has gone on for decades. In the 1990s, the police department's special gang units got caught up in their own scandals: stealing evidence, and shooting and framing innocent people. Since then, Chief William Bratton, says, the police approach to combating street gangs has been piecemeal.
"We've been all over the place for many, many years," he admits. "This city, this county, this region of the country needs to show leadership, because we created the gang problem right here. It was born and raised and is thriving here."
Bratton now plans to target the city's 10 worst gangs. He testified to city council members, who are now considering a new anti-gang blueprint that goes beyond law enforcement alone. After meeting with police, clergy, and gang interventionists, civil rights attorney Connie Rice wrote up a massive roadmap for overhauling L.A.'s strategy.
"The bottom line is, we've locked up over 450,000 young people under the age of 18 in the last 10 years," Rice said to the City Council's ad hoc committee on gangs. "We've spent billions and billions of dollars on everything that you can think of in suppression. We have targeted everything from the tattoos to the shootings. And after $80 billion, we've got six times as many gangs and twice as many gang members. Suppression alone is not enough."
Rice proposes that schools stay open until 9 p.m., and parks until midnight, for after-school tutoring and nighttime sports. And she suggests that a new "Gang Czar" could coordinate gang intervention and prevention programs.
Karen Carter and Vicky Lindsay, whose sons were killed by gang members, urged the city council to approve the recommendations. "When we go home, we're locked inside but we're still in a war zone," Carter said. "We are afraid." Lindsay added, "We live with this every single second, and it hurts. So whatever plans you guys have, just put it in motion, 'cause we're hurtin'."
Gang P.O.V.
The city park in Sylmar is covered with graffiti tags heralding some of the nearby gangs. Like most of L.A., the neighborhood doesn't necessarily look deadly. But, just days before, in the middle of the afternoon, a teenager was shot in front of the high school across the street. On this day, a 17-year-old member of the San Fer gang agrees to meet here, to give us the lowdown on how his homies gangbang: "Roaming the streets, getting high. Going out, looking to start fights and shoot at rival gangs. That's about it: just partying 24/7."
He's afraid for us to use his real name, saying he's been locked up five times for things like armed robbery and resisting arrest. He's just been kicked out of Sylmar High for what he calls "causing drama." He says it doesn't matter how hard police come down.
"There's never gonna be peace between gang members and no one's ever gonna stop gang banging," he says. "I mean it might slow down, but it's never gonna stop. There's too many gangs."
And there's nothing anybody can do about that?
"I mean I can change personally," he continues. "But that's not gonna stop a thousand other gang members from changing. They're gonna continue doing what they do, til they're dead or in prison."
He says getting out of his gang won't be easy. To join, he had to suffer a beat-down by his homeboys. If he leaves, he says, they may kill him.
Just last week, Los Angeles lost a prominent gang interventionist. Lilly Rodriguez, a former kickboxing champ, crusaded for years with her husband, Blinky, to help kids leave behind "la vida loca"-- the crazy gang lifestyle. She died battling disease. At a crowded church auditorium in Van Nuys, thousands of relatives and friends gathered in her memory. Among them was Gilbert Alvarado.
"I met her about 10 years ago, when I was a little kid running around in the streets," Alvarado says. "She just changed my life. She really did."
Rodriguez inspired Alvarado to leave the Project Boys gang 10 years ago, when he was 16.
"Man, she helped a lot of guys like me in gangs," he says. "She'd teach them boxing as a way out of the gangs. 'C'mon,' she said,' I'll show you how to fight.' To her last day, she was trying to help me out. 'Gilbert,' she said, 'I believe in you, mi'jo.' I never had nobody show me that affection, that love."
Alvarado suggests that unconditional love and patience — from parents and police — is what it really takes to counter gang life. But that's something you may not find spelled out in any official anti-gang playbook.
Related NPR Stories