An Unlikely Chart-Topper Aims Even Higher
'Dashboard' by Modest Mouse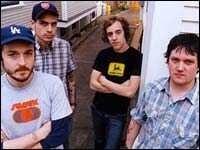 Wednesday's Pick
Song: "Dashboard"
Artist: Modest Mouse
CD: We Were Dead Before the Ship Even Sank
Genre: Alt-Rock
Three years have passed since Modest Mouse made the jump from indie-rock cult favorite to unlikely chart-topper — thanks in large part to the ubiquitous single "Float On" — so expectations are high for the forthcoming We Were Dead Before the Ship Even Sank. Considering that legendary Smiths guitarist Johnny Marr has joined the band's lineup, expectations seem almost too high.
Listening to the new "Dashboard," Marr fans expecting his signature atmospherics may be disappointed: Except for the signature staccato click of muted guitar strings every four bars or so, he barely registers. Still, "Dashboard" marks a startling step in Modest Mouse's career, virtually completing its transition to the mainstream from its weirder, more dissonant roots.
While "Dashboard" lacks the snaky charm of "Float On," it's a pure pop confection: danceable, uncomplicated and ripe for airplay. Fans too young to remember XTC will likely draw comparisons to Franz Ferdinand, what with the song's stiff, guitar-driven neo-disco rhythms. Supported by slick production, a string section and lots of horns, it builds up considerable goodwill once the shock wears off. Singer Issac Brock seems all too aware of his odd career crossroads when he sings, "Well, it would have been, could have been worse than you would ever know / Oh, the dashboard melted, but we still have the radio." His modesty is becoming.
Listen to yesterday's 'Song of the Day.'
Web Resources