Letters of Anne Frank's Father Uncovered
Letters of Anne Frank's Father Uncovered
The Correspondence of Otto Frank
"Perhaps you remember that we have two girls. It is for the sake of the children mainly that we have to care for. Our own fate is of less importance."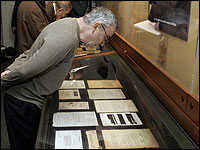 Handout / Reuters / Corbis
A year and a half ago, Estelle Guzik was indexing some 100,000 Holocaust documents in the archives of the YIVO Institute for Jewish Research in New York when she stumbled across something remarkable. Amongst the files were the undiscovered letters of Otto Frank, the father of famed diarist and Holocaust victim, Anne Frank.
The documents had been moved there more than 30 years before from the Hebrew Immigrant Aid Society. While indexing, she noticed one of the birth dates was missing from a file.
"Estelle Guzik reopened the file to locate the birth date and then immediately came upon the names of Anne and Margot Frank," says Dr. Carl Reins, Executive Director of YIVO.
Due to a clerical error, Guzik rediscovered the letters that illuminate Frank's failure to get his family out of Nazi-occupied Holland.
After the files were found, they were embargoed until issues of privacy, copyright and provenance could be determined. Since the Hebrew Immigrant Aid Society documents came from so many different agencies, it may be impossible to locate the source of the Otto Frank file.
The Failure to Get Out
Between April and Dec. 1941, Frank wrote to relatives, friends and officials, trying to arrange safe passage for his wife, Edith, and daughters, Margot and Anne, either to the U.S. or Cuba.
Frank first applied for immigration in 1938 and then revived those efforts in 1941. In hindsight, that seems very late. But historians today say that in the spring of 1941, Germany had not yet decided to exterminate the Jews, and the Nuremberg Laws that discriminated against Jews had not yet taken effect in Holland.
"This is not a peculiar story," says David Engel, a professor of Holocaust studies at New York University. "It is, all too sadly, an all too-typical-one."
But because of the detailed and beautiful writing in Anne Frank's diary, her saga has become a doorway into understanding the Holocaust for millions.
Barriers on Both Sides of the Ocean
Both Engel and Richard Breitman, a professor of German history at American University, say the documents reveal that the actions of Nazi Germany weren't the only impediments that kept the Frank family from fleeing.
"Anne Frank could be a 77-year-old woman living in Boston today – a writer. That is what YIVO's documents suggest," says Breitman. "The Frank family could have probably gotten out of the Netherlands even during much of the year 1941 but the decision to try hard came relatively late. The Nazis made it harder and harder over time and, by that time, the American government was making it harder and harder for foreigners to get in."
According to Breitman, the U.S. restricted immigration in the name of protecting national security. A suspicion of those who were different, Anti-Semitism and xenophobia played a part. Otto Frank had powerful friends in the U.S., including Nathan Straus, the son of an owner of Macy's. Straus agreed to pay thousands of dollars to help secure visas and documents, but it was not enough.
Frank then attempted to gain entry into Cuba, but those plans were cancelled when Germany declared war on the U.S. The Franks went into hiding in 1942 and were discovered and arrested two years later.
Related NPR Stories
Web Resources
The Correspondence of Otto Frank
The following documents were among those discovered in the YIVO Institute for Jewish Research archives. They reveal the efforts of Otto Frank, father of renowned diarist and Holocaust victim Anne Frank, to get his family out of Holland.
---
Letter from Otto Frank to a Friend in New York
April 30, 1941
COPY
Mr. Nathan Straus
New York, N.Y.
Dear Charley,
[Portion of letter redacted] I am forced to look out for emigration and as far as I can see U.S.A. is the only country we could go to. Perhaps you remember that we have two girls. It is for the sake of the children mainly that we have to care for. Our own fate is of less importance. Two brothers of Efith emigrated last year and they work as ordinary workmen around Boston. Both of them earn money, but not enough to have us come. They would be able to give an affidavit for their mother, living with us here, and they seaved [sic] enough as far as Ican [sic] make out, to pay the passage for my mother-in-law. [Portion redacted.]
In 1938 I filed an application in Rotterdam to emigrate to U.S.A. but all the papers have been destroyed there. [Portion redacted.] The dates of application are of no importance any longer, as everyone who has an effective affidavit from a member of his family and who can pay his passage may leave. One says that no special difficulties shall be made from the part of the German Authorities. But in the case that an affidavit from family members is not available or not sufficient the consul asks a bank deposit. How much he would ask in my case I dont [sic] know. I am not allowed to go to Rotterdam and without an introduction the consul would not even accept me. As far as I hear from other people it might be about $5000.-- for us four. You are the only person I know that I can ssk [sic]: Would it be possible for you to give a deposit in my favor?
---
Letter from Frank's Friend to Nathan Straus in Washington, D.C.
June 3rd, 1941
Airmail
Mr. Nathan Straus
The Shoreham
Connecticut Avenue at Calvert Street
Washington, D.C.
My dear Mr. Straus,
Mrs. Straus and I discussed over the telephone the contents of the letter which you received from Mr. Otto Frank and agreed to request the following procedures
1. That you will undoubtedly wish to write directly to Mr. Frank in answer to his letter, in which you may wish to [illegible] him of your interest and advise him that you are preparing affidavits of support on behalf of him and his family. That your affidavits will be accompanied by a covering letter from you to the American consul in Amsterdam stating the reasons for your interest in Mr. Frank and his family and your concern about their welfare. That you hope your affidavit and the accompanying documents will satisfy the American consul, so that no deposit of $5000 will be necessary.
2. I will write to the brothers-in-law at your suggestion telling them of your interest and that you are preparing an affidavit of support for the American consul in Amsterdam. I will suggest to the brothers-in-law, that since you are not related to Mr. Frank, it is most desirable that one or both of them also send affidavits of support to strengthen the applicant's chance for visit.
3. With regard to overseas transportation, we will be pleased in cable the committee abroad requesting information and instructing in the matter of steamship reservations. It may be that Mr. Frank will be able to turn over to the relief agency abroad sufficient funds to give him special consideration for the purchase of tickets...

Documents reprinted courtesy of YIVO Institute for Jewish Research