Elvis Perkins: Heartbreaking but Hopeful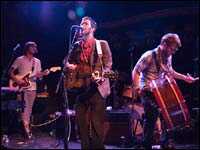 Set List
"While You Were Sleeping"
"Emile's Vietnam in the Sky"
"All the Night Without Love"
An up-and-coming folk-rock singer-songwriter who crafts brooding, timeless, sophisticated pop songs, Elvis Perkins has earned comparisons to Leonard Cohen and Bob Dylan. Having lost both of his parents to tragedy — his father (actor Anthony Perkins) died of complications from AIDS in 1992, and his mother (photographer Berry Berenson) died in the Sept. 11 attacks — Perkins writes music that's reflective bordering on heartbreaking, yet remains hopeful and quietly charming.
As a touring performer, Perkins has built a nationwide following with his band Dearland, and given eye-opening performances at the Sasquatch and Austin City Limits music festivals. Perkins' fine debut album is titled Ash Wednesday.
Web Resources