The Yukon Quest: For Real Mushers Only
The Yukon Quest: For Real Mushers Only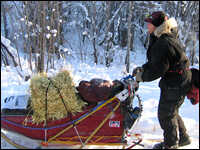 Most Americans have heard of the Iditarod Sled Dog Race. With its big corporate sponsorships and huge field of entrants, it's the Indy 500 of mushing. But there's another 1,000-mile adventure in Alaska that's more of a purist's race.
The Yukon Quest International Sled Dog Race traces the old Gold Rush trails through Alaska and Canada's Yukon. It draws mushers who want to conquer one of the world's toughest races, in one of its most remote places.
Alaskan Aaron Burmeister has run the Iditarod nine times. But this year, he set his sights on the Yukon Quest.
"Somebody that wants a mushing adventure, and seeing the country and everything else, is going to go the Quest," Burmeister says. "Somebody that wants to get their name in the biggest event in the world is going to the Iditarod."
But he also has another analysis.
"The Quest attracts a really tough, hardy crowd; Iditarod attracts egos," Burmeister says. "I guess that's one way of putting it, to be blunt."
For many in the Quest, the main goal is simply to finish. A quarter of the 28 competitors in the race from White Horse, Yukon Territory, to Alaska dropped out. Six are still on the trail.
The race has few checkpoints — only a few hospitality houses. Many nights are spent alone in the wild, with racers and dogs fending for themselves.
That isolation means that racers are often happy to see one another on the trail, both for the camaraderie and for the sense that they haven't lost their way.
Mike Jayne, who was the top rookie at last year's Iditarod, says the Quest has a friendlier feel to it, one that other competitions lack.
"It doesn't even feel like a race," Jayne says. "It's just like, a trip."
The Yukon Quest doesn't have the Iditarod's money, media attention, or crowded field. And the people involved wouldn't have it any other way.
KUAC's Libby Casey reports.
Related NPR Stories