Bo Diddley's Unique Rhythm Continues to Inspire
Bo Diddley's Unique Rhythm Continues to Inspire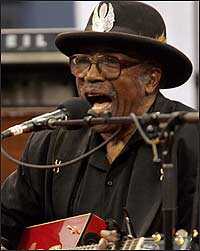 Behind 'Who Do You Love?'
Diddley Recalls the Songs Origins
Bo Diddley ushered in an era of rock with his driving trademark rhythm. The Latin-influenced beat inspired the music of punk, rock and pop legends including Buddy Holly's "Not Fade Away" and U2's "Desire." At age 78, Diddley still dresses in his distinctive outfit, performing old classics and new music for today's youth.
He almost never got started on his signature square guitar. Diddley started out playing violin, but gave it up when he broke his finger. He then turned to an instrument with more prominent black role models.
"One dude [who] caught my fancy was John Lee Hooker," who, like Diddley, has roots in Mississippi. "I told my sister, 'If that cat can play, I know I can learn.'"
Diddley did more than learn — he crafted a unique musical style that combined sounds from different genres that became popular in the 1950s.
The song "Hot" was inspired by an American Indian tribal scene. "[Imagine] they're dancing around a daggone big fire with their spears," Diddley says.
He chose to use a Latin percussion from another musical genre. "I got the maraca idea from Calypso music," Diddley says. "Because it gave me a sound of a big echo room that sounds like it's inside you."
His unique music was covered by legendary musicians including the Rolling Stones, the Animals, Bob Seger, the Who and Aerosmith. Yet, like many artists of his era, Diddley says he wasn't adequately compensated for the numerous covers of his songs.
"Where's the money? Where did it go? It didn't come to me," Diddley says. "We were in a very messed up situation between black and white."
Diddley paints a picture of the executives pondering his compensation: "'Give him $20 and he's happy. Buy him a car. Buy him a Cadillac and he'll be fine — you know, that's all they need in the ghetto.'"
Diddley's songs included the suggestive "I'm a Man," but he dislikes the explicitly sexual and misogynistic lyrics of today's music. He has written songs encouraging youth to stay in school and off drugs, and performs them in churches and colleges.
At 78, Diddley remains an energetic musical presence.
"Tell everybody you never get too old to rock 'n' roll."
Features in this series are produced by David Schulman and NPR's Jeffrey Freymann-Weyr.
Related NPR Stories