Zero Gravity Zzzs: Joys of Sleeping in Outer Space
Zero Gravity Zzzs: Joys of Sleeping in Outer Space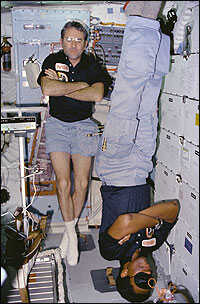 Over the course of five flights, Marsha Ivins has spent 42 nights in space. Her colleague, Dan Barry, has spent 30 nights on three different space missions. The two retired astronauts shared some intimate details about sleeping in outer space.
'You Just Float'
First of all, you don't have to worry about your lower arm, the one that is usually tucked beneath your torso. Because at zero gravity, there is no "under."
"Sleeping in space is fantastic!" says Barry. "You just float... and it's perfect."
On the other hand, says Ivins, while you don't lie on anything, nothing will lie on you.
"I'm one of those 'likes to sleep under lots and lots of covers' people," she says.
But in space, not even the heaviest blanket will lay on you — so you don't get that feeling of weight-on-top.
Don't Forget the Velcro
Then there's the problem of fetal curls. Ivins and Barry like to bring their knees to their chests at night but curling into a ball to fall asleep can be a problem in outer space.
In space, where you are being pulled in every direction simultaneously, it is hard to stay in a curled-up position; instead, you sort of stretch out.
So both astronauts made use of a Velcro strap to hold their knees in place.
It's the same with pillows. In space, Ivins attached her pillow to her head — otherwise it would float away, or her head would just float up, and she would wake with a stiff neck.
"You put the back of your head on [the pillow]," says Ivins, "and then you Velcro the front of your head to it."
Getting Adjusted
On their first few nights away from Earth, Barry and Ivins say they felt a little awkward. Barry describes his arms getting loose and floating onto his face, slapping himself awake.
But after a few rounds, both Barry and Ivins found it possible to relax, and once they got the hang of it, any time they needed to sleep — wherever and whenever they could — they would just close their eyes, and off they'd go.
By the end of the mission, says Barry, he could fall asleep almost anywhere.
"I can just float out there," he says. "It's just totally relaxed sleeping. I love sleeping in space."
One warning, though.
Barry told me what happened when he got back to Earth and snuggled into bed — his own bed.
To his amazement, he'd go to sleep and terrible things would happen...
Related NPR Stories