Exploring the Sacred, Modern Along the Ganges
Exploring the Sacred, Modern Along the Ganges
The first report in a five-part series
Heathcliff O'Malley/Telegraph Media Group
Heathcliff O'Malley/Telegraph Media Group
Heathcliff O'Malley/Telegraph Media Group
We undertake a journey of more than 1,500 miles along the Ganges River, which flows from the Himalayas across the plains of northern India to the Bay of Bengal.
The river provides spiritual sustenance to 1 billion Hindus, who regard it as sacred. And it provides physical sustenance to hundreds of millions of people who live in its watershed.
The river passes through India's most populous state, its most lawless state, its holiest city and its cultural capital, Calcutta.
Our journey provides the opportunity to learn how Indians feel about the changes taking place in their country as it moves toward world power status: how they feel about its rapid economic growth, the co-mingling of ancient and modern, materialism and spirituality and the widening gap between rich and poor.
We begin in a town called Devprayag, where two mountain rivers merge to form the Ganges. Here, the waters of the river are cold and clean and fast flowing.
Most of the men in Devprayag are priests, including J.P. Pandit — a retired government college principal. Like many devout Hindus, he believes that in the final stages of life one should withdraw from worldly affairs and that is what he has done.
Pandit worries about what India has become. Its citizens are preoccupied with power, he fears, rather than matters of the spirit and he says modernization has brought isolation, "has detached one person from the other person."
After arranging a puja, or blessing, the journey begins. Just a few dozen miles downstream, the Ganges encounters modern India: a group of middle class employees of the country's largest mobile phone company, Airtel. They are escaping the stress of city life by going white-water rafting.
These young people earn far more than their parents did. "Six months into the job I had my first car," says Sunil Goyal, "and my dad, he worked ten years and then he got a car." They have more personal freedom and they make use of it.
But some traditions are still strong. The family remains the centerpiece. When sons marry, they usually stay in the family home with their brides.
So do unmarried daughters, while their parents try to find them a husband. Anjali Bagai, 30, likens this process to online dating services in the West — except that the prospective husband comes already vetted by her family. She takes it all in stride.
"What the heck," she says, "path of least resistance. Go ahead, meet somebody, come back, say 'Bye, really I am not interested. It's what my parents wanted.'"
The Airtel employees drink rum around a campfire and dance to the music of a bagpiper who has appeared inexplicably during a thunderstorm.
One day into our journey, the complexities of India are already apparent.
Devprayag, Rishikesh, Kanpur: The Journey's Start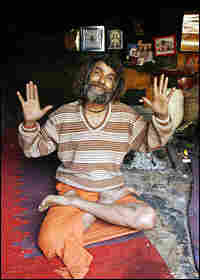 Heathcliff O'Malley/Telegraph Media Group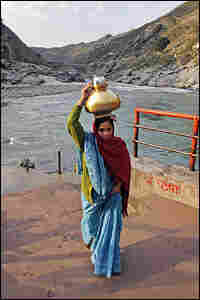 Heathcliff O'Malley/Telegraph Media Group
Heathcliff O'Malley/Telegraph Media Group
The 1,550-mile journey down India's holy Ganges River reveals much about one of the world's rising powers. It cuts through the country's northern plains before emptying into the Bay of Bengal. And it offers a cross section of a rapidly changing nation of 1.1 billion people. Philip Reeves recently traveled the length of the river and reports on the people and places along the way.
Meeting a Holy Man, the Wild Roads of India
From Devprayag to Rishikesh — The Himalayan town of Devprayag is full of exotic Hindu priests and holy men, but no one among them is more eccentric than a ragged, shaggy-haired gentleman called Ganesh Shanka Bhatt.
We found him sitting cross-legged inside his cave, brewing an early morning cup of tea on an open fire. He was surrounded by a bizarre array of personal possessions: a clock, a suitcase, an ancient radio and a sword in a sheath, hanging on the cave wall.
His cave is at the bottom of the steep stone steps — ghats — that lead down to the point at which two rivers, coursing down from the mountains, meet and become one.
From now on, the river is known as the Ganges, or Mother Ganga.
She becomes an abused and yet adored superstar, bringing life to a multitude as she slogs across the plains of north India toward the Bay of Bengal.
Bhatt lives only a few yards from the water's edge. So he has a clear view of the Hindu faithful who daily gather there to meditate and pray. He can see the women who arrive every morning to collect the Ganges' holy water in small brass pots, sing and toss marigolds into the river.
He can see the elderly Hindu men, who've traveled here from far and wide to have their heads shaved and renounce worldly affairs — and the man sitting stock-still in a lotus position, as well as the cruising priests, offering for a fee to conduct pujas, or blessings, for visitors.
And he can see foreign travelers, like us.
"Welcome to my cave," Mr. Bhatt says enthusiastically. "What do you want?"
What we want is to learn more about the spot at which our 1,550-mile journey along the Ganges begins, and to discover what people in Devprayag think and feel about their changing country.
Mr. Bhatt can't help us much on that front. He has lived in his cave for the last four years, and is tiring of it. It transpires that what he wants is some foreign currency and, if possible, an air ticket to the United Kingdom.
Luckily, as you'll hear in Part 1 of this series on the Ganges, we have more fruitful conversations with others.
The Ganges is green and wild as she carves a path through the Himalayan foothills. We considered traveling down her by raft for the first leg of our journey, not least because the scenery is so spectacular.
But then we remembered "The Wall."
"The Wall" is legendary in this part of the mountains, and spoken of among white-water rafters in hushed, respectful terms. If the Ganges is a goddess, then "The Wall" is an evil demon taking advantage of her hospitality. It's one of the meanest, quickest rapids on the river, especially after the summer monsoon rains.
It swallows up boats, drags their passengers down to the bottom of the river and — just when they're convinced they're dead — disdainfully spits them out again.
Last year, I experienced this first-hand: It was like being inside a washing machine.
One encounter with "The Wall" is quite enough for anyone. Being sucked underwater and sent tumbling along the riverbed wearing NPR headphones, with microphone in hand, would also be thoroughly undignified. We opted to go by car.
The road has its drawbacks, too. It is narrow and windy, and overlooks some stomach-churning precipices. South Asian drivers have never really taken to the idea that roads are divided into two halves — one for you, the other for oncoming traffic.
Ownership of the tarmac is determined by where your vehicle stands in the Hierarchy of Motorized Machines. Buses and trucks are the highest caste — royalty itself — and roar imperiously around blind hairpin bends on the wrong side of the road; rickshaws and bicycles may as well be invisible.
As we drive through the hills, we pass jaunty little road signs pleading with drivers to behave themselves. Eager to reduce the depressingly high accident rate, the authorities have wracked their brains to find something catchy. "Mountains are pleasure, if you drive at your leisure," says one sign. "Whisky is Risky" is another common one.
There's also the coy "Be gentle on my curves," the horribly strained "If you drink bourbon, you'll lose your turban," and the bleak "Drive like hell and you'll be there."
My favorite was a sign, which says curtly: "License to drive — not fly!" Judging by the number of dented trees and posts by the roadside, no one pays much attention to these slogans. We made it down to the resort town of Rishikesh, but with some frayed fingernails.
Pampering in a Maharajah's Palace
From Rishikesh to Kanpur -- The world's luckiest fish live underneath a large suspension bridge that arches over the Ganges River at the point at which she leaves the Himalayas.
They lurk about in a thick shoal, knowing they do not have to hunt for their food because it comes floating down to them, like manna from heaven.
It is delivered by a cluster of eager-eyed children who gather on the bridge above, hustling visitors into buying fish food for a few coins and tossing it into the water.
This would be a perfect transaction, from the kids' viewpoint, if they then ate the fish they had been paid to supply with food.
But the bridge is in the town of Rishikesh, a Hindu religious center with scores of temples and shrines. And, because of its sacred location, the town is vegetarian.
In our hotel, they took this seriously. There was no booze, of course — I was prepared for that — and obviously no meat. But I was taken aback by the ban on eggs.
So, apparently, was the Beatles' drummer Ringo Starr. The band came to Rishikesh in 1968 to live in the retreat of a famous guru, the Maharishi Mahesh Yogi. Most of them stayed for weeks, cranking out songs. But Ringo began to hanker for eggs and bacon, and left early.
These days, he'd have had another option.
Not far away, high on a hilltop overlooking the Ganges Valley, sits a glorious honey-colored palace. It was built 127 years ago for the local ruler, the Maharajah of Tehri Garhwal — back in the days when India's royals had some powers (they lost these with India's independence in 1947).
The current maharajah has turned to politics, and has leased out his property to one of the most exclusive resorts in India, the Ananda Spa in the Himalayas.
The spa, built in the peacock-filled palace grounds, has breathtaking views of the Ganges as she leaves the mountains and begins her difficult journey across the flat plains and cities of north India.
The spa's director, an Englishman called Colin Hall, says clients include the country's top businessmen, Bollywood stars, politicians, foreigners and "NRIs" — nonresident Indians who moved overseas but are taking a renewed interest in the booming home country. Bill Gates has stayed here.
Hall says when the guests arrive, they are "totally wound up and twisted with all sorts of stress." The spa provides an assortment of remedies: ayurvedic massages, saunas, hydrotherapy, nature walks, yoga, workshops on meditation, anger management and clearer thinking, and more.
If you want to crank the stress levels back up again, you can play golf. The spa has a six-hole, par-three course, with greens built from turf imported from the United States.
We have been on the road a couple of days now, gathering the views of Indians about the changes under way in their nation. Hundreds of millions of poor have yet to benefit from the country's healthy growth rate — which is running at more than 9 percent annually at last count.
But Hall says he is seeing the impact of India's boom on the spa's staff: "It's beautiful to see how everyone has gone on. My staff has gone from riding little bikes, pedal bikes, to riding the latest upgraded model of a motorbike."
There is a view within Hinduism that all things in the universe are linked together.
Yet, ruminating on the grounds of this maharajah's palace, I begin to wonder why that same principle, of connectivity, does not exist in much of India's daily life.
The uppermost rungs of society, reaping the fruits of the economic boom, aren't properly hooked up to the bottom rungs; this is not the land of Trickle-Down.
Certainly, the Ananda Spa and its clients could hardly be more removed from our next stop on the banks of the Ganges: Kanpur.
The city of Kanpur is one of North India's biggest industrial centers, and home to hundreds of tanneries, churning out leather goods — from builders' boots to fancy shoes and silver belts — for export to the outside world, including the United States.
As you'll hear in Part 2 of NPR's Ganges series, these factories inflict massive damage on the Ganges. And the people who live on her banks pay the price.