From India's Hindu Center to Heart of Darkness
From India's Hindu Center to Heart of Darkness
The third report in a five-part series
Heathcliff O'Malley/Telegraph Media Group
Eight out of 10 Indians are Hindus, for whom the Ganges is a holy river. And the city of Varanasi, on the river's banks, is the religious capital of the Hindu faith. On any given day in Varanasi, thousands of pilgrims bathe in the river. Immersed, they pray, meditate and feel the power of nature.
Religion and domestic life coexist on the banks of the Ganges, as women wash clothes and children splash and play. Young girls selling candles to tourists are a reminder that India still has at least 35 million child laborers, according to UNICEF.
Farther down the river, the sanctity of Varanasi gives way to crime, corruption and caste prejudice in Bihar, one of the poorest states of India.
The nation's economic boom has largely passed over Bihar, which lacks the necessary infrastructure to benefit from favorable interest rates and investment. In the absence of jobs, some young people turn to crime; gangs that extort and kill plague Bihar.
From Varanasi to Bihar: Meeting the Divine, Criminal
Heathcliff O'Malley/Telegraph Media Group
Heathcliff O'Malley/Telegraph Media Group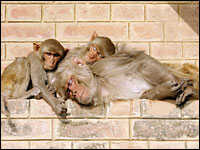 Heathcliff O'Malley/Telegraph Media Group
More in the Series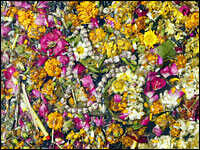 Heathcliff O'Malley/Telegraph Media Group
Heathcliff O'Malley/Telegraph Media Group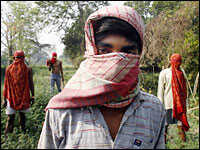 Heathcliff O'Malley/Telegraph Media Group
Philip Reeves recently traveled the length of the Ganges River and reports on the people and places along the way.
In Hindu India, the gods are omnipresent.
They ride in iconic form on the dashboards of cars, buses and trucks. You find them tucked away in shrines in shops and restaurants, by rocks, rivers, roads and mountains, and in many homes.
My wife dropped into her pathologist's office the other day, and found she could perform a puja — a prayer or blessing — to the establishment's resident deity before getting her test results.
She was taken there by a driver whose car is adorned by a miniature Buddha, the Hindu god Ganesh and a small, plastic flashing Jesus. (The other day, I noticed Buddha has been demoted to the glove box, for some reason.) Hinduism has an ugly militant and extremist element, but the mainstream is tolerant of other faiths.
Nowhere in India do you feel more surrounded by — and immersed in — Hinduism than Varanasi.
India's holiest city, Varanasi is one of the oldest in the world, said to be as ancient as Babylon and Thebes. As you hear in Part 3 of our series, this is the latest stop in our journey along the Ganges.
Here the river is the centerpiece. She is wide and brown. Despite general grubbiness caused by slogging across north India's heavily populated plains, she is also surprisingly majestic.
This is Mother Ganga at her most sacred: Every day in Varanasi, about 60,000 Hindus bathe in her waters in search of spiritual regeneration.
As a secular agnostic, and an outsider to boot, I've never really expected to fully comprehend Hinduism, or its fascinating multitude of gods and complex mythology. Yet there are times you can lift the veil and glimpse just a little of what lies within.
There is no better place to try than on the stone steps, or ghats, that lead down to the Ganges at Varanasi.
We arrived at dawn to watch the faithful gather for their morning rituals. It was a clear morning; the river's muddy surface radiated with a wide shaft of golden light cast by the rising sun.
The scene was inspiring and transfixing, and yet also curiously casual.
Men in the lotus position sat motionless, deep in meditation. Half-naked sadhus, or Hindu ascetics, prayed and sang earnestly as they dunked themselves in the holy waters.
But only a few feet away, people were scrubbing pots, washing clothes and brushing their teeth. Some of them were just having fun, cavorting in the water and splashing one another joyfully.
I have often wondered how Hindus decide which of their many gods to focus on during worship. Earlier on this journey, my curiosity about this was kicked off again by a conversation with Anjali Bagai, a dynamic young woman from the Indian telecommunications giant Airtel.
Baghai explained she wasn't especially religious. And yet, she said, she has a special god — Durga — whom she can easily picture in her imagination, and to whom she occasionally refers in times of trouble. Her mom would like her to branch out.
"My mom says, 'Try some other gods.' But I just can't do that. I just can't," says Anjali.
Sitting one morning on the ghats at Varanasi — in jeans and a T-shirt emblazoned with an electric guitar — we found another young Indian grappling with a similar issue.
Abishesk, a medical student, has been sent to the river to toss in the remnants of a family puja. We sat together in the early morning sun, fending off monkeys searching for snacks in our bags.
He explained that his family members are devotees of one particular god, but said he was "confused." He preferred the idea of "Om" — a more abstract concept of an all-embracing, uniting universal divinity.
Young middle-class Indians are embracing Western consumerism. But these two conversations were a reminder that faith and the family still occupy center stage in the India of 2007.
This may not, however, be true of another group of young people whom we also meet in Part 3.
We leave Varanasi and travel by train to Bihar. Some Hindus believe that history is an endless series of cycles, each dawning in a golden age but degenerating into an age of darkness. By traditional reckoning, we're now in a dark age.
Certainly, Bihar seems to be.
Buddhism plays a major part in the history of this north Indian state, which attracts many pilgrims. But these days Bihar is better known for poverty, crime and corruption.
We drive to the town of Mokama, near the banks of the Ganges. Two rival gangs plague the town; they make their money by extortion and kidnapping. We set off to meet members of one of them.
Twenty-one-year-old Rajiv Gope and his friends live wild in the woods, outside town, and near the river.
We find them lurking among the trees, eyeing us cautiously. They are masked; one is carrying a small axe. They agree to talk, though only briefly, as they're worried about being caught by the police.
Our guides tell us Gope is wanted for murder and kidnapping.
As you'll hear, our conversation with him provides a very different glimpse into India — into a world of young Indians utterly alienated from society.