Iggy Pop and the Stooges in Concert
This live concert webcast is a production of All Songs Considered from NPR Music and the 9:30 Club in Washington, D.C.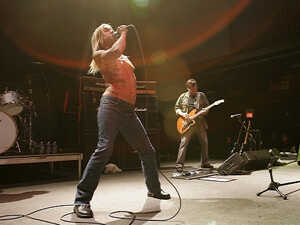 Because of a prior agreement with the label, audio for the Iggy Pop concert is no longer available.
Forty years after the band first formed in Ann Arbor, Mich., The Stooges and their inexhaustibly explosive frontman Iggy Pop have returned with a new album. The Weirdness is the group's first new material since 1973's Raw Power. Reunited and back on tour, The Stooges visit Washington, D.C. for a night of music, originally webcast live on NPR.org Apr. 5, 2007.
The new recording features The Stooges' original guitarist Ron Asheton, his brother, drummer Scott Asheton and saxophonist Steve Mackay, with Mike Watt from the punk band the Minutemen on bass. The Stooges' original bassist Dave Alexander died in 1975.
The Stooges wrote more than 30 songs for the new record at a cottage in Fla., then rehearsed in Ann Arbor, Mich. before they entered the Chicago studio of esteemed producer Steve Albini (Nirvana, Pixies) in early October of 2006. The album was mastered in the UK at the legendary Abbey Road Studios.
Iggy Pop decided to reform The Stooges in 2003 while he was working on his solo album Skull Ring. He invited the Ashetons to contribute to four songs on the disc and the reunion seeds were planted. Then, in April of that year, the full band (with Watt on bass) played its first show together in 30 years at the Coachella Valley Music and Arts Festival in Coachella, California.
Though they only released three records between 1969 and 1973 before breaking up, the Stooges were and remain one of the most influential rock bands of all time. Now considered ahead of their time, The Stooges laid the foundation for punk rock.
"You better be different if you want to make any sort of lasting impression," said Iggy Pop, in an interview with Fresh Air's Terry Gross. "So, (in the beginning) there was some conscious effort to stand out. I didn't think there was a big future in sort of wearing a bowl hair cut and a little polyester shirt, and you know, imitating The Yardbirds or something. We were trying to do something fresh."
The live webcast of Iggy Pop and the Stooges is part of NPR's Music's live online concert series with All Songs Considered host Bob Boilen. Previous shows, which have included The White Stripes, Wilco and James Brown, are featured above right.
Related NPR Stories