In L.A., a Possible Case of Patient Dumping
In L.A., a Possible Case of Patient Dumping
Watch the Video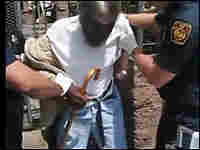 Video provided by the Los Angeles Police Department.
Los Angeles police are investigating another possible patient dumping on L.A.'s Skid Row.
Witnesses say a man in his 70s, wearing a white T-shirt and pajama bottoms, was dropped off Wednesday at a homeless mission by a taxi.
The man, Moses Davis, had been a patient at Downy Regional Medical Center — 13 miles away from Skid Row.
Hospital officials say they paid for Davis' cab fare, but that he was not a victim of patient dumping.
Related NPR Stories