Recording a Song a Day, Every Day
Recording a Song a Day, Every Day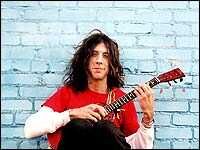 'In The Morning Linda Dies' by Paleo
'Let's Talk Clifftops' by Paleo
'Budsbursting' by Podington Bear
'Fantasy and Denouement' by Podington Bear
'Sunday Morning' by Podington Bear
CD sales declined 20 percent in the first three months of this year. At the same time, more and more musicians are taking the do-it-yourself approach — some to prolific extremes.
Last Sunday, the singer-songwriter Paleo finished a marathon project. Every day for a year, he wrote, recorded and posted a song on his Web site. He hasn't been writing songs in his bedroom, either. During the last year, Paleo drove more than 50,000 miles and played more than 200 concerts. Along the way, he wrote the lyrics and played his guitar — in his van, backstage, whenever he could find a moment.
Paleo calls his yearlong project a "song diary," but if these songs are all autobiographical, then the year has taken a toll on his psyche. As hopeful as "Woman Like Me" (audio) appears to be, a song he recorded three days later, "Let's Talk Clifftops" (audio), takes a turn for the bleak.
Another musician, Podington Bear, will release a mere 156 songs in 2007. Three times a week, Podington Bear uses a laptop and keyboard to record and podcast atmospheric, electronic tunes. "Fantasy and Denouement" (audio) whirs, buzzes, shimmies and clicks like music for an airport walkway in the future.
Web Resources