American Crocodiles Make a Comeback
American Crocodiles Make a Comeback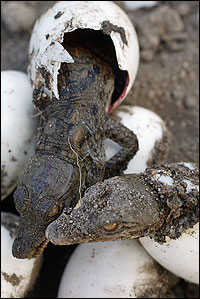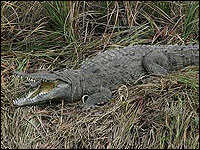 Joseph Wasilewski/Florida Power and Light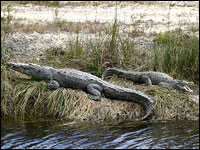 Joseph Wasilewski/Florida Power and Light
There's good news for fans of big reptiles: The American crocodile, found in South Florida, has staged a comeback. It has done so well that the U.S. Fish and Wildlife Service wants to take it off the endangered species list. The biggest surprise is that the crocodile owes much of its comeback to a nuclear power plant.
Joe Wasilewski is a field biologist who has chronicled this unusual story. He's a wildlife biologist who travels the world helping governments and conservation groups manage endangered reptiles. He'll be in the Bahamas counting iguanas one month and in Guyana counting black Caimans the next.
Since 1989, Wasilewski has followed one reptile population intimately — the crocodiles that live and breed in the extensive canal system south of Miami next to the Turkey Point nuclear power plant. Wasilewski is a part-time employee with Florida Power and Light. He monitors the crocodile population in canals that were built to cool the water left over from generating nuclear power.
Wasilewski says that when the nuclear plant was built in the early 1970s, the American crocodile was heading toward extinction. At the time, FPL wasn't thinking about crocodiles, but the crocodiles have made themselves at home. At last count, there were 400 juvenile or adult crocodiles at Turkey Point — nearly one-quarter of the entire U.S. American croc population. The animals love the area, Wasilewski says, because it provides almost perfect crocodile habitat: a mixture of freshwater and saltwater canals, and very few people.
Because of their limited habitat in the U.S., there were never many crocodiles in North America. Scientists say their numbers today are approximately what their population was in South Florida 100 years ago. The decision to move crocodiles from "endangered" to "threatened" status was based on a number of factors, including the number of nesting sites.
Wasilewski says he's not sure how many crocodiles the 6,800 acres here at Turkey Point can support, but one thing he is not worried about is overpopulation. As part of his work monitoring them, he implants microchips into the tails of all hatchlings. He recently found six of the microchips in the stomach of one big croc, and eight in another — evidence that crocodiles are controlling their own population.