Björk And Konono No. 1, Live In Concert
ANOHNI Joined Björk On 'Dull Flame Of Desire'
Listen to Björk in Concert
Wildly imaginative, exuberant and always unpredictable, Björk has built an iconic career by consistently breaking new creative ground. Her album, Volta, is a high-energy, tribal romp across cultures, with rhythms from Africa, horns from Iceland and strings from China.
Björk performed live on NPR.org from New York's United Palace on May 5, 2007, in a co-production from NPR Music and WNYC.
Listen
Björk, Live In Concert At The United Palace
Konono No. 1, Live In Concert At The United Palace
Volta is more political and international than her previous albums, though not overtly. It's a sonic essay on the state of the world, particularly war and the human impact on the environment, both of which can be heard in the opening track and first single, "Earth Intruders."
Though Volta is driven by strong, polyrhythmic beats, Björk says it was the last thing she thought of for the album. "We had done a lot of experiments with rhythms, but I just threw them all away because it was like every time we did something really clever with drum programming beats, it was just too pretentious for this album. It just didn't stick. For me, it was maybe a little bit nostalgic going back to 1992, where you had really simple 808 and 909 really lo-fi drum machines, not doing anything fancy but really basic ... I had recorded all the brass, I'd recorded everything else, and everything was actually starting to mix ... And I said, what I need is an acoustic drummer, and who sort of has that almost pagan, trance-like wildness."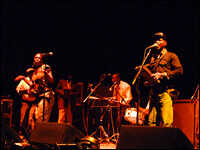 Björk got help on the rhythms from the African collective Konono No. 1 and hip-hop producer Timbaland. She also collaborated with Malian kora player Toumani Diabate, Chinese pipa player Min Xiao-Fen, and a 10-piece, all-female, Icelandic brass section.
Björk says she hopes Volta inspires listeners to reexamine their place in the world. "It's about being exhausted with the self-importance of religion and thinking, 'Okay, wait a minute, maybe we are one tribe, and we're actually part of nature,' and trying to suggest some kind of patent for that."
Björk has been turning heads with an unimaginable mix of sounds since the mid-'70s, when she released her first album: an eponymous collection of children's songs that went platinum in Iceland. At 14, she played drums in an all-girl punk band called Spit and Snot. She first achieved international success in the late '80s as the lead singer for the band the Sugarcubes, with the hit song "Birthday." When the Sugarcubes disbanded in 1992, Björk launched a solo career. In 1993, she released the appropriately titled Debut to vast critical acclaim, and she's since released a total of six solo albums. In 2000, she won a Best Actress Award at the Cannes Film Festival for her lead role in the film Dancer in the Dark.
This live concert webcast is co-hosted by All Songs Considered's Bob Boilen and Jad Abumrad of WNYC's Radiolab, and is a co-production of NPR Music and WNYC in New York, as part of NPR Music's live online concert series.
Björk's Set List
"Cover Me"
"Earth Intruders"
"Hunter"
"Immature"
"Dull Flame of Desire"
"Oceania"
"I See Who You Are"
"Pleasure is All Mine"
"Pagan Poetry"
"Bachelorette"
"Army of Me"
"Innocence"
"Wanderlust"
"Hyperballad"
"Pluto"
"Declare Independence" (encore)