For One New Orleans School, an Uncertain Future
For One New Orleans School, an Uncertain Future
This is the third in a three-part series.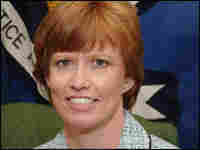 Hear Jarvis Tell Her Story
Andrew Wilson Elementary, in the Broadmoor neighborhood of New Orleans, was once a centerpiece of the community. Today, the stately pink stucco building sits abandoned.
Classroom 306 is still nearly intact, though. And its blackboard still has a message, in perfect teacherly penmanship: "Today is Monday, August 29, 2005. The weather is partly sunny. Today my behavior will improve. I will listen and obey my teachers and every adult I come in contact with. I want to be caught being good."
Local activist LaToya Cantrell wants that message preserved.
Classroom 306 teacher, Ms. D. Young, had been giving students a lesson on hurricanes before The Big One put this school, and this city, out of business. Today, the classroom — in this community's only local school — is still lying fallow. On the walls are posters of Frederick Douglass and Rosa Parks. And in the cloakrooms, hooks still await students' little jackets.
The school's first floor has been gutted. Neighborhood volunteers got tired of waiting for an official response, so they ripped out the soggy drywall earlier this year. Cantrell says they were trying to stem the theft and vandalism that's occurred since the storm.
Kids from Broadmoor are scattered throughout the city. In September, they'll have the chance to go to a local school. The Broadmoor Improvement Association has permission to run a charter school. The for-profit group, Edison Schools, will run the facility. Edison is recruiting teachers and will bus them to a renovated school a couple of miles away.
Cantrell wants students to go to school in the old Wilson building, though. She says the community needs to make its own progress — and renovate by September — so the neighborhood doesn't have to send its students away. Cantrell blames officials from the state-run Recovery School District for letting this building fall into disrepair.
Robin Jarvis, outgoing superintendent of the Recovery School District, is sympathetic to local concerns. She says there's funding available for new schools, and the city needs to make its long-term plans before renovating each individual school.
LaToya Cantrell is determined — some might say hellbent — on reopening Wilson School. She thinks Broadmoor's resurrection depends on it. Cantrell is president of the Broadmoor Improvement Association. But she might as well be queen of this working-class neighborhood. When Cantrell strolls by, neighbors weep in gratitude for the work she's done to save this area from the bulldozer.
Many of the 2,400 homes that make up this low-lying area in the middle of the city were swamped when the levees broke. Cantrell says planners surveyed the area after the storm and recommended converting it to green space. Cantrell and her neighbors beat back that decision.
Today, the neighborhood is buzzing with activity. Using a combination of elbow grease and political savvy, residents are cleaning up Broadmoor. But the job — of planting new trees, and disposing the trash people dump — is endless.
Some homeowners have moved back in. Others are camping in trailers, working on their homes when they can. And for many, it is an enormous struggle that may never pay off.
Homeowner Marcus Blanco says he's doing alright — but he's clearly not. The floodwaters lifted his house off its foundation. And despite all the work he's done on the roof and the interior, he can't move in. Blanco's been living in Jackson, Miss., and desperately wants to come home. His 13-year-old daughter has been uprooted and placed in a different school system. She has suffered trauma, and it took her more than a year to come back to Broadmoor. The way people like Marcus Blanco describe it, their families won't really be whole again, until they can return home to this neighborhood.
Truck driver Dwayne Parker lives just a few houses away from the school. He and his wife, New Orleans policewoman Nancy Parker, have four children. The doormat from the previous owner still welcomes visitors to this Catholic home with a "Shalom" greeting—another sign of the area's diversity. Nancy Parker says she'll do everything she can to make Wilson work. She looks forward to getting involved in the local school if it reopens.
The Parker children are now attending a parochial school. The plan is to enroll them in the local school and hope that it will eventually move back to Wilson Elementary.
Related NPR Stories
Web Resources