Does Russell Simmons Serve Hip-Hop?
Does Russell Simmons Serve Hip-Hop?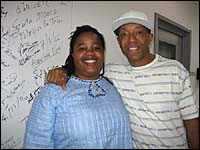 If 50 Cent, Nas and Kanye West are the modern face of big-money hip-hop, Russell Simmons is the man who made hip-hop a big-money game. Simmons founded the record label Def Jam with producer Rick Rubin in 1984, and since then his reach has extended beyond music to include clothing companies, arts nonprofit organizations, and the diamond industry.
Simmons brings all his skills to bear in his new self-help book, Do You! Laws To Access The Power In You To Achieve Happiness And Success. In it, he explains how readers can use yoga and Buddhism to find what he calls the "sweet spot": one's life's work and mission. Despite Simmons' new spiritual frame of mind, though, his tour to promote the new book has been bumpy, with conversation inevitably turning from his spiritual philosophy to the societal effect of the music he produces.
As Simmons explains in our interview, the focus on those issues has been frustrating: "I had a book tour about peace and love, and everyone wants to talk about bitches and hos."
One radio DJ hung up on Simmons after the topic of the role of misogyny came up, while a reporter at WGN-TV in Chicago wrote in a post-interview blog entry that "all of the book's quotes from Ghandi about peace and love are fine, but it's all hard to take seriously when the author is cussing on two phones at the same time."
I recently took a deep breath and sat down with Simmons face-to-face at our NPR West studios. I started by asking him to share a memory, something that stood out to him as a magical moment in hip-hop.
"I have so many memories," Simmons said, "but this particular one stands out: Run-DMC at [New York City's Madison Square] Garden. I remember bringing the head of Adidas, and Run says 'Hold your sneakers in the air!' and everyone held up their shell-toed Adidas. That was the beginning of the endorsement process, and everyone got involved in trying to use hip-hop to sell their product. But when everyone held their Adidas in the air, it was crazy. It was a great image."
That the moment is as much about marketing as music gives you a sense of Simmons' worldview and drive. He turned Def Jam Records into a powerhouse and then sold it to Universal. He runs the Phat Farm and Baby Phat clothing labels, has a nonprofit called the Hip-hop Summit Action Network, and does financial lectures with Donald Trump.
But when he's asked if he feels that the kind of music his company produces can have harmful effects, the conversation can turn volatile, as it did during our sit-down. At one point, Simmons characterized our discussion in less-than-family-friendly terms. You'll have to listen to the interview to get Simmons in full feather, but let me take you into the studio at that moment: Russell is sitting a few feet from me, wearing spotless white athletic shoes, a shirt with a yoga theme, and a crisp baseball cap tilted to the side. While he is going off, he is leaning off — away from the mic, that is. He's talking to his assistant in studio, complaining about the interview, and I'm thinking, "Is he about to run the heck out of here?"
Luckily, he didn't. In the end, after a long back-and-forth, Simmons explained that his role is to promote all of hip-hop, good and bad, not to be a judge or a gate-keeper.
"Did they tell you why I came here?" Simmons asks once things cool down. "My job is as a servant of hip-hop. That's my job, and people who criticize are not able to serve properly. I'm on the inside, so when I walk into a new business, I open doors. When there's not one black person in the clothing business, I walk in and now it's a hip-hop convention. Or I walk into the diamond business and the Diamond Empowerment Fund starts, and I try to switch the whole industry to try to understand about Africa. I can do that because of the resources I have."
Those are words to the wise, from rap mogul Russell Simmons — even if it took a bit of agita to get there. And, believe it or not, after all that, we walked out of the studio and shook hands, and his signature joined those of politicans, religious leaders and actors on our NPR West Wall of Fame.