Next Stop: Vegas, and a Wedding
Next Stop: Vegas, and a Wedding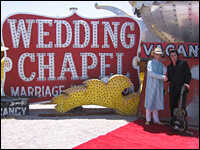 As Charles Phoenix and Steve Proffitt hit the road for their journey from Los Angeles toward Tulsa, Okla., for the unearthing of a time capsule, they hit a slight snag — and stop at the wedding of a friend in Las Vegas.
They are traveling in Phoenix's 1961 mint green Pontiac Bonneville, nicknamed Bonnie. Unfortunately, Bonnie wasn't quite ready for the trip at the outset. Her air conditioner went on the fritz before Proffitt and Phoenix could even make it out of Los Angeles, causing overheating and a stop at the mechanic.
And the news at the mechanic wasn't good. Despite diligent prep work getting Bonnie ready for the trip, she had to stay home. Into a fairly new Dodge Magnum the travelers went, and on to Las Vegas.
After getting ordained online, Phoenix married two of his friends at the Las Vegas Neon Museum. Also known as the boneyard, the museum is full of hundreds of old neon signs, some dating back to the 1930s.
Amid the neon, the wedding took place ... with the requisite Elvis impersonator providing music, of course.