Apple Stock Gets Boost from iPhone Hype
Apple Stock Gets Boost from iPhone Hype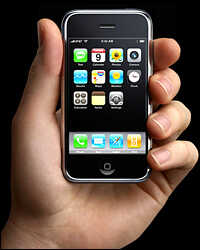 The iPhone goes on sale at the end of next week, and the anticipation has already sent Apple's stock soaring. The company said it plans to sell 10 million units by the end of 2008. While that represents just 1 percent of the worldwide cell phone market, it could mean a 10 percent increase in Apple's earnings in 2007.
Apple co-founder and CEO Steve Jobs introduced the device at the MacWorld Conference earlier this year, when he told an adoring audience that Apple had three revolutionary products — an iPod, a phone and an Internet device. Since then, anticipation has only built as the release date neared.
There are challenges, of course. The iPhone is pricey — around $500 or $600, depending on the model. Because of an exclusive deal, only AT&T Mobile customers will be able to get it.
And the AT&T network itself may be too slow for many of the iPhone's most forward-looking features to run properly. Michael Gartenberg of Jupiter Research says that with Wall Street expectations being set so high, Apple has to deliver.
And there's another challenge, he says: competition from other vendors.
"So expect to hear the word 'iPhone-killer,'" Gartenberg said, "or, 'It's like the iPhone only better'" over the summer.
Still, investors have faith in Steve Jobs and Apple. After considering the strong demand for iPods, and evaluating the iPhone, investors have pushed Apple's stock up 40 percent this year.
But if the iPhone turns out not to be as hip and trendy as expected, the company's stock could falter.
Related NPR Stories