E-Trash Industry Poses Hazards to Workers
E-Trash Industry Poses Hazards to Workers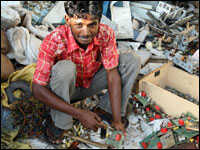 Each year, Americans throw out millions of computers, cell phones and televisions. Often, this electronic trash ends up in far-flung places around the world, including India.
It is illegal for the United States to export its electronic waste to India, but smugglers find ways to get it into the country and make a profit.
Workers in India take e-trash and process it to extract precious metals. But the waste bears toxic chemicals that can be hazardous to those workers and their communities, and activists say the issue is not getting enough attention.