'Margaret Garner' from Opera Carolina
by Richard Danielpour and Toni Morrison
Who's Who
Denyce Graves ... Margaret Garner
Eric Greene ........... Robert Garner
Angela Renee Simpson ........ Cilla
Michael Mayes ...... Edward Gaines
Mark T. Panuccio .............. Casey
Inna Dukach ........ Caroline Gaines
Jonathan Boyd .... George Hancock
Dale Bryant ............... Auctioneer
Stefano Lano conducts the Charlotte Symphony Orchestra and Charlotte Contemporary Ensemble, and Opera Carolina Chorus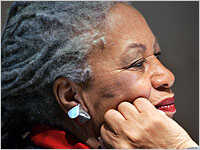 Toni Morrison Speaks
Hear the novelist talk about turning the story of Margaret Garner into an opera.
The Character of Margaret Garner
The African-American Opera Experience
The Language in 'Margaret Garner'
Richard Danielpour Speaks
Hear the composer discuss the issues behind 'Margaret Garner.'
Choosing Margaret Garner's Story
Themes in 'Margaret Garner'
'Margaret Garner' as History
THE HIT SINGLE
In Act 2, after Margaret has killed her children, she is alone, in the dark. She sings a defiant salute to darkness, saying, "Grief is my pleasure," and "Reason has no power here."
Denyce Graves sings "Darkness I Salute You"
Hear the Story of the Opera
In pre-Civil War America, few slave stories were more compelling than Margaret Garner's. She and her family were "owned" by a Kentucky plantation farmer, but one night they escaped to Ohio with another group of slaves.
Their hiding place was discovered, and Margaret's family was surrounded. She swore she would kill her children and herself rather than return to slavery. As her husband was dragged off Margaret plunged a knife into her daughter and was about to kill her other daughter and herself before she was seized and jailed.
Margaret was put on trial. Abolitionists wanted her tried for murder, which would have set a number of precedents, including establishing a slave's rights and responsibility regarding her own children. Instead, Margaret Garner was accused of destruction of property, and sent back into slavery, along with her husband.
Her story advanced the rift between the abolitionists and the defenders of slavery, a rift that would soon help lead to the Civil War.
Grammy Award-winning composer Richard Danielpour and Nobel Prize-winning novelist Toni Morrison collaborated to bring this true life story to the operatic stage. Margaret Garner was co-commissioned by opera companies in Detroit, Cincinnati and Philadelphia and made its debut in May 2005 at Michigan Opera Theatre in Detroit.
Toni Morrison had already told a version of Margaret Garner's story in her best-selling novel Beloved, which won the Pulitzer Prize in 1988. She says it's not a story about race. It's more about the internal struggles that result from the institution of slavery.
"The interest is not the fact of slavery, but of what happens internally, emotionally, psychologically, when you are in fact enslaved and what you do you do to try to transcend that circumstance. And that really is what Margaret Garner reveals," Morrison says.
Margaret Garner is Richard Danielpour's first opera. The story, he says, is one that both touches him personally and resonates from the past into the present.
"More than anything else, Margaret Garner is an opera that reminds us that we all belong to the same human family, and it demonstrates what can happen when we forget this fundamental truth," says Danielpour. "While slavery has been outlawed in the United States since 1865, its lingering effects have proven that issues concerning race, class, and the true meaning of freedom are in no way resolved in our country."
On World of Opera, host Lisa Simeone brings us a production from Opera Carolina, based in Charlotte, N.C., starring American soprano Denyce Graves in the title role.
Related NPR Stories
Web Resources