'Margaret Garner' from Opera Carolina
by Richard Danielpour and Toni Morrison
Who's Who
Denyce Graves ... Margaret Garner
Eric Greene ........... Robert Garner
Angela Renee Simpson ........ Cilla
Michael Mayes ...... Edward Gaines
Mark T. Panuccio .............. Casey
Inna Dukach ........ Caroline Gaines
Jonathan Boyd .... George Hancock
Dale Bryant ............... Auctioneer
Stefano Lano conducts the Charlotte Symphony Orchestra and Charlotte Contemporary Ensemble, and Opera Carolina Chorus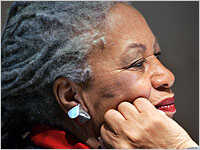 Toni Morrison Speaks
Hear the novelist talk about turning the story of Margaret Garner into an opera.
The Character of Margaret Garner
The African-American Opera Experience
The Language in 'Margaret Garner'
Richard Danielpour Speaks
Hear the composer discuss the issues behind 'Margaret Garner.'
Choosing Margaret Garner's Story
Themes in 'Margaret Garner'
'Margaret Garner' as History
THE HIT SINGLE
In Act 2, after Margaret has killed her children, she is alone, in the dark. She sings a defiant salute to darkness, saying, "Grief is my pleasure," and "Reason has no power here."
Denyce Graves sings "Darkness I Salute You"
Hear the Story of the Opera
In pre-Civil War America, few slave stories were more compelling than Margaret Garner's. She and her family were "owned" by a Kentucky plantation farmer, but one night they escaped to Ohio with another group of slaves.
Their hiding place was discovered, and Margaret's family was surrounded. She swore she would kill her children and herself rather than return to slavery. As her husband was dragged off Margaret plunged a knife into her daughter and was about to kill her other daughter and herself before she was seized and jailed.
Margaret was put on trial. Abolitionists wanted her tried for murder, which would have set a number of precedents, including establishing a slave's rights and responsibility regarding her own children. Instead, Margaret Garner was accused of destruction of property, and sent back into slavery, along with her husband.
Her story advanced the rift between the abolitionists and the defenders of slavery, a rift that would soon help lead to the Civil War.
Grammy Award-winning composer Richard Danielpour and Nobel Prize-winning novelist Toni Morrison collaborated to bring this true life story to the operatic stage. Margaret Garner was co-commissioned by opera companies in Detroit, Cincinnati and Philadelphia and made its debut in May 2005 at Michigan Opera Theatre in Detroit.
Toni Morrison had already told a version of Margaret Garner's story in her best-selling novel Beloved, which won the Pulitzer Prize in 1988. She says it's not a story about race. It's more about the internal struggles that result from the institution of slavery.
"The interest is not the fact of slavery, but of what happens internally, emotionally, psychologically, when you are in fact enslaved and what you do you do to try to transcend that circumstance. And that really is what Margaret Garner reveals," Morrison says.
Margaret Garner is Richard Danielpour's first opera. The story, he says, is one that both touches him personally and resonates from the past into the present.
"More than anything else, Margaret Garner is an opera that reminds us that we all belong to the same human family, and it demonstrates what can happen when we forget this fundamental truth," says Danielpour. "While slavery has been outlawed in the United States since 1865, its lingering effects have proven that issues concerning race, class, and the true meaning of freedom are in no way resolved in our country."
On World of Opera, host Lisa Simeone brings us a production from Opera Carolina, based in Charlotte, N.C., starring American soprano Denyce Graves in the title role.
Related NPR Stories
Web Resources
The Story of 'Margaret Garner'
Photo: Jim Schmid/Opera Carolina
BACKGROUND: The real-life Margaret Garner was a slave, in Kentucky, in the mid-1800s. In 1856 she and her family escaped from the plantation where they lived and fled to Ohio, where they were captured.
Exactly what happened then is less clear, but Margaret decided that rather than return to slavery she would kill her children, and herself. After killing her 2-year-old daughter, and injuring her other children, Margaret was arrested.
She was put on trial and convicted, not for killing her child, which would have established her as having basic human rights, but instead for destruction of property. She was sent back into slavery, along with her husband.
Garner's trial was a sensation, pitting abolitionists against the upholders of slavery. It was another contentious event that fired the country's emotions at the threshold of the Civil War.
Act 1: The opera's action begins in Kentucky in 1856, opening with a chorus of slaves on an auction block praying for release from their suffering. The owner of the plantation where they live has died, and all his property, slaves included, is to be sold off.
But the auction is interrupted by a new arrival named Edward Gaines. He claims to be a long lost son of the deceased owner, and says he has the first right to buy the estate. Everyone agrees, and as the wealthy Gaines makes his purchase, he seems to have a special eye for the slave named Margaret Garner.
When the slaves have returned to their quarters, Margaret's mother, Cilla, warns her about their new owner. This new Gaines has a mean streak she says, while the old one had a heart, at least sometimes.
Cilla, Margaret and Robert pray before dinner, and Margaret sings a lullaby to her young daughter. But their peaceful evening is interrupted by Casey, the plantation's foreman. He says that Robert is to be sent away, and Margaret is to become a personal servant to Mr. Gaines in the plantation's main house. Robert and Margaret confidently reaffirm their love, but the family is separated.
The next scene takes place two years later. Edward Gaines is hosting a wedding celebration for his daughter Caroline and her fiance George. The subject turns to the nature of love. As the guests are debating the matter, Margaret enters the room with a serving tray. Caroline asks Margaret for her opinion on the subject. Edward says a slave can't possibly comprehend love — simple lust, maybe, but not love. Caroline, who has been cared for by Margaret, and loves her, disagrees. Hesitantly, Margaret says, "Words of love are moths; easy food for flame. Actions alone say what love may be."
Edward sends Margaret away, and the scene unsettles the guests, who begin to leave. Later, Edward finds Margaret alone and confronts her. He says her sentiments are "too fine for a slave," but says he has "many remedies" for that. He overpowers Margaret, and drags her into another room.
Act 2: The final act begins three years later. Margaret is still working in Gaines' house, but every Sunday night she and her husband Robert meet secretly in her mother Cilla's cabin.
As Act Two begins Margaret is at the cabin, waiting for Robert. She now has two children. When Robert finally arrives, he says he's made plans for the whole family to escape from the plantation and they will be leaving that very night. Margaret tries to persuade her mother to come along, but Cilla says it's best for her to stay.
But when Robert leaves the cabin briefly, the plantation's brutal foreman, Casey, shows up. He realizes what's going on, and when Robert returns, Casey holds them all at gunpoint. Instinctively, Robert attacks Casey, overpowers him, and strangles him.
The next scene takes place three weeks later. Robert, Margaret and the children have escaped and are hiding out in the free state of Ohio. They're sitting by a fire, imagining a happy future when Gaines arrives with a group of slave catchers. Leering, he tells Margaret that his bed has been cold, and he needs her back in Kentucky, where she used to warm it each night, with a bed-warmer filled with hot coals. At that, Margaret grabs smoldering coals from the fire with her bare hands, and tries to burn Gaines, but he forces her to drop them.
Robert has been tied up. As Margaret watches, a noose is placed around his head, and he's hanged. As the men approach Margaret and the children, Margaret screams, "Never to be born again into slavery!" Then she kills both children, slashing her daughter's throat, and stabbing the younger child.
In the next scene, Margaret is on trial, but not for murder. Instead, she's charged with theft and destruction of property. The historical trial was a sort of test case, with the opponents of slavery trying to set a precedent to establish basic rights for African-American slaves.
In the opera, the panel of judges decides that Margaret is to be executed for theft. As a slave, they say, Margaret is "not like you and me," and isn't responsible for the life of her own child. Margaret defiantly agrees, telling them, "I am not like you!"
After the trial, Edward Gaines is confronted by his daughter Caroline and her husband George. They appeal to him to ask the judges for clemency. He refuses. But as the scene ends, Gaines is alone, reflecting on the loss of Margaret's children, and on the course his life might take, and he realizes he has choices to make.
In the final scene, Margaret has been taken to the scaffold and a crowd has gathered, both slaves and white people. As the noose is placed around Margaret's neck, Gaines rushes in waving a legal document. He has appealed for clemency and the judges have remanded Margaret into his custody.
Caroline and George thank him. The assembled slaves rejoice, led by Margaret's mother, Cilla. But Margaret says, "No more." She trips the lever on the trap door, and hangs herself. The assembled crowd, completely stunned, prays for mercy, with Cilla's voice soaring above the rest, as the opera ends.